Leigh-Anne Pinnock Spoke About Her Twins' Names For The First Time
The singer is remaining tight lipped for the moment.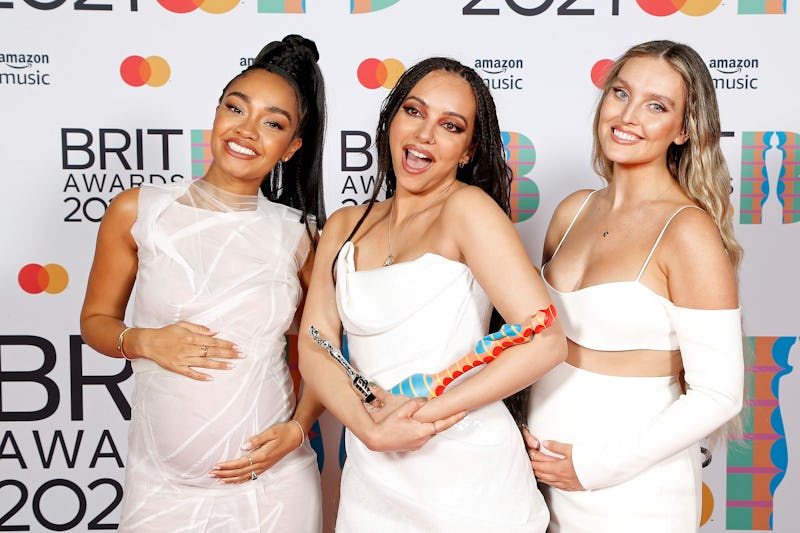 JMEnternational/Getty Images Entertainment/Getty Images
On September 5, Perrie Edwards and boyfriend Alex Oxlade-Chamberlain gifted the world not only a beautiful picture of their newborn baby but the name they've chosen, also.
Sharing an adorable snap of their new arrival wrapped up in blankets and with a cute knitted hat on, Edwards wrote, "2 weeks of loving you. I've never felt love like this before! Axel Oxlade-Chamberlain."
Although the "Sweet Melody" singer is yet to comment on the meaning behind the name, motherhood website The Bump reveals that is of Hebrew origin and means "father is peace". On Twitter, fans and fellow celebs have also pointed out how close the name is to that of Edwards' partner, Alex. So it seems the name maybe be a sweet tribute to him.
Edwards first announced she was expecting in May this year, with a post that read, "So happy to be on this wild journey with my soulmate. Me + Him = You. We can't wait to meet you baby Ox!" The reveal came just a few days after fellow Little Mix singer Leigh-Anne Pinnock announced she too was pregnant. "We've dreamed about this moment for so long and we can't believe the dream is finally coming true... we can't wait to meet you," Pinnock wrote.
Edward's and Pinnock's pregnancy announcements had been pretty much in sync the whole way and they both announced that they'd given birth within a few days of one another. Edwards and Oxlade-Chamberlain shared matching beautiful black and white pictures of their child on August 22 and, just a day later, Pinnock and fiancé Andre Gray revealed they'd welcomed twins.
However, while Edwards has announced the name of her baby, Pinnock is yet to. Speaking about the names for the first time, Pinnock told the Telegraph on Oct. 30, "I'm just gonna keep it [the names] to myself." She went on to offer a little insight into her experiences with motherhood so far. "You can't plan anything. Even when you want to feed them at a certain time, it never goes to plan," Pinnock said.
While it's unclear whether Jade Thirlwall has met Axel, she has met Pinnock's twins. Speaking to Glamour, she revealed her role as auntie Jade began in September. "I went to see Leigh last week and met the twins who are so beautiful, they just slept the whole time," the singer said, adding it was the first time that it dawned on her "that they've had children – actually seeing them in front of us, like they're real; it wasn't a prop."
This article was originally published on