Sophie Toscan du Plantier's House Has Barely Changed In 25 Years
The filmmaker's life and murder are the subject of a new Netflix documentary.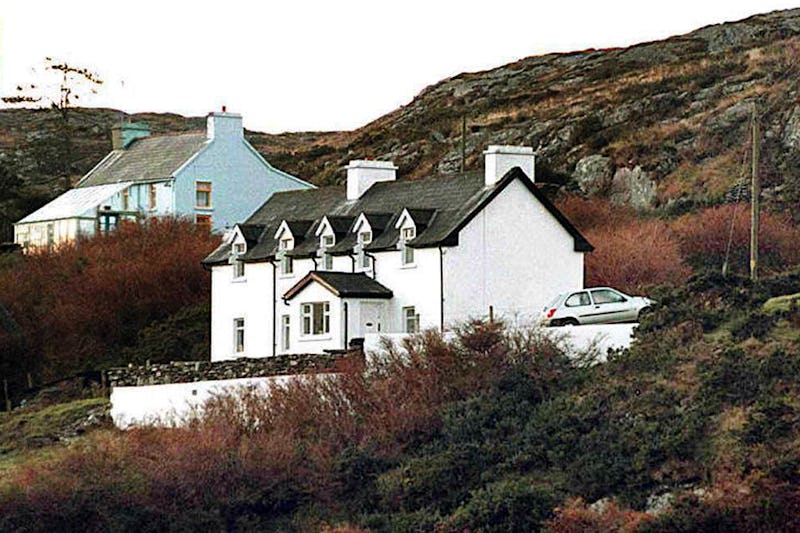 AFP/AFP/Getty Images
As new Netflix documentary Sophie: A Murder in West Cork details, the small town of Schull was rocked by the murder of Sophie Toscan du Plantier back in December 1996. She was found dead on the morning of 24th December just outside her holiday cottage in West Cork. Located on the far westerly coast of Ireland, it's full of magnificent views as the rugged coastline gives way to the wild Atlantic sea. It's the perfect place to escape the confines of Paris's creative society, and that's just what Toscan du Plantier did.
Per Irish Times, the Parisian film producer would often retreat to her Irish holiday home, as it was so far removed from her celebrity life in France. The cottage — as documented in the award-winning Acast podcast, West Cork — was decorated in a relaxed, minimalist manner.
The house in Toormore still stands and is now owned by the filmmaker's son, Pierre Louis Baudey-Vignaud. After she passed, he decided to keep the house, and it remains largely as it was when she was alive.
Baudey-Vignaud still visits and spends time there every year and, in Sky's documentary Murder at the Cottage, he shows that his mother's coat still hangs on the back of a door in the kitchen where she left it over 25 years ago. He explains: "The house is a real link to her, to explain who she was." To mark the place of Toscan du Plantier's murder, there is a Celtic cross in the place where her body was found. Despite this unassuming cottage being a place of murder, it's also clearly a place of solice and connection for Toscan du Plantier's son.
As Netflix's new documentary, Sophie: A Murder in West Cork is due to be released this week, there no doubt will be renewed interest in the sleepy village of Schull. A former neighbour of Toscan du Plantier told The Irish Times that she'd seen it all before, reporting that, "We had people bring their grannies and their small children to look at the cross marking where Sophie was found." Locals expect it will be the same following the release of this new documentary series, as the public's interest is revived.