How To Get Involved In #ClimbForCaroline
Caroline Flack's loved ones are coming together to climb some of the highest peaks in England & raise money for the Samaritans.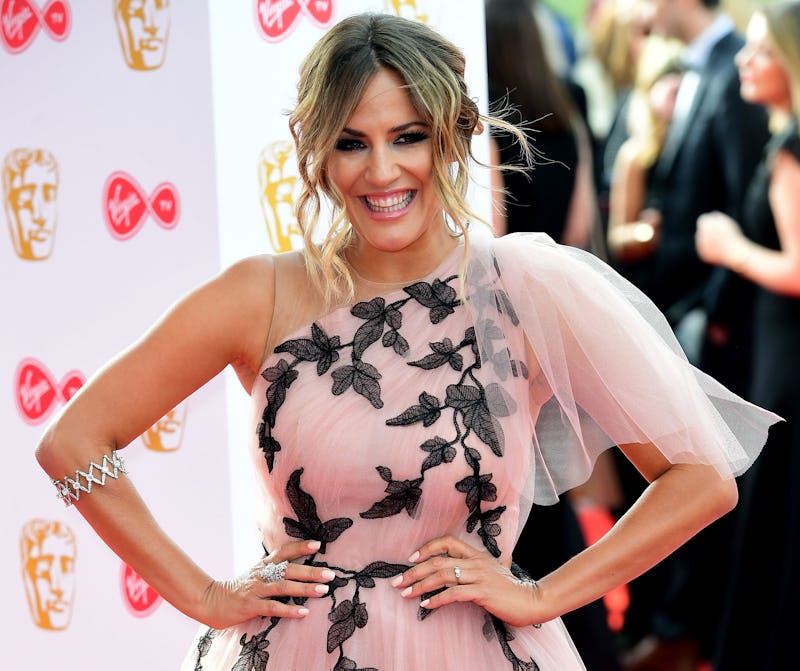 Ian West - PA Images/PA Images/Getty Images
Love Island presenter Caroline Flack's death in February 2020 devastated so many and kick-started a conversation surrounding how we treat figures in the public eye. This weekend, the late star's friends and family are set to come together to honour her memory and raise money for the suicide prevention charity Samaritans under the hashtag #ClimbForCaroline.
Flack's personal trainer and close friend Bradley Simmonds explained to BBC Breakfast that, on the weekend of June 12, a group will be climbing some of the highest peaks in England.
Flack was only 40 when she died by suicide. Below is more information about #ClimbForCaroline and details about how you can get involved.
What Is #ClimbForCaroline?
Over a year after Flack's death, some of her close family and friends are coming together for #ClimbForCaroline.
"Due to the pandemic we had to delay and delay but finally this weekend we all get together as a team to take on the 24 peak challenge, raising awareness and funds for the incredible charity @samaritanscharity who support those struggling with their mental health. The charity chosen by Caroline's family," Simmonds wrote on Instagram.
The Just Giving page explains that, in order to reach their 24 peak challenge in 24 hours, they'll be trekking for 12 hours each day over June 11-14, 2021. They write that they'll be walking "with Caroline in our hearts and the knowledge that the money we raise will help others."
Olly Murs and Louise Teasdale will be joining Simmonds and the group. Teasdale and Murs reached out to their followers, asking them to share the #ClimbForCaroline hashtag and to support them during their climbs. At the time of writing, the Just Giving page has raised £7,813.
How You Can Support #ClimbForCaroline
You can support #ClimbForCaroline in a number of ways. The Just Giving page explains that every £5 raised means a Samaritans members can answer a call for help. You can donate directly through the page here.
Similarly, Simmonds, Murs, and Teasdale have all posted about the trek. By sharing their posts and using the hashtag #ClimbForCaroline, you'll increase the reach of their donation page and make more people aware of what they're doing.
Speaking about the climb to OK! magazine, Sarah Ball, Head of Fundraising at Samaritans said, "We are extremely grateful to Bradley for choosing to raise vital funds for Samaritans, which will help us be there at any time of day or night to support anyone who is struggling to cope. Suicide is complex and every single death by suicide is a tragedy that devastates families, friends and communities. We wish Bradley and Caroline's friends and family the best of luck on the hills with their fundraising challenge."