What Jax's Reiki Master On 'Pump Rules' Wants You To Really Know About Their Relationship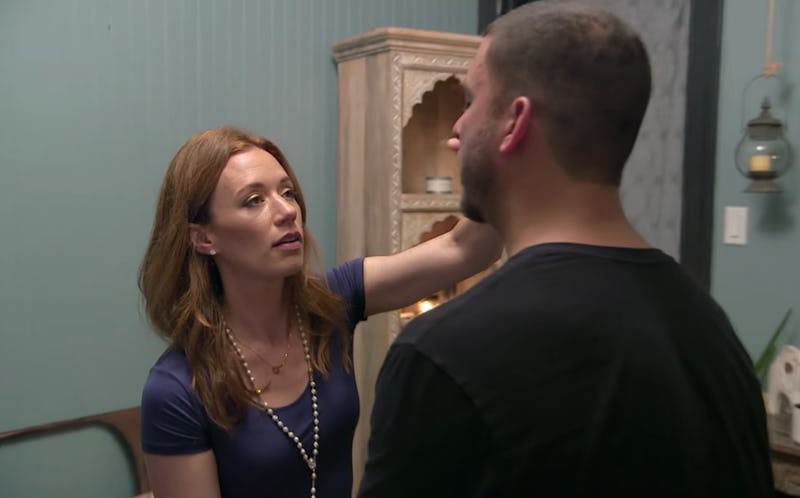 Bravo
After it was revealed that Jax Taylor cheated on Brittany Cartwright with Faith Stowers in Season 6, the SUR bartender sought out help to deal with his anger and many other issues. Enter Kelsey Patel, a certified reiki master, yoga instructor, and meditation teacher specializing in the Emotional Freedom Technique (EFT). Their relationship became a big part of Vanderpump Rules, but now that the season has wrapped, are they still doing sessions? Jax Taylor's reiki master says their status has shifted since the show stopped filming.
"We are still in touch, I mean, it's not all the time, but I reached out when his dad passed away," she explains over the phone. "We both follow each other on Instagram. He'll like my posts and vice versa. I was in Marie Claire recently for my company, Magik Vibes. He was very sweet and did a shoutout to me of, 'Congrats to my teacher'. I would say we still are connected, but we haven't had any sessions since then. But, he knows I'm here for him and that I support him and his journey and that's how really I am with all of the people that I work with."
Patel first appeared on Pump Rules in Episode 7 of the sixth season and has popped up from time to time whenever Taylor has a session. They've been portrayed as having a close relationship. Taylor even told Cartwright about Patel, "This is like the highlight of my week when I see her." He also said during his private interview, "Every time I see her I just have the best day of my life."
During a March What What Happens Live episode, Cartwright admitted Patel and Taylor's sessions irritated her a bit. She even accused Patel of having "googly eyes" for her man. Stassi Schroeder, who joined Cartwright in the clubhouse, called Patel "shady".
However, Patel, disagrees with their words. "I care about all human beings, period," she says. "If either one of them [Cartwright or Stassi] had been in a session with me, I would've had the same care and the same tenderness for them as my client."
On top of that, what viewers might not be aware of is Patel's relationship status: She's married. "I am a very, very happily married woman and mother," Patel says. "Anyone who knows me and my husband and my relationship would be the first one to tell you my eyes are for my man, period."
Like Cartwright and Schroeder, many fans have accused Patel and Taylor of having more than a professional relationship. WWHL even held a poll (as seen in the video above) asking viewers if they thought there was something going on between them and 67 percent voted yes.
But just because someone is on reality TV doesn't necessarily mean you know exactly who they are and that's something Patel wants everyone to recognize. "When you're consuming a reality TV show, you also then have the opportunity as a human being to see that every person on that show is also a human being and they are not the 30 seconds of TV that you see," she says.
For those who may be wondering why Patel never used her marriage to defend herself against what people may think is going on between her and Taylor, well, she doesn't feel like she should have to.
"You can see from my Instagram page I don't put my husband and my kids all over my page — and that's intentional." She continues, "I signed up to be a public figure. My family knows that, but I respect our privacy and that is my family and that's my business. I shouldn't have to display pictures of me and my husband all over my Instagram in order for people to then choose to believe that I am not involved with somebody else."
She says she wasn't even aware of how she was being portrayed on the Bravo series. Patel only watched the first episode where Taylor and the guys did a reiki circle with her. After that, Patel hasn't checked in, mainly because she isn't a huge TV watcher. But, between the messages she received on social media and her friends informing her of what was happening, she was quickly informed.
Patel wants everyone to know she was her true, authentic self every time she made a Pump Rules appearance. "I know that every time I showed up to have a session with Jason [Taylor's real name is Jason Cauchi and he asked Patel to call him "Jason" during one of their sessions.], I showed up the way I would show up with anyone — cameras on or cameras off. For me, I believe in my work and I believe in reiki and I believe in these practices."
That said, Patel is comfortable enough in her own skin to not let the negativity that has been thrown her way (she says she's received many nasty emails and direct messages) affect her everyday life. "I'm not here to change anybody's opinion about me, because I know who I am and that's all that matters to me." She continues, "And the people who love me and who know me, they know who I am."
Patel isn't letting the show or the rumors get her down. She's also been keeping plenty busy. "I'm in the midst of writing a book and I am getting [to work at] retreats all over the world. I just got back from Mexico. The week before that I was in Bali. I'm going to Nicaragua later this year." She's also working with corporate partnerships, including Delta, who she just helped with their travel wellness program.
And, she has an exciting newer business venture, her Magik Vibes Box. As she explains, "It's this spiritual subscription box, which I'm obsessed with. It basically sends all of these practices into people's homes." The box includes meditations Patel recorded herself, crystals, candles, and self-healing practice.
She's doing just fine. Being part of the Pump Rules world isn't easy, but Patel wants to remind everyone, "I'm just as much of a human being as everybody else." Maybe viewers can keep that in mind next time a reiki master (or anyone else) shows up on the Bravo show.