Here's When This Is Us Season 5 Will *Finally* Be Back
And all the questions it needs to answer when it returns.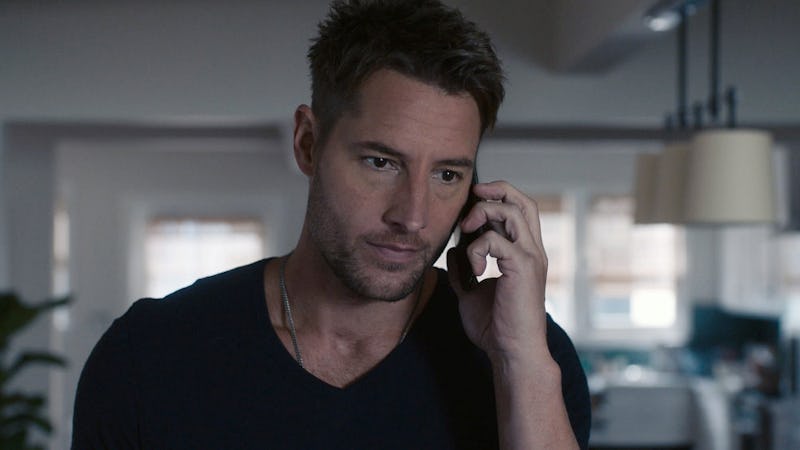 NBC
This Is Us Season 5 has been a bumpy ride. Following a delayed Season 5 premiere, the show returned for just four episodes in October before going off the air in mid-November. Then it came back for two more episodes in January, only to go on hiatus again. Fans have a few more weeks to wait until the Pearsons are back onscreen: This Is Us won't come back until Feb. 9, due to more COVID-related production delays affecting the Los Angeles area. Creator Dan Fogelman teased the show's return on Twitter, promising that the "next few [episodes] are big ones."
Those episodes have a lot of explaining to do when the show does return. Here are all of the unanswered mysteries so far.
Kevin's Car Accident
Now that Randall's mystery about his mom has been solved, we have a new lingering question: what happened to Kevin in that car accident? The promo for the next episode, titled "There," shows the wreckage and Kevin's ID laying on the ground. We've seen Kevin in flash forwards on this show, so we know he survives, but we don't know the fallout from this accident yet. Will Kevin make it to see his twins born? Will he suffer an injury that leads him back to his painkiller and alcohol dependency?
Basically, things are very uncertain for Kevin right now. "What awaits him? Quite a bit," co-executive producer Kay Oyegun told Entertainment Weekly. "What awaits Kevin is a level of maturity that he's going to have to take on — and I'm not even just talking about having children."
Kevin and Randall's Relationship
First Kevin tried to patch things up with Randall, but Randall wasn't ready. Then Randall tried, but Kevin was preoccupied with getting to the hospital for Madison's delivery. Will these two ever be on the same page again? Justin Hartley, who plays Kevin, previously hinted to TV Guide that it would take "an event" to bring them back together again. Many fans thought that would be the birth of Kevin's twins, but maybe it's the car accident.
Kevin & Madison's Future
Several fan theories suggest Madison and Kevin won't be together long-term, and the work trip that he took to Canada as Madison neared her due date isn't helping. If he misses the twins' birth, the shaky ground Madison and Kevin are on could get even worse. Alternatively, if he was injured in an accident, perhaps the experience will bring Madison and Kevin closer as they realize they're both grateful he's alive.
Rebecca's Health Status
It's been a minute since fans have checked in with Rebecca and her deteriorating memory. She wasn't doing very well during the Big Three's 40th birthday party, and that was a while ago.
Kate & Toby's Adoption
Kate and Toby are still in the process of adopting a baby girl, and it's been a while since the show gave an update on that. When Season 5 returns, it should dip back into their storyline when it finishes with this current Kevin mystery. But fortunately for fans, the wait for more episodes isn't that much longer.
This article was originally published on