David Beckham Has A New Gig – With Disney+
And it is a very David Beckham.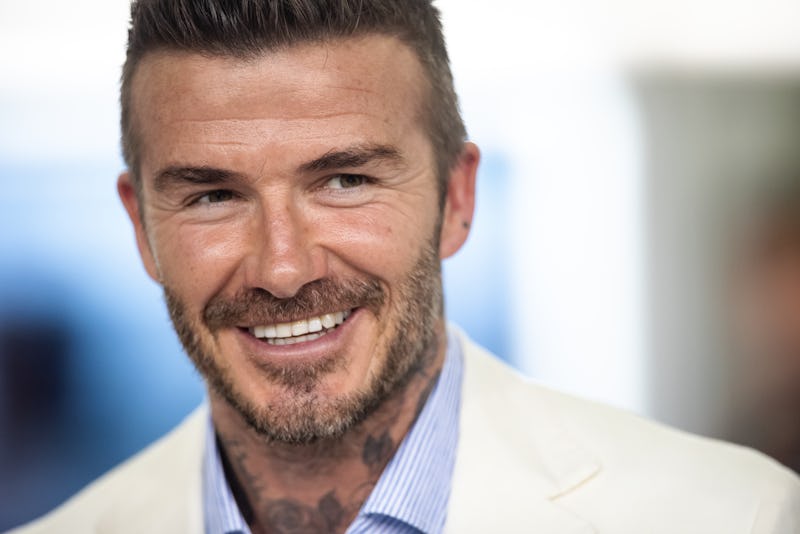 Lars Baron/Getty Images
After two successful decades as an internationally renowned footballer, it's pretty safe to say David Beckham knows how to make it big in football. Earlier this week, Disney + announced that David Beckham will front Save Our Squad, a new series that will see former Manchester United and England star mentor young footballers.
As reported by BBC News, Save Our Squad is described as "an uplifting, transformative journey of a lifetime." Per Variety, the series will see the football icon "returning to East London football pitches where he played as a child," in order to help and mentor a team struggling in their league.
For Beckham — who famously played for Manchester United, Real Madrid, LA Galaxy, Milan, and England — the new series is a chance to give back to the community. "It is fantastic to be making Save Our Squad with Twenty Twenty and to shine a light on the kind of grassroots football that I experienced growing up and which gave me so much at the start of my life in the game," he said in a statement.
"I was so fortunate to have a long and successful playing career and now to have the opportunity to give back to these communities as a mentor is incredible," Beckham added. "Developing and nurturing young talent is so important in the game and it is great to be working with Disney Plus on this project."
The Disney+ announcement coincided with his first keynote speech at Digital MipTV, where, according to Variety, he talked about launching his own production company, his global ambitions for Studio 99, and his current projects in production. These include: A Whole New Ball Game, charting the contemporary history of the Premier League; World War Shoe, a documentary mini-series charting the untold story behind sports brands Adidas and Puma; and a definitive David Beckham biopic. (Yes, a biopic! I know!)
As reported by Metro, it is not yet known when Save Our Squad will be released in the UK and beyond, but I'll be sure to update you as soon as Disney+ announce more details. Ditto on that biopic.