How To Stream Good Girls Season 4
Don't miss all this bonkers drama.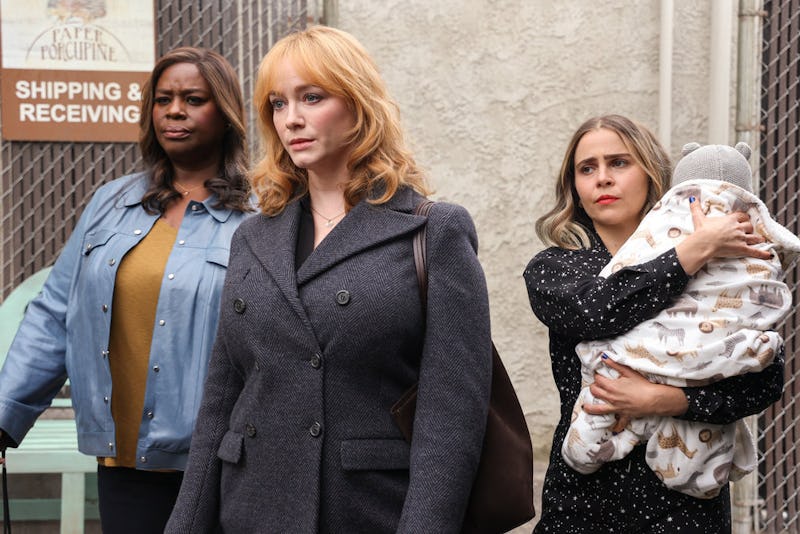 Jordin Althaus/NBC
Unfortunately for fans, it's probably going to be a while until Good Girls Season 4 hits Netflix. The show's third season didn't come to the streaming site until Feb. 16, a year after it initially premiered on NBC. And Seasons 1 and 2 also hit Netflix about a year after they aired. This timeline is great for catching up on previous episodes in the weeks and months ahead of the next season, but it also means Season 4 likely won't be available to stream until January or February 2022, ahead of the possible Season 5 premiere.
That being said, viewers can rest assured that Good Girls likely won't be leaving Netflix anytime soon, so you can keep rewatching as much as your heart desires. Though NBC now has its own streaming site in Peacock, the network made its streaming deal with Netflix in 2017, long before Peacock was a thing. It was one of the streaming giant's first "co-production models," in which Netflix streams the series globally in partnership with the network and then gets the U.S. streaming rights after the season ends. That contract likely means Netflix has the rights to new Good Girls seasons for the duration of the show, which is why old seasons aren't currently available on Peacock. In the distant future, NBC may be able to reclaim the streaming rights from Netflix, like it did with The Office, but that's unlikely to affect Season 4's streaming timeline.
That's good for Netflix, because the series has consistently performed very well for the streaming site. In 2019, Deadline reported that the show's "strength is on digital," where it continually broke its viewership records with each new episode. And as of 2021, the series is still going strong on both digital and broadcast. When Season 3 hit Netflix in mid-February, it topped Nielsen's streaming ratings, according to Deadline. And the new Season 4 episodes have been getting about 1.5 million viewers per week on NBC, per TV Series Finale.
If you haven't been watching Season 4 live, you're not totally out of luck. The new episodes are added to Hulu the day after they air, and you can also stream them the next day for free on NBC.com. If you prefer to own the episodes, you can buy them as they air on Amazon or iTunes.
However (and whenever) you watch Season 4, you're definitely going to want to tune in at some point. We're only four episodes into the new season, and there's already been a lot of drama. You can only imagine what's left to come.