Where Are The Real War Dogs Guys Now?
Just recently, one of them was — incredibly — working as a government subcontractor.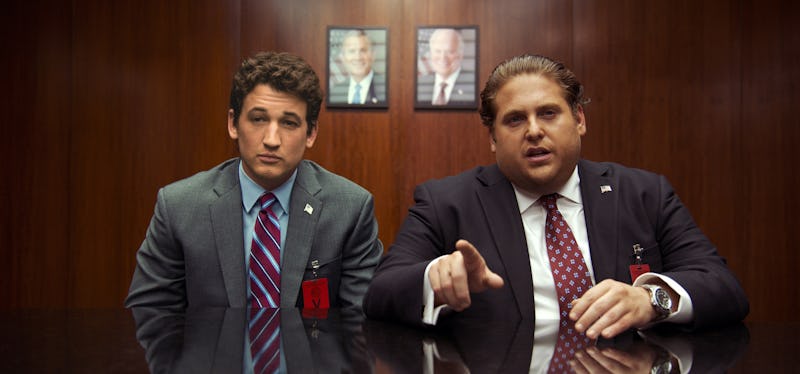 It's easy to watch War Dogs and think that David Packouz (Miles Teller) and Efraim Diveroli (Jonah Hill) are larger than life. And, in many ways, they are — but they're also based on two very real individuals. For the film, writer-director Todd Phillips (The Hangover) adapted the true story of Packouz and Diveroli, a pair of 20-somethings who ended up with a $300 million U.S. Government contract to get munitions to Afghanistan in 2007.
They accomplished this by obtaining rockets, ammunition, and other supplies that originated from China (which was expressly forbidden) and making it seem like the supplies came from elsewhere. The insane financial success and extravagant lifestyles that followed are all featured in War Dogs — but it didn't last forever. Packouz and Diveroli's time as successful arms dealers ended unceremoniously in 2011, after an official government investigation by the House Committee on Oversight and Government Reform. Packouz and Diveroli were sentenced for trafficking in unregulated ammunition. Packouz was put on house arrest, Diveroli (who was only 24) was sentenced to four years in jail. So where are they now, a decade later?
Both Packouz and Diveroli have moved on from their arms dealer days, at least in theory. Packouz, who was recruited to the business by Diveroli, changed direction. According to his official Twitter and Instagram accounts, Packouz now works as a musician and owns his own company, BeatBuddy, which sells an electronic drum machine. He also travels, plays music, and has developed business ventures like fast-flosser Instafloss and music equipment shop Singular Sound.
Packouz still lives in Florida, where he and Diveroli set up shop all those years ago. He's also the busy father of a little girl — he frequently posts sweet photos of their adventures on Instagram. But that doesn't mean he's left his War Dogs days behind him completely. Packouz acted as a bit of a consultant for War Dogs, meeting with the creators to discuss the story and the characters. He visited the set of the film, and even attended the premiere.
Diveroli, on the other hand, had no involvement in the film, and, based on his social media posts, wasn't very enthused about War Dogs. In fact, Diveroli urged followers not to see the movie and to read his memoir, Once a Gun Runner..., instead. "Before you read, watch, or listen to anything else about Efraim Diveroli, learn the REAL STORY," he wrote on Facebook. (In the same post, Diveroli called his book a "newly released, soon-to-be bestseller.") Aside from writing his book, Diveroli also started a media company named Incarcerated Entertainment.
According to a report by The Washington Post , Diveroli filed a lawsuit against War Dogs producers, claiming they based the screenplay off of parts of his memoir without the rights. He sought damages, as well as a cut from the profits of the film. Diveroli's lawyers claimed that by marketing War Dogs as a true story, Warner Bros. engaged in false advertising. Diveroli agreed to dismiss the lawsuit in late 2017.
He also fought lawsuits from Packouz and their former associate, Ralph Merrill, who claimed that Diveroli owed them profits from their 2007 government contract. "He cheated me out of millions of dollars," Packouz alleged in an interview with Miami New Times. "He cheated Ralph out of his life savings. I just believe he should pay me the money he owes me and pay Ralph what he owes him." However, Diveroli claimed that he told Packouz, "You were a part-time employee ... who only closed one very small deal, with my help, and dropped the ball on a dozen others." Merrill's case was dismissed in 2017.
Diveroli also sued several pharma companies in 2017, alleging that the anti-psychotic drug Abilify, which he'd begun taking in 2008, caused him to begin "compulsively gambling, spending, and experiencing hypersexuality." Yet another lawsuit came about in 2018 when Diveroli sued his memoir co-author Matthew Cox, who'd claimed in a filing on the Warner Bros. case that he was the "true" author of the book, and had interviewing Diveroli extensively to get his story. A judge granted summary judgment in 2019 and it was determined Cox signed over copyright to Diveroli.
Packouz and Diveroli, the two former business partners, are no longer close. Packouz occasionally reminisces about his former life, but insists that "I'm not interested in mentoring any aspiring arms dealers, sorry." In a post Packouz made about the movie, a fan asked what Diveroli was up to. "Efraim is living in Miami. Not sure what he's doing ... We're not friends anymore," Packouz replied.
Less is known about Diveroli. His LinkedIn still lists his current role as author of Once a Gun Runner..., and he hasn't updated his Instagram account since 2017 or Twitter since 2016. In 2020, the New York Times reported that Diveroli, as the co-owner of the company Medlink, had been working as a government subcontractor. (Medlink had been brought on as a subcontractor by JL Kaya, a company which had received a $323 million federal award to produce disposable medical gowns during the pandemic — after only receiving one prior government contract in 2016, a small deal to provide the army with gauze.) Diveroli has been barred from federal contracting until 2025, but Diveroli's lawyer said that this excluded "commercially available products." Diveroli is no longer involved in the work.
You can watch War Dogs on Amazon Prime.
This article was originally published on