A New Autobiography Reveals Shocking "Confessions" From Serial Killer Dennis Nilsen
Published next month, History Of A Drowning Boy includes previously unheard details of his crimes.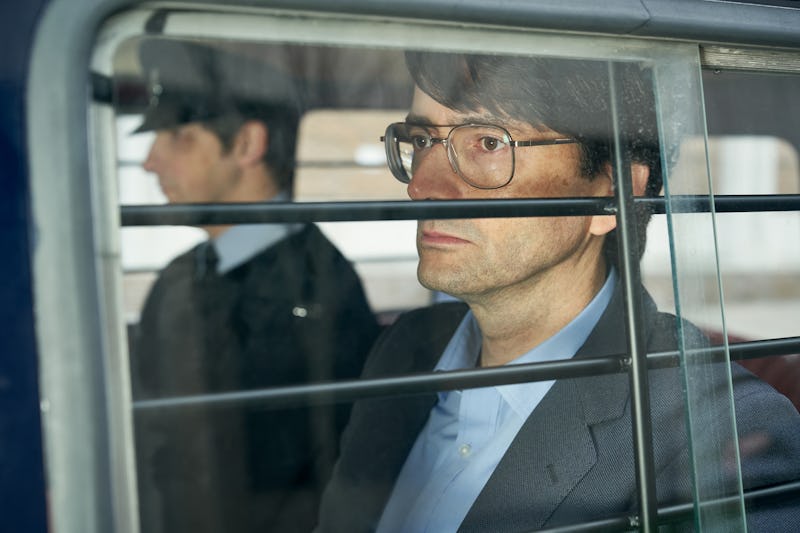 ITV
It isn't very common that autobiographies are published for the first time after their subject is dead. The fact that History Of A Drowning Boy details the crimes of one of the most prolific modern day serial killers in the UK makes it even more shocking. So, where is Dennis Nilson now? His story was adapted for an ITV drama in Sept. 2020, Des. However, the book that was compiled of thousands of notes he'd kept was reportedly banned from publication for years.
As the BBC reports, Nilsen died in prison on May 12, 2018 at Full Sutton Prison in East Yorkshire at the age of 72. He had undergone an operation, but suffered a blood clot which led to internal bleeding. His official medical cause of death was pulmonary embolism (a blockage in the lungs), and retroperitoneal haemorrhage (bleeding on the brain). It's been reported that after he died he left 6,000 pages of typed notes to Mark Austen, his pen pal.
Nilsen gained notoriety as the Muswell Hill murderer, and was sentenced to life in prison on November 4, 1983 after being found guilty of six counts of murder and two counts of attempted murder. Nilsen admitted to killing around 12 men and boys throughout the 1970s and 80s, and reportedly befriended his victims in pubs and bars before inviting them back to his flat, where he would later murder them. His crimes were eventually uncovered when a plumber found human remains in the drains outside of Nilsen's flat in North London.
It's now been reported that harrowing details of his crimes and motivations will be published in a new autobiography, History Of A Drowning Boy. In the book, Nilsen admits to three more attacks, according to reports. The Sun reports that the book recounts assaults on a young soldier who was drunk in the toilet of a train, and at least two other men who Nilsen used as "sexual props" for his "drunken fantasies".
The autobiography has already received a very mixed response. Austen made the decision to publish it after the serial killer's death. He was pen pals with Nilsen for over two decades, and it's been reported that he visited the serial killer in prison almost 70 times. Justifying the publication of Nilsen's autobiography, Austen told The Sun: "If that might help prevent one future victim, then it has to be worth it."
However, others have raised the issue of how its publication could cause renewed distress to family and friends of Nielsen's victims. The Mirror spoke to one friend of a bereaved relative who said: "He's done enough damage already. It's a slap in the face. It's as if he's still laughing at us from beyond the grave. When he died, this book should have died with him."
It's been said that Nilsen originally wanted the book, which reportedly includes graphic drawings, to be published in the 1990s. However, it's said to have been outlawed by the Home Office due to the fact that people can't profit from their crimes while alive and in prison.
History Of A Drowning Boy will be published on Feb. 25 and Austen has said that all royalties from the sale of the book will be given to homeless and rehabilitation charities.
This article was originally published on