Pray, Obey, Kill Subject Helge Fossmo May Be Released From Prison Soon
He was convicted for inciting the murder of his wife in 2004.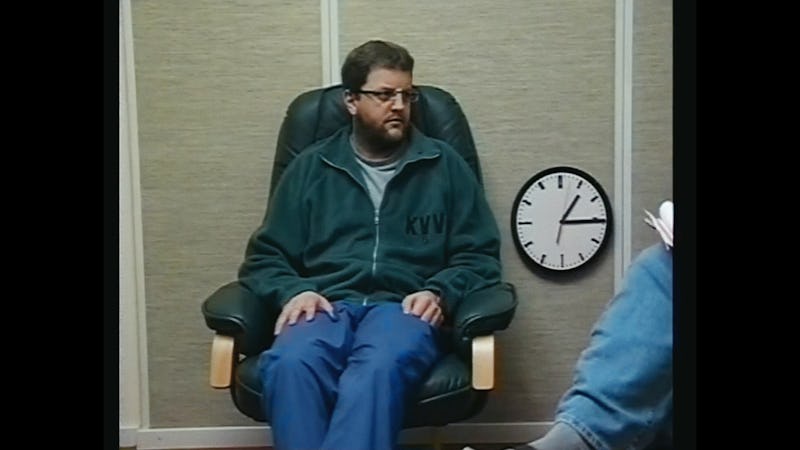 HBO
On Jan. 10, 2004, Alexandra Fossmo's murder shook the small town of Knutby, Sweden. HBO's new docuseries Pray, Obey, Kill revisits her case, including the attempted murder of her neighbor Daniel Linde, who was shot on the same night but survived. According to the Irish Times, Fossmo's nanny Sara Svensson carried out the actual attacks, but it was later discovered that she was acting on anonymous text messages she believed were coming from God. Those texts were eventually linked to the phone of Pastor Helge Fossmo, Alexandra's husband.
According to the Times, Helge Fossmo was having an affair with both Svensson and Linde's wife. Svensson claimed that she was in a slave-master relationship with Helge and that he'd told her God wanted his wife taken to heaven. After receiving texts encouraging her to murder Alexandra, she followed through. She confessed the next day, and was ultimately placed in psychiatric care until 2011, after the court decided that she was unlikely to commit another crime. Helge was convicted of incitement to murder and incitement to attempted murder and sentenced to prison, per SVT. He's now served 17 years of his life sentence.
Initially, Helge was sent to a prison in Kumla, Sweden, where he got married to a 30-year-old woman he met via mail. Per the Aftonbladet, the two wed at the Kumla prison chapel in 2007, a couple of years after she'd written her first letter to Helge. "We got to know each other through letters, but since then the relationship has developed through phone calls and regular visits," Helge said at the time. "She is a fantastic woman, a person I get along very well with."
However, according to Expressen, Helge had to be isolated at Kumla in late 2007 due to threats from fellow inmates who considered him a "rat," partly because he'd attempted to pin the blame for Alexandra's murder on the leader of his church parish, Åsa Waldau. Per Expressen, Helge claims in Pray, Obey Kill that Waldau — not him — was behind the texts to Svensson, though he took responsibility for his role in the murder in a 2006 interview. Waldau has never been charged in connection with the case and has long maintained that Helge is lying, but was convicted in 2020 for eight counts of assault on some of her former parishioners, according to Varlden Idag. She was given a suspended sentence and 120 hours of community service.
Helge, meanwhile, was moved to Sweden's Tidaholm Prison in 2008. According to Sveriges Radio, he was hoping to be paroled in 2020. But the prosecution appealed, stating that he should complete at least 24 years in prison due to the "exceptional ruthlessness" of the crime and the "uncertainty regarding the risk of relapse." Expressen reported in another article that Helge's sentence was later changed to 26 years, granting him parole after two thirds of his sentence is served. He's now expected to be released in early 2022.