How Joyce Mitchell Helped Facilitate A Real Life Shawshank Redemption
She helped two convicted murderers escape.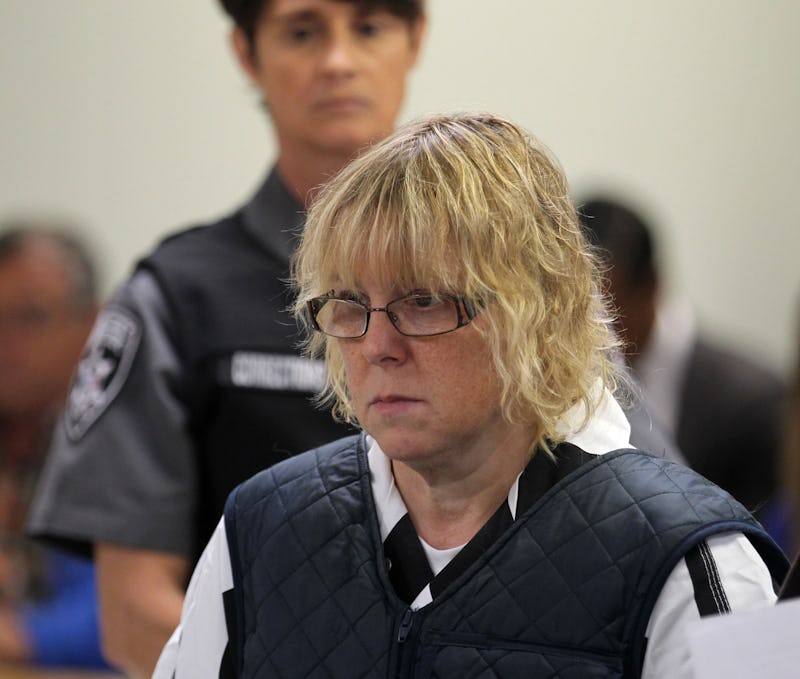 Pool/Getty Images News/Getty Images
The June 18 episode of Cellmate Secrets on Lifetime is all about a real life Shawshank Redemption-style prison escape. In 2015, Clinton Correctional Facility seamstress Joyce Mitchell provided tools to help two inmates escape by smuggling them in frozen hamburger meat. ABC News reported that convicted murderers Richard Matt and David Sweat then used the tools to cut through their cell wall and into a pipe, which they then crawled through to brief freedom. They were on the lam for 22 days before authorities tracked them down. As reported by the New York Post, Matt was shot and killed during the manhunt and Sweat was recaptured. He's now continuing his life sentence in prison. As for Mitchell, she was arrested and convicted of promoting prison contraband and criminal facilitation, as per CNN.
NBC News reported that, according to police documents, Mitchell became close with the two inmates she helped escape when they began paying extra attention to her. She allegedly engaged in sexual contact with one of the men and sent explicit photos to the other. However, according to the Post, her husband Lyle — who also worked as an employee at the Clinton Correctional Facility — claimed that she denied ever having sexual intercourse with them, something Mitchell personally reiterated following the release of Showtime's Escape at Dannemora which dramatised the whole story.
"I believe I helped Inmate Matt and Inmate Sweat escape because I was caught up in the fantasy," Mitchell said in a 2015 statement, per NBC News. "I enjoyed the attention, the feeling both of them gave me and the thought of a different life." But when it came time to meet up with the escapees, Mitchell bailed. "I know I had agreed to help them escape and run away with them, but I panicked and couldn't follow through with the rest of the plan," she said in her statement. "I really do love my husband and he's the reason."
She was sentenced to prison for up to seven years, but was recently granted a conditional release. According to PIX 11, New York state law allows prisoners to get an early release for good behavior provided they serve at least two thirds of their sentence. So after four and a half years, Mitchell was up for parole, and found herself released in early 2020. The New York Post reported that she returned to live with her husband Lyle in their upstate New York home.
The Post reported that Lyle expressed frustration at his wife's actions, but remained loyal. "Do I still love her? Yes. Am I mad? Yes," he said on the TODAY show in 2015, per the Post. Mitchell was also mad at herself for her actions. At her 2015 sentencing, ABC News reported that she told the judge, "If I could take it all back I would. This is by far the worst mistake I have ever made in my life. I live with regret every day and will for the rest of my life."
According to ABC, Mitchell will remain under community supervision until June 2022. But unlike the men she once helped escape, she's now essentially completely free.