Meet The Amateur Investigators Of 'The Keepers'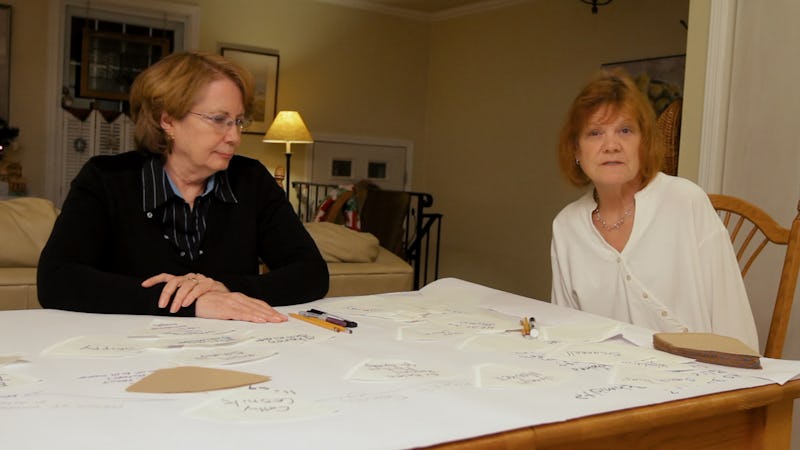 Abbie Schaub and Gemma Hoskins, Courtesy of Netflix
If your high school teacher was murdered the year you were about to graduate, it would probably have a profound effect on you — that goes double if your high school was also at the center of a series of sex abuse allegations against the Catholic priests. Such is the story of The Keepers' Gemma Hoskins and Abbie Fitzgerald Schaub, whose investigation into what happened at their high school can be seen in Netflix's latest true-crime documentary series about the unsolved abduction and murder of a Baltimore nun. Who are Gemma and Abbie, and why are they so committed to solving this case?
The Keepers revolves around the murder of Sister Catherine Cesnik, who in 1969 was abducted from a shopping trip and found dead a few months later. Although her killer was never found, both police and reporters well-versed in the case theorize that her murder might have connected to a series of sexual abuse charges against a priest named Father Joseph Maskell, from women who attended Archbishop Keough High School in the late '60s and early '70s.
As a member of a teaching order of nuns called the School Sisters of Notre Dame, Cesnik began her career as an English and drama teacher at Archbishop Keough in 1965, and taught there for four years until she suddenly transferred to Western High School. Hoskins and Schaub were were seniors in 1969 when Cesnik was abducted, and although neither of them were targeted by Maskell's alleged abuse, according to the Huffington Post, her death had a profound effect on them as well. "She's really the reason I became a teacher," Hoskins told the Baltimore Sun. "And when I became a teacher, I used everything that I saw her do, and it worked."
It certainly did work. As reported by seasoned Baltimore reporter Tom Nugent on his blog, Inside Baltimore, Hoskins enjoyed a 36-year-long career as an educator in several Harford and Baltimore Counties, and was named 1992 Maryland Teacher of the Year for her work teaching fifth graders at Jarrettsville Elementary. Now retired, she and Schaub, who's also retired from her position as a registered nurse, have devoted their free time to investigating Cesnik's murder. Along the way they also began to investigate another murder in their community: that of 20-year-old Joyce Malecki, who was abducted and found dead a few days after Cesnik was abducted.
Although the two women had not been in contact with one another since graduation, their shared interest in discovering the truth brought them together as amateur investigators. Hoskins' expertise primarily lies in talking to people and getting them to open up to her; Nugent, who wrote a 6,000 word investigation of Sister Cathy's death in 2005, describes her in the series as a "bulldog." Schaub, in contrast, is more of an "intellectual" and focuses more on research, digging into old newspaper articles and court records.
In 2013, Hoskins and Schaub also created "Justice For Catherine Cesnik and Joyce Malecki," a public Facebook group that's meant to uncover new information about both cases. Their website, WhoKilledSisterCathy.org, also encourages members of the community to share tips based on what they remember of Sister Cathy.
In a statement to Bustle, the Archdiocese of Baltimore had this to say about their involvement in the case:
Since the 1990s, when the Archdiocese of Baltimore first learned of an allegation of child sexual abuse against Maskell, and on numerous occasions since, the Archdiocese has publicly acknowledged and apologized for the horrific abuse committed by him. The Archdiocese reported the allegations to civil authorities in the 1990s and cooperated fully in any investigation, removed Father Maskell's faculties to function as a priest, apologized to victims and offered them counseling assistance, sought additional victims, and provided direct financial assistance to 16 individuals abused by Maskell. Though it was unaware of the abuse at the time it occurred approximately 50 years ago, the Archdiocese deeply regrets the damage that was caused to those who were so badly harmed and has worked diligently since becoming aware of their abuse to bring some measure of healing to them. The Archdiocese is wholly committed to protecting children, holding abusers accountable—clergy and laity alike, and promoting healing for victims. These are hallmarks of the Archdiocese's child protection efforts, which we strive to constantly strengthen. There is no room in the Archdiocese for anyone who would harm a child and every effort must be made to ensure what happened before never happens again. It is our hope that "The Keepers" advances this pursuit, just as we hope the series helps those who have kept alive the memory of Sr. Cathy and our collective hope that justice will be won for her.
Already, it's possible that Gemma Hoskins and Abbie Schaub's efforts have lead to a renewed interest in the case. Although Maskell died in 2001, his body was been recently exhumed by Baltimore County Police Department as part of a search for more evidence. Unfortunately, this move did not result in any new evidence as to who could have killed Cesnik.
Of course, while Hoskins and Schaub enjoy the work they've done together, it all hinges on their love for Sister Cathy. "I've asked both of them, don't you guys want to become investigative journalists? Let's have some real fun," Nugent says in the first episode of The Keepers. "And they tell me, we'll do it our way."
You can see more of what the two have accomplished together in The Keepers, currently streaming on Netflix.