Dreaming Whilst Black Draws On The Real-Life Experiences Of Its Creator & Star
Adjani Salmon is the brains behind the BBC Three comedy pilot.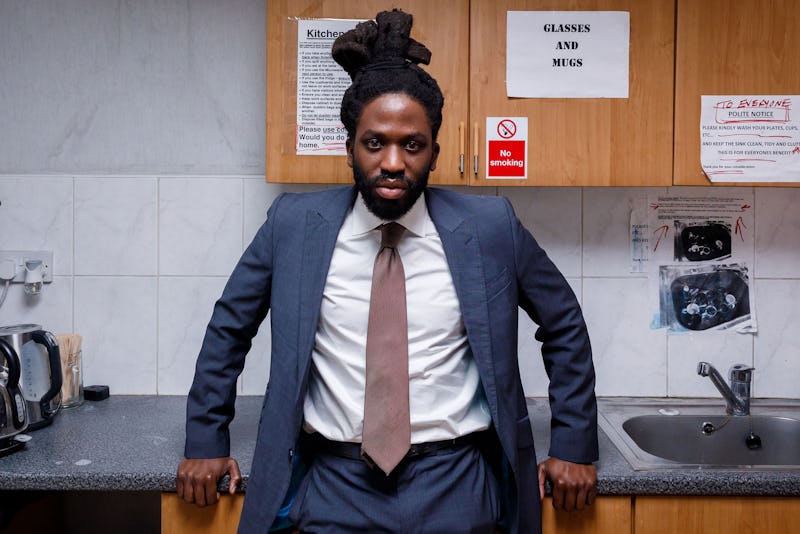 BBC/Big Deal Films/Anup Bhatt
New BBC comedy Dreaming Whilst Black follows Kwabena, a British-Jamaican aspiring filmmaker who's stuck in a dead-end recruitment job and trying to chase his dream of a career in film. And he's doing it all while tackling some *yikes* racial encounters, from unfortunate comments about his hair to a particularly cringe karaoke session. The show is described as "loosely autobiographical" (it's also hilarious), so who is Dreaming Whilst Black's Adjani Salmon, the show's creator and star?
Adjani Salmon is described as a "driven" writer and director by his agents and his CV
Hailing from Jamaica, Salmon created and ran a production company focusing on adverts, PSAs and corporate videos before graduating from the prestigious Met Film School in London. According to the filmmaker's bio, in 2013, on a leap of faith, he dissolved his company and upped sticks to the UK to pursue his Masters in Directing Film, all the while creating Dreaming Whilst Black.
Dreaming Whilst Black began as a popular 13-part web series back in 2018 which is said to have amassed over 40,000 views in three months. The series, co-written with Ali Hughes, has been adapted for a BBC Three pilot. However, much like his TV character, Salmon said breaking into the elitist film industry presented itself with a number of challenges.
"When you start applying for funding and trying to get into certain spaces, even the knowing of opportunities depends on who you know," explained Salmon, via The Metro. "I didn't know anybody, I didn't have any access, which is partly why we released it on YouTube, because we didn't know nobody."
The director filmed the pilot of Dreaming Whilst Black for the BBC in early 2021, with hopes it will long continue on the network.
Earlier this week, he encouraged everyone to tune in via Twitter. "NEWS ALERT!!! #DreamingWhilstBlack will air on BBC1, Monday at 11:10PM!!! We need the views so if you've seen, thank you, we love you, I beg you watch it again Monday Or just turn on your TV to BBC1 n let it run," he tweeted (April 24).
Speaking to The Metro, Salmon admitted that he almost wasn't going to "make a show about race."
"When I'm in Jamaica, race is not really a thing," he explained, "It's like, yeah, we're black, but we're all black. So even when we talk about police brutality, the language is not about race because it's black police. So, coming to England and being "othered" is an interesting experience — being "othered" as an adult. My cousins who grew up here, they grew up in it so for me it was like, what is this?"
Salmon shared that the show was "a perfect opportunity" to show some observations as well as "to have fun and to make fun."
"Just to show how for Black people, this is messed up but it's also funny depending how you swing it," he told the Metro. "It's really just to show everyday life and I see for a lot of Black people, microaggressions, unfortunately, is a part of everyday life."