Viewpoint's Amy Wren Was Scouted By Disney As A Teenager
She also may a brief appearance in season seven of Skins.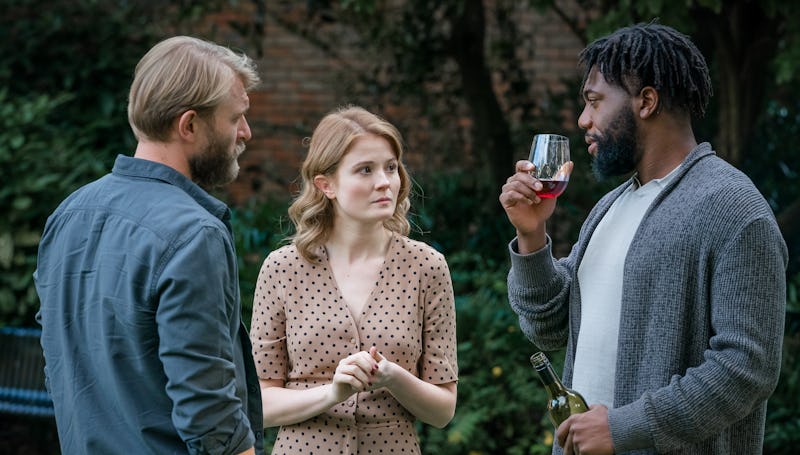 Ben Blackall / © Tiger Aspect Productions 2021
ITV's new thriller Viewpoint begins tonight (April 26) and while the shows features a number of familiar faces (Noel Clarke and Alexandra Roach, for example), you be wanting to get to know some of the up-and-comers in the cast. So who is Amy Wren, the actor playing Gemma Hillman, and what else may you recognise her from?
First, let's cover a quick synopsis of Viewpoint. Co-created by Fleabag director Harry Bradbeer and Manhunt writer Ed Whitmore, the thriller centres around a police surveillance instigation into a Manchester community, specifically at the observation post of single mum Zoe Sterling (played by Roach) by DC Martin King (Clarke). It's been described as "reminiscent of Alfred Hitchcock's Rear Window" by Metro, meaning you can expect an eerie, intimate feel.
As mentioned, Wren stars in the show as Gemma Hillman, whose disappearance is at the centre of the drama. Hillman, a school teacher, has vanished, and police beginning monitoring the movement of her boyfriend Greg Sullivan (played by Fehinti Balogun), their prime suspect.
You may recognise Wren from titles including ITV's Tutankhamun or the 2017 BBC adaptation of Little Women. Wren also made a brief appearance in Skins series seven and recently played Mildrith in Netflix's The Last Kingdom.
Wren has been acting since she was a teenager after being spotted by Disney UK at the age of 16, according to Heart. The actor worked with Nickelodeon when she was younger, starring in projects including Genie In The House and Summer in Transylvania.
While Viewpoint is a crime thriller, Wren has previously spoken about her love of period dramas, meaning we can probably expect to see her in more of those sometime soon.
"I love a good period drama me," she told Nuit magazine. "I love the history, the adventure and the beauty a period drama can bring to the screen. I have been so lucky to be part of stories and dramas that have all been very hands on in order to get a very real feel to them. Wuthering Heights and The Last Kingdom both had a very real 'lets get muddy' approach (maybe because we filmed in a lot of mud). They weren't about perfection or beauty in the classic sense, but more about a real time in life that at times was very harsh and cruel."
She added: "Tutankhamun was then a chance for me to play a more lavish character in a completely different era, and even tho there was less mud there was more sand, more spiders and scorching heats. So yes I love being transported back in time but also they bring along some wonderful adventures."
Clearly passionate about her craft, Wren is one to watch on the British TV scene.
Viewpoint begins at 9pm on April 26 on ITV, and continues each night this week for five consecutive days.