Lenny Hochstein's New Girlfriend Has A Lot To Say About Lisa
The RHOM star's husband started dating model Katharina Mazepa after announcing their divorce.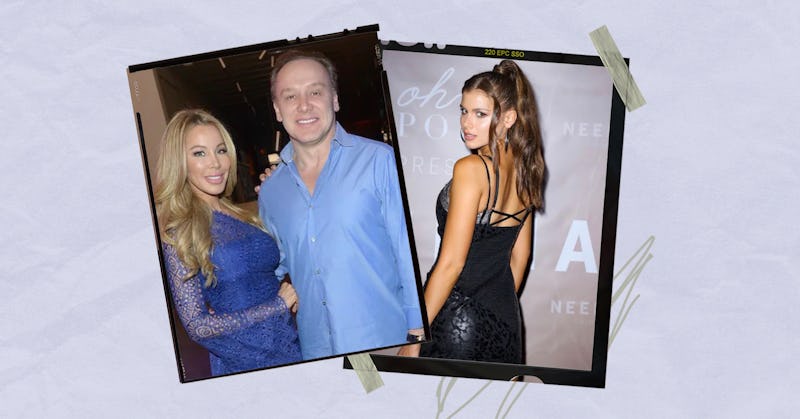 Romain Maurice/Getty Images Entertainment; Alexander Tamargo/Getty Images Entertainment
One of the hottest topics on The Real Housewives of Miami isn't even a Housewife. Season 5 of the Peacock series is heavily focused on Lisa and Lenny Hochstein's messy divorce, which is eerily foreshadowed in the first four episodes with a shocking hot mic moment before their marriage falls apart for good. In the sixth episode of the season, Lisa reveals to her fellow Housewives that Lenny had already started dating another woman, naturally making fans wonder who she was.
Lenny is currently dating 26-year-old Austrian model Katharina Mazepa, and he has been linked to her ever since he announced his split from Lisa in May 2022. However, as uncovered on RHOM, she's been around the family even before the divorce, and the new couple is showing no signs of slowing down anytime soon. Here's everything you need to know about Lenny's new girlfriend.
Katharina Mazepa's Job
Katharina's modeling career began when she won Miss Vienna in 2014, landing her in publications like Elle and Harper's Bazaar and campaigns for Guess and Forever 21. Katharina has dabbled in "acting," as she told Naluda, by appearing on The Hills: New Beginnings. She's also a staunch animal rights activist, working with PETA and proudly proclaiming her vegetarianism in her Instagram bio. "I made it a priority to keep partnering up with animal rights organizations on social media to bring awareness on how we can take simple steps to protect animals," she told Maxim in 2021.
Katharina Mazepa's Instagram
Currently, Katharina has amassed 1.7 million followers on her Instagram page, which consists primarily of photoshoots and modeling campaigns. She has no photos with Lenny or his family on her Instagram, though fans have discovered that she followed Lisa at one point and even liked some of her old posts. The model has since unfollowed Lisa on social media, but on Jan. 2, she acknowledged liking some of Lisa's family photos before her divorce from Lenny. "I don't think liking a picture she was tagged in years ago is all that crazy," Katharina told Page Six.
When Did Lenny Start Dating Katharina?
The exact timeline of when Lenny started dating Katharina is murky, given how the two knew each other before he announced his intentions to split from his estranged wife. In May, Lenny told Page Six that he only started dating the model "after the decision was made to get divorced." However, on the fourth episode of the season, Lenny was caught saying that he hadn't "slept" with Lisa in some time "because then I would be cheating on who I really care about," insinuating that he was already seeing someone else. In the following episode, Lisa revealed that her estranged husband already had a new girlfriend who had been around the couple and even followed her on Instagram without saying Katharina's name out loud.
In an interview with PEOPLE, Lisa said that she started having suspicions about Lenny's connection to Katharina months before he left. "Someone randomly messaged me once and said, 'I'm so sorry, I just saw your husband with this woman' — who fit her description — 'outside of her building,'" she recalled to PEOPLE. "And I immediately called him and asked him what was going on, but he denied it and said they were just friends. Still, I always thought that something was going on with her; it always made me feel very uncomfortable, the way their interactions were."
Will Katharina Appear On RHOM Season 5?
While Katharina hasn't appeared on RHOM herself, she has gotten involved with Lisa and Lenny's divorce publicly on numerous occasions. In July, she attempted to get a restraining order against Lisa, claiming to Us Weekly that she was "a victim of cyberbullying, intimidation and harassment" from Lisa. However, a judge dismissed the request in December, finding no "just cause" for a restraining order. "Thankfully, the judge saw through her vicious lies and antics and dismissed the case," Lisa told Page Six.
Most recently, Katharina accused the reality star of setting up fake social media accounts to troll her, alleging that Lisa also "spread lies" about her immigration status and committed "stalking acts" against her. "The fact of the matter is, the judge found on the record that she had committed those acts, but felt that Lisa was 'a woman scorned' and as such under some limited caselaw, it should be expected for a woman scorned to retaliate," Katharina alleged to Page Six in December.