Here's What Happened To The Menendez Brothers' House After Their Parents' Murders
The six-bedroom Beverly Hills mansion has changed hands a couple of times since 1989.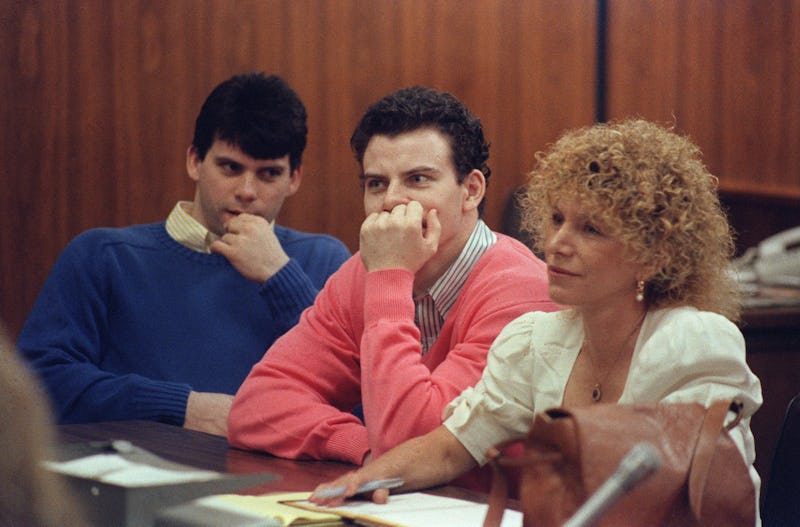 MIKE NELSON/AFP/Getty Images
On Aug. 20, 1989, Mary "Kitty" Menendez and her husband Jose Menendez were infamously killed in the living room of their Beverly Hills home while watching a movie. The couple's young sons, Lyle and Erik Menendez, initially denied having any involvement in their parents' murders, instead pinning the blame for the crime on the mob. However, the pair drew the suspicion of investigators after spending an estimated $700,000 of their late father's fortune within the first six months after his death. Eventually, the two brothers confessed to their parents' murders in sessions with their therapist, Dr. Jerome Oziel, and were arrested.
During the very high-profile trial in 1993, Lyle and Eric claimed that they killed their parents in self-defense after a lifetime of emotional abuse and molestation at the hands of their father. Their initial trial led to two hung juries, so the brothers were retried in 1995, at which time both Lyle and Eric were convicted of first-degree murder and sentenced to life in prison without parole.
As for the house where the Menendez brothers killed their parents, there are still people living in it today. The Beverly Hills mansion — which Vanity Fair reported is a six-bedroom Mediterranean-style house with a red tile roof, courtyard, swimming pool, tennis court, and guesthouse — is rumored to have previously been rented to A-listers like Prince and Elton John. Jose and Kitty Menendez bought the house in 1988, just one year prior to their murders, but the Beverly Hills home had been originally constructed in 1927 and reportedly underwent significant renovations around 1974-75.
According to the Los Angeles Times, the Menendez family also had a home in Calabasas that was being renovated at the time of Jose and Kitty's murders. The outlet reported that the Calabasas house was later sold at auction to Raymond and Vera Stewart in 1994, who bid $1.3 million — well under the initial appraisal value of $2.65 million.
The family's other home, the Beverly Hills mansion, has passed through two owners since that fateful night in 1989. According to Forbes, it was first sold to murder mystery TV writer William Link. Then, in 2001, it was sold to a telecommunications executive named Sam Delug, according to Realtor.com. It doesn't appear to have changed hands since then.
Per Realtor.com, major renovations were done to the inside of the home in 2002, but the outside of it looks almost the exact same as it did when the Menendezes lived there. Although the house had initially decreased in value from the almost $4 million Jose and Kitty paid for it, it's bounced back and currently has an estimated market value of $5.7 million.
This article was originally published on