The Circle Host Michelle Buteau Was Initially Skeptical Of The Show
"A competition, and you can catfish people? Absolutely not, sir! Rude!"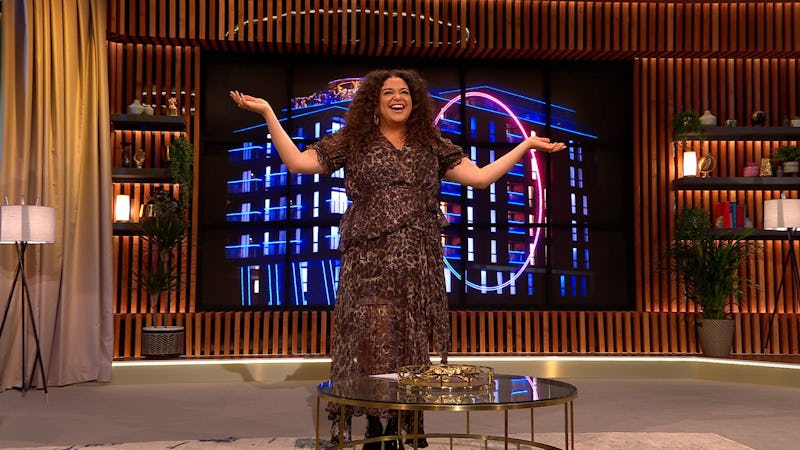 via the Netflix press site
The Circle may be host to a rotating crop of contestants each season, but there is one constant presence: host and narrator Michelle Buteau. It's no wonder Buteau is such a natural at carrying the show: she's been working as a comedian for two decades and has her timing down pat. But it was actually a tragedy that prompted her to get into comedy.
"9/11 happened and all of [a] sudden I was working 16 to 18 hour shifts editing very gruesome video [as a page at NBC]," Buteau told Vulture in 2015. "NBC offered us therapy. I was like, 'No, I'm good. I'm going to do comedy.' It was great. I've been doing it ever since...Also, in hindsight, I should have done comedy and taken therapy. Live and learn."
Though Buteau initially kept her overnight job at WNBC while doing stand-up on the side, she's been working steadily in comedy ever since 2001. Her motto, as she would later advise her fellow comedian friends complaining about having only three lines in a show or movie, was to, "Make those three lines pop. Make them so big that everybody will be talking about that scene for the rest of the week," she told Allure. That's how she built a career: making small but memorable appearances on shows like Key & Peele, The Eric Andre Show, Enlisted, and VH1's Big Morning Buzz Live. In 2017, she was declared one of Esquire's top 10 comedians to watch.
In 2018, Buteau broke through with a 15-minute set on Netflix's The Comedy Lineup. By 2019, she had parts in Always Be My Maybe, Someone Great, Isn't It Romantic, Sell By, and BET's adaptation of First Wives Club — all while welcoming twins via surrogate with her husband, Gijs van der Most. And despite the global pandemic, 2020 saw Buteau host The Circle; debut Welcome to Buteaupia, her first stand-up special; and release her first book, Survival of the Thickest.
But even as her star rises and she continues to get new opportunities, Buteau isn't planning to leave behind comedy. "I love it all for different reasons," she told Zora in December. "It's coming from the same place where I love to bring people together and be my silly, goofy, sincere self. It's all about driving the show or the message and keeping it moving and also representation. So I like it all. And I also like checks."
Interestingly enough, Buteau has said that she was not initially onboard with the concept of The Circle ("A competition, and you can catfish people? Absolutely not, sir! Rude!" she told NPR of hearing the idea). But these days, she's appreciative of having a show that's easy to make during COVID. "That show is set up for quarantine; those people are in quarantine," Buteau told Variety in September. "The fact that we can do that safely and not really see each other until the reunion — but by that time we would have already done our quarantine time — is pretty amazing. We're really, really lucky."