Starring On Them Helped Deborah Ayorinde Confront Her Trauma
"I was able to just let out all of the frustration and all of these buried feelings."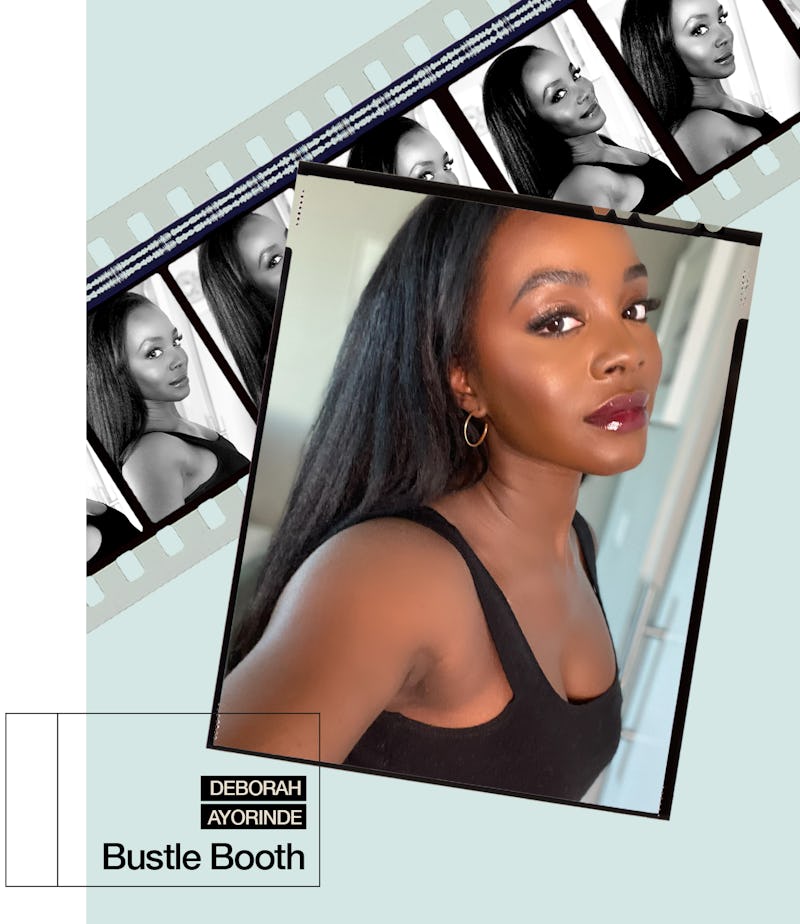 Margaret Flatley
Deborah Ayorinde knows what it's like to feel like she doesn't belong. When she was 8, her family moved from the United Kingdom to San Jose, California, where her American classmates taunted her about her skin color, Nigerian heritage, and thick British accent. She'd eat lunch in the bathroom every day and faked stomachaches in hopes that her mom would pick her up from school and take her home.
"It was a really, really hard transition because I just felt so different," the 32-year-old actor tells Bustle. "It was scary. It shook me. I feel like I kind of carried that feeling throughout my life. But now, as an adult, I've learned the beauty in my differences."
Ayorinde drew on those experiences while starring as Lucky Emory in Amazon's new horror series Them. Set in 1953, the show follows the Emorys after they move cross-country from rural North Carolina to Los Angeles in the hopes of finding a better life for their daughters Ruby (Shahadi Wright Joseph) and Gracie (Melody Hurd) outside of the oppressive Jim Crow South. Once there, however, the Black family is terrorized by racist neighbors and supernatural forces alike.
"Many immigrants, much like many people, think that OK, if they could just make it to this place, then they'll be safe," Ayorinde says. "But what I realized during the process of filming is that there really was no place that was actually safe. Unless that us-versus-them dynamic is dismantled and unless we see each other finally as human beings, there will really be no place that's actually safe."
Playing Lucky also gave Ayorinde the opportunity to confront the sexism, racism, and microaggressions she's experienced in her own life, which she worked through with a therapist hired to be on hand due to the traumatic content of the show. "You kind of experience these things and you just put your mask on and shut up and keep on going," she says. "Lucky kind of does that too, at first, but through playing her I was able to just let out all of the frustration and all of these buried feelings."
Ayorinde has come a long way since she was bullied in school, however. Following roles in shows like Luke Cage, True Detective, and The Village, she's next set to appear opposite Kevin Hart in the upcoming film Fatherhood. Recently, she saw her face on a massive Them billboard for the first time and ran outside with a friend to document the moment. "It was really just overwhelming to see myself, being a Black woman, being dark-skinned, on this huge billboard," Ayorinde says. "Growing up, I didn't see that a lot — women who look like me highlighted in that way. So I really hope that other young girls, other women who look like me, other people who can connect with me, see that and also feel inspired."
Get to know more about Ayorinde — including the movie quote she'll never get tired of — in her Bustle Booth questionnaire below.
In The Bustle Booth
What's your coffee order?
I'm really sensitive to caffeine so I don't drink coffee.
What are the saved weather locations on your phone?
London, Los Angeles, New York City, Atlanta, Lagos, and Oakland.
What's your sign?
Leo.
Favorite overused movie quote?
"Wakanda Forever!" Even though I actually don't think people could ever use that quote enough.
What was your favorite cartoon as a kid?
The Simpsons.
What's one movie or TV show you're currently obsessed with?
Before 30.
Who is your celeb idol?
Janet Jackson.
If you had to be on a reality TV show, what would it be?
Finding Your Roots.
Go-to karaoke song?
Doing karaoke actually terrifies me! I'm usually in the audience cheering my friends on.
What's something that's inspiring you lately?
Reading my old journal entries and looking at old photos of myself. It reminds me of how far I've come and how I've managed to always stay true to myself.
What is something you would want people to say about you?
I try not to be consumed with what people have to say about me. I used to be caught up with that and it made me stressed and miserable. I try to focus more on what I have to say about myself. So maybe that's what I would want people to say about me: that I'm true to myself.