Erika Jayne Revealed The Real Reason She Filed For Divorce On RHOBH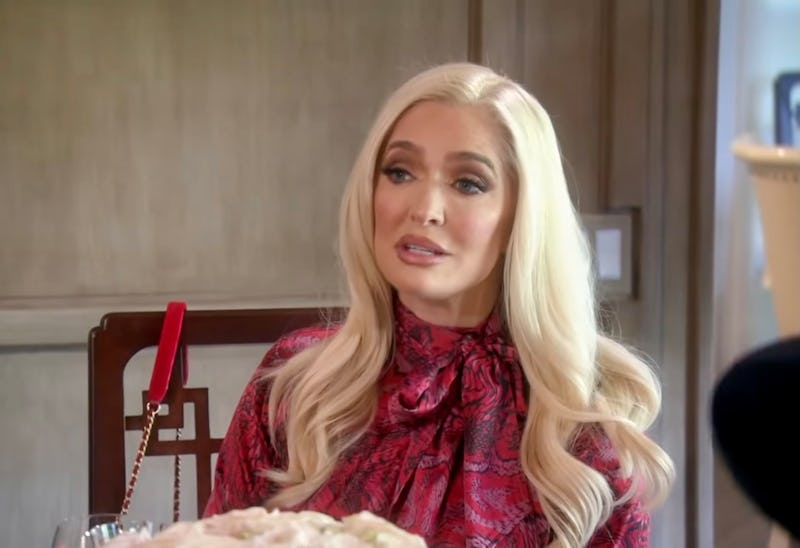 Bravo/screenshot
Since filing for divorce from her husband Tom Girardi in November, Erika Jayne has been tight-lipped about what led to their split. But in the June 23 episode of The Real Housewives of Beverly Hills, she finally shared some details.
As Erika explained to her costars, she "struggled for a long time" with the decision to end her marriage of 20 years. But once she finally decided to pull the trigger, she moved swiftly, spending 30 days "closing out certain parts of" her life before eventually moving out. "I cried every day," she told the other women at Sutton Stracke's Paris-themed party. "This was the end of a massive part of my life, and [I'm] stepping into basically a void."
In a later scene with Lisa Rinna, Erika described dropping Tom off at work the morning she moved out and telling him she loved him. "He said, 'Thanks, hun,' like I was an employee," Erika recounted, revealing that was the last time she'd seen her estranged husband. "I went home and started putting everything in the moving van. I drove off, went to my new place, spent the night there, and he was served the next morning."
Interactions like that are partly what Erika said led to her marriage's demise. In one confessional, she claimed that Tom "always dismissed" her if she tried to talk about her feelings, forcing her to uphold a façade that "everything is perfect." Later, Erika shared another story about a group dinner during which Tom told one of their male dinner companions, "If you think you can afford [Erika], you can have her."
Erika went on to explain that she "didn't tell anybody because [Tom] supported me when there was nothing. There's always that underlying pressure of wanting to please someone that's provided for you. And I felt always that I should shut up and be grateful to an extent. Look, is it great to be able to wear this jacket? Is it great to be able to live in a big house? Is it great to be able to have a Lambo? Is it great to be able to do all this sh*t? Yes, but at what human cost, at some point?"
After briefly considering a trial separation, Erika decided to "let go of" her marriage — and along with it, her Lamborghini and 16,000 square-foot home. She added that she's now renting a "tiny baby dollhouse" (which is reportedly a 2,015 square-foot home with three bedrooms and two bathrooms) that she furnished with a sofa and two chairs that she "stole" from her and Tom's home. "It's the uncertainty and the instability of being really out on your own," she said, admitting that she didn't even have a kitchen table yet. "To all of a sudden live somewhere else and know that you're never going home."
Bravo filmed the episode about eight months ago, and Erika — who added that she "didn't leave a note" when she moved out — was bracing herself for a contentious legal battle. Weeks after the episode was filmed, Tom faced allegations of fraud and embezzlement, and one lawsuit accused Erika of filing for divorce to avoid dealing with legal consequences. Since then, the 82-year-old attorney has also been diagnosed with dementia and late-onset Alzheimer's disease. He's now under a permanent conservatorship.
"There's so much that these women don't know," Erika said in the episode's final moments.