Noah Confirms The Reason He Abruptly Left Love Island
He disappeared from the show after the Sept. 18 episode.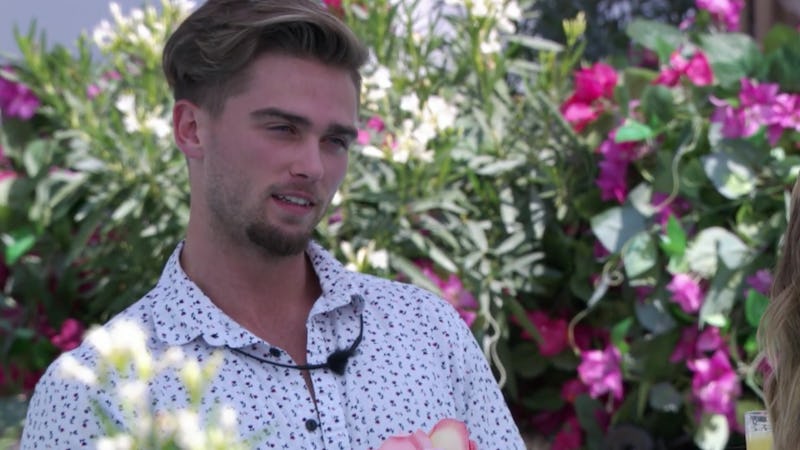 CBS/Screenshot
After being in the villa for only a few days, Love Island cast member Noah Purvis abruptly left the show. In Episode 25, narrator Matthew Hoffman announced his departure without further explanation. His bio was deleted from CBS.com and his presence removed from all Love Island social media.
"It has been brought to our attention that cast member Noah Purvis provided false information on his application to Love Island, which violates his contestant agreement. He has been removed from the show," CBS told Bustle in a statement.
In a separate statement to Bustle, Noah confirmed online speculation that his removal from the show was related to his pseudonymous appearances in adult films, which surfaced while he was in the villa. "CBS was not told by me prior to the show that I did those things," he says. He adds that his experience in porn is something that, before now, he "suppressed away" and "had forgotten about." He feared he'd let CBS, his friends, and his family down. "In the moment, you know, I had a big panic attack," he says.
On Love Island, Noah said he's a home health care worker pursuing his certification in massage therapy. On Instagram, he describes himself as a bodybuilder and ambassador for the Fitplan mobile app. He's also on YouTube, where he shares funny vlogs that feature his workouts, road trips, and more.
Since returning home, Noah says he's attending therapy and is glad things unfolded the way they did. "I was lying to myself for a long time," he adds. According to an Oct. 5 Instagram Story, he plans to share more about his past with his online following soon. "I'm not ashamed of who I am, I'm not ashamed of what I've done. I've gotten over it, and I've learned a lot of things from this process," he said.
In a separate Instagram post, he captioned a mirror selfie: "Your past doesn't define who you are. You determine who, what, how and where you'll end up. I am truly proud of who I am today and excited for what is next! Stay tuned....."
This article was originally published on