The Hunters Creator Wanted The Series Finale To Serve As A "Catharsis"
Prime Video's alternate history drama is ending with Season 2.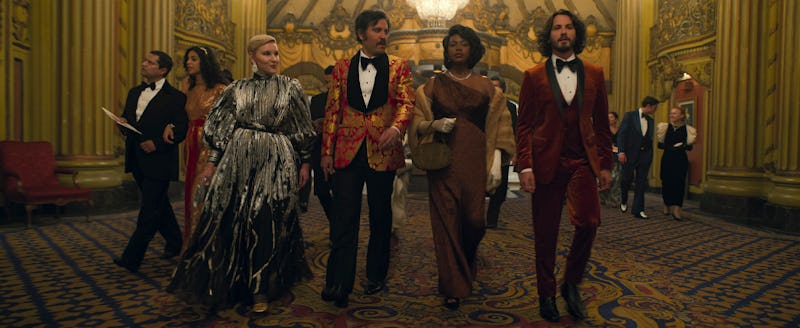 Courtesy of Prime Video
Centering on a diverse band of Nazi hunters in 1970s New York City, Prime Video's Hunters Season 2 incorporated two different timelines. The reason? The streamer canceled Prime Video's polarizing alternate history drama in November 2022, announcing that Hunters will not return for Season 3. In addition to focusing on the titular neo-Nazi hunters' pursuit of Adolf Hitler in 1979, an earlier timeline serves as an origin story for Al Pacino's Meyer Offerman, who died in the Season 1 finale. After learning the show's fate, creator David Weil and Pacino found a way to incorporate his character into the second and final season.
Their solution was to draw a link between Meyer Offerman and his killer, Jonah Heidelbaum (Logan Lerman). It's about "how the echoes of the past reverberate loudly in Jonah's present in 1979," Weil explained to Entertainment Weekly in November 2022. "In many ways, Jonah's journey this season, he may find himself right in a similar darkness that Meyer Offerman tried to keep him from, but that Wilhelm Zuchs always exuded and inhabited."
In Season 2, The Hunters band together once again to eliminate Adolf Hiter (Udo Kier) — who's alive and hiding out in South America — once and for all. "For me, as a kid growing up on Long Island, being Jewish, there was always this frustration and anger that Hitler got away with his crimes, that he was never brought to justice, he was never arrested, killed, tried, that he made a decision at the end of his life," Weil told EW. "So Hunters, being a show about catharsis, about Jewish empowerment, and about wish fulfillment for Jewish kids like me who grew up wanting to reclaim power, Season 2, I hope, will be that catharsis."
He continued, "I would only ever invoke Hitler if we're going to deliver justice in some hopefully satisfying way."
In addition to Pacino, Lerman, and Kier, the Jordan Peele-produced series' Season 2 cast also includes Jennifer Jason Leigh (Chava Apfelbaum), Jerrika Hinton (FBI agent Millie Morris), Lena Olin (The Colonel/Eva Braun), Josh Radnor (Lonny Flash), Tiffany Boone (Roxy Jones), Carol Kane (Mindy Markowitz), Louis Ozawa (Joe Mizushima), Kate Mulvany (Sister Harriet), and Greg Austin (Travis Leich).
While previewing Season 2, Radnor reflected on the conversations he hopes the series inspires. "I think on some level, you could say 1946 isn't so different than 1979 isn't so different than 2023. Some of that is tragic," the How I Met Your Mother alum told MovieWeb. "But there are improvements, even if they're gradual and feel like we're just repeating the same mistakes. There's enough collective memory around the horrors of the Holocaust, and there's still deep commitment and resistance to letting anything like that happen again. So, when this virus of anti-semitism flares up, there's enough of a chorus of sane people with a conscience who will say, 'Enough! We've been here before, so stop.'"