Måneskin May Live In London But That Doesn't Mean They're Touring The UK Yet
The Eurovision sensation is making waves in the charts.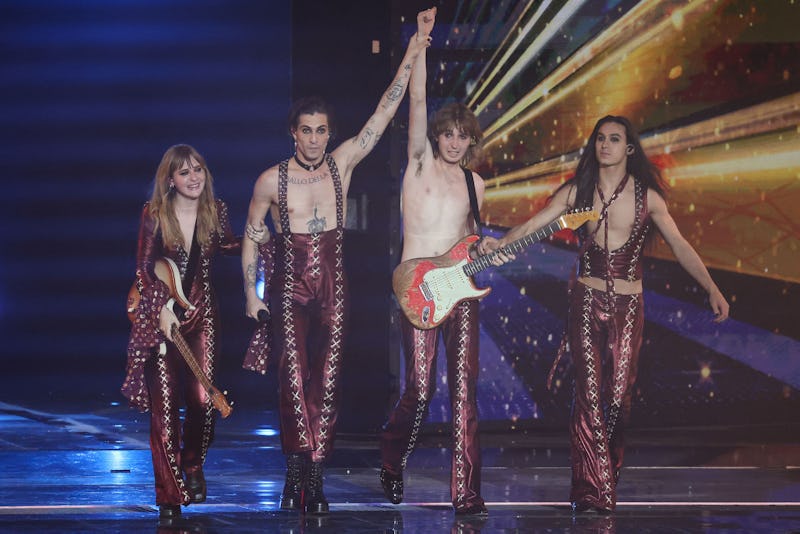 KENZO TRIBOUILLARD/AFP/Getty Images
It's been two weeks since Måneskin were crowned winners of Eurovision 2021. Since then, the Italian rock band has been enjoying the global limelight and a new wave of fans, including celebrities such as Miley Cyrus. With even greater success seemingly on the horizon, the real question is, will Måneskin tour the UK?
With dreams of one day performing at some of the UK's biggest music festivals, including Glastonbury, Reading and Leeds, according to BBC News, the group are planning to extend their tour at the end of 2021. Fans across Italy and Germany will have the luxury of basking in the Måneskin's presence as they tour the countries next year, but sadly there's no confirmation that they'll be making their way to the UK. Bustle has reached out to the band's management for further details and will be sure to update you as soon with new information as soon as it becomes available.
However, the band did tell BBC Breakfast that they wanted to "play everywhere." So keep those fingers crossed.
Måneskin, who initially found fame when they came second on Italy's X Factor, are no stranger to the UK, in fact the band live in London, as The Upcoming reports. Nor are they unfamiliar with tour life. With platinum records have come sold-out tours across Europe. In an interview with NME, the band's frontman Damiano David shared they're inspired by "huge bands of the '60s and '70s" as well as "great bands now like Arctic Monkeys, IDLES, Slaves, Royal Blood, Franz Ferdinand."
The band's Eurovision success has led to two of their songs featuring in this week's Official UK Top 40. As their popularity rises here in the UK, we're hoping that Måneskin will head over to the UK as part of their tour.