Wynonna Earp Won't Return For Season 5 Without Help
With the Syfy series set to end after Season 4, fans are hoping it will find a new home on a streaming platform.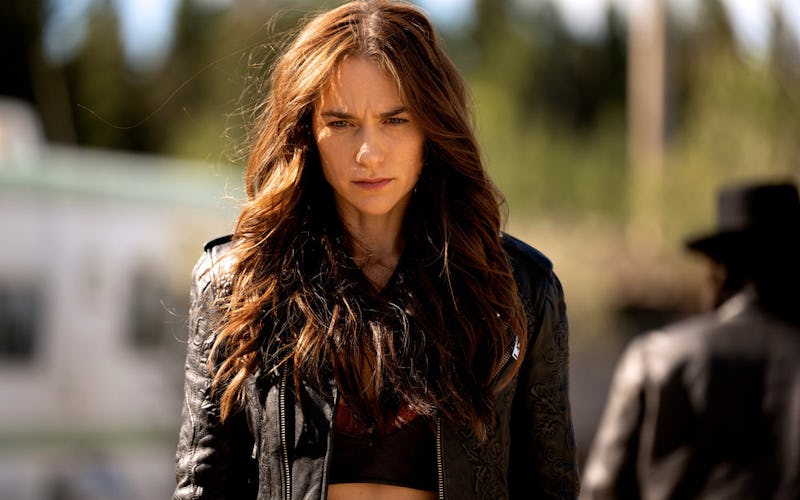 Michelle Faye/Wynonna Earp Productions, Inc./SyFy
After four seasons, it looks like Wynonna Earp is coming to an end. The supernatural Western tells the story of the titular character (played by Melanie Scrofano), the great-great-granddaughter of Wyatt Earp who has the ability to send the reincarnated outlaws that Wyatt once killed back to hell. Over the years, the Syfy series has gained a cult following, thanks in part to its unexpected storylines, cast chemistry, and LGBTQ+ representation.
After initially being greenlighted for both Seasons 4 and 5, the Wynonna Earp production company IDW Entertainment went through some financial troubles, which delayed the beginning of production on Season 4, per The Hollywood Reporter. After a year, the series finally began shooting, finishing about half the season — but then the coronavirus pandemic arrived and shut down production for another six months. After all of the delays in creating the season, which ended up taking two-and-a-half years to make, the network made the decision to ax Season 5 in early February.
Understandably, fans were more than a little disappointed to hear of the series' cancellation, and many of them are holding out hope that Wynonna Earp will be able to find another home. And they're not the only ones! During her interview on the THR TV's Top 5 podcast in early March, Wynonna Earp showrunner Emily Andras expressed her own hopes that the series would be picked up by another network or a streaming platform. Fans are pushing for Paramount+, per THR, but at the time, Andras said that all options were still on the table.
"We are in meetings all the time and I am constantly getting an updated list from the producers ranking our targets of opportunity," she told THR. "I can't say who has said yes and who has said no."
But if Season 4 really is the end for Wynonna Earp, star Scrofano is happy with where the show leaves off. "I think that the way it ends would be a great ending," she told Vulture in late March. "I think if we had to come back, there would be a really interesting way to come back, because it seems neatly tied up but in my mind there's always a way to mess it up, you know? And so I think it's a brilliant ending."
Actor Tim Rozon, who plays Doc Holliday on the show and is also known for his role as Mutt on Schitt's Creek, echoed his co-star's sentiments during a recent interview with three journalists, per Assignment X. "I love the ending of the show. If that is truly the way it ends. Especially for my character," Rozon said.
Although Andras seems to still be crossing her fingers that the series will be able to continue in some capacity, she's also satisfied with how the ending wraps up the story. "I hesitate to say it's the end, but I'm extremely proud of the season and I'm extremely proud of the last episode of Season 4," Andras told THR. "There are worst feelings to be known for, when someone reads a book and gets to the end and says, 'Oh my gosh, that was so wonderful but I wish there was more.' If that's the feeling people have at the end of Season 4, that's pretty rare on television."