Yasuke's Creator Is Ready For Fans To Demand A Season 2
"Obviously, it would be great to have a big splash and then keep things going."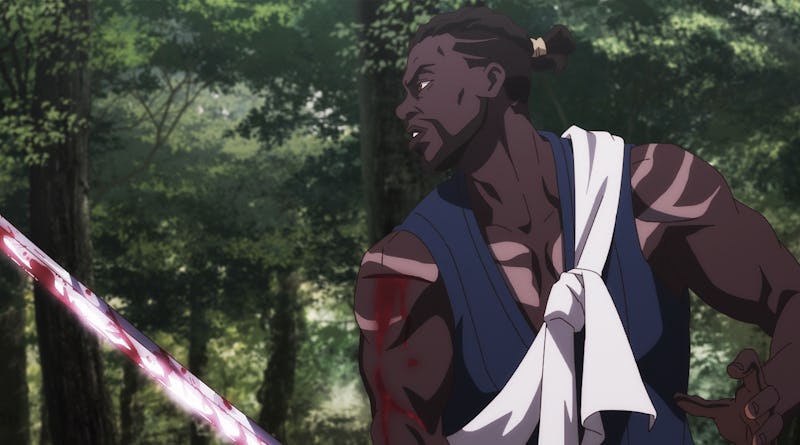 Netflix
Netflix's newest venture into the world of anime is Yasuke, a six-episode animated fantasy series that tells the tale of an African man named Yasuke (voiced by Lakeith Stanfield) who served as a samurai in feudal Japan. Despite Yasuke's attempts to live a peaceful existence after his time as a samurai, he's soon pulled into the midst of a dangerous and dark conflict when a girl from a local village is struck with a mysterious illness and he is tasked with transporting her to a doctor — all while fighting off mercenaries who believe the child has immense unknown power.
The series is loosely inspired by the true story of Yasuke, an African man who was brought to Japan as a slave during the 1500s and eventually became a samurai, serving under Japanese daimyo Oda Nobunaga. Although Yasuke is often called the first Black samurai, there isn't much known about his life beyond his service to Nobunaga — and that's where Yasuke creator LeSean Thomas found his inspiration. "The idea of starting a story at the end of Yasuke's reported disappearance was a classic opportunity to not only create a new action hero but also create a new action hero that we can tell multiple adventures with," Thomas told CBR.
For Thomas, who is best known for his directing work on The Boondocks animated series and Netflix's Cannon Busters, Yasuke was a chance to share the little-known history of the Black samurai with a new audience, while also using the ambiguity and mystery already surrounding Yasuke's actual life to create a compelling magical world. "I think Yasuke's story, in and of itself, is fantastical because there's so little truth out there on him: it's mostly just popular theories that people consider fact. But they're all still theories. No one knows what his real name is. No one knows where he came from. No one knows how old he was, " Thomas told Anime News Network.
Although it's not yet confirmed whether Yasuke will get a Season 2, Thomas is certainly interested in continuing the story. "I can't say too much, but the response has been really great and it would be great to become more than what it is. I'm just really excited for the fans digging into this, and then we'll see," Thomas told ComicBook.com in a recent interview. "Obviously, it would be great to have a big splash and then keep things going."
Check out the trailer for Season 1 of Yasuke, which is streaming on Netflix on April 29.