What Happens When You Don't Wash Your Face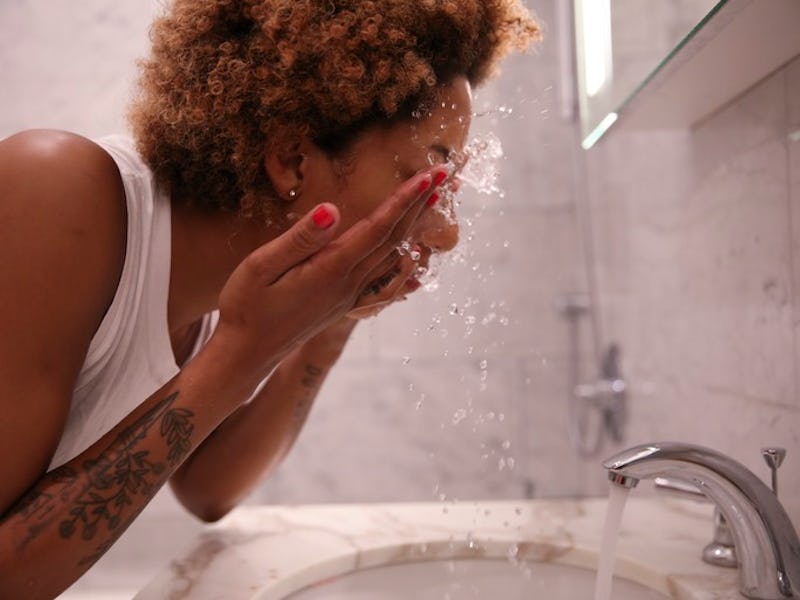 Even though we all know we're supposed to wash our face and take off our makeup each night, sometimes, you end up just skipping that step. Life happens — you get tired, busy, have a billion other stressful things on your mind, and all you want to do is crawl into bed and not spend an extra minute cleansing your face. But there are several gross things that happen when you don't wash your face that might make prolonging sleep a little more worth it.
There's been some debate about how often (if at all) you need to wash your face, but I think most of us agree that you definitely need to take your makeup off each night. This task is literally the bane of my existence, because it seems to take forever to get mascara off. You can stand there with that wipe for ten minutes and it seems black still keeps coming off. The struggle is real. So it's totally tempting to just fall into bed and skip all that hassle, but don't, because there are some seriously icky things that will happen if you routinely sleep in your makeup. And while you're at it, you might as well cleanse, too. You don't necessarily have to cleanse twice a day, but you should at least wash your face at night after you've taken your makeup off.
Check out these gross things that happen when you don't wash your face and take your makeup off, and watch it become the most important step in your skincare routine from now on.
1. You'll Get Makeup All Over Your Pillows
If you thought spending five minutes to take your makeup off was too long, then wait until you have to do laundry every day to get rid of black mascara stains. Yuck.
2. Breakouts
Pimples that last a week (or worse, get popped and turned into battle scars) are not worth getting to bed five minutes earlier. Trust.
Try: Mario Badescu Acne Facial Cleanser, $15, Amazon
3. Enlarged Pores
According to dermatologist Dennis Gross, sleeping in your makeup can cause enlarged pores. "This leads to bacteria build up, breakouts, and enlarged pores — which are many of the reasons women wear makeup in the first place."
Try: Nunutrients Gel Cleanser with Rose Hip and Seaweed, $15.99, Amazon
4. Premature Aging
When you don't wash your face, pollution from the day accumulates on your skin, and that mixed with makeup and dirt can hinder the skins ability to renew itself at night, causing premature aging. Yikes.
Try: Biore Deep Pore Charcoal Cleanser, $5.99, Amazon
5. Dry Skin
Sleeping in your makeup can dehydrate your skin, and it can be even worse because if you didn't take off your makeup, chances are high that you also didn't moisturize, which can lead to dry skin.
Try: Aveeno Positively Radiant Intensive Night Cream, $7, Amazon
6. Oily Skin
OK, so you were good and you took off your makeup — but you didn't wash your face. Conversely, your skin could end up looking greasy and oily from the build-up of skin cells you don't get rid of when you don't wash.
Try: Philosophy Purity Made Simple One-Step Facial Cleanser, $19.99, Amazon
7. Eye Irritations
If you sleep in eye makeup, the mascara or eyeliner could get in your eye in the middle of the night, causing irritation. According to dermatologist Eric Schweiger, "Sleeping in eye makeup repeatedly may result in the clogging of the tiny hair follicles and oil glands on your eyelids. When these areas become clogged, bacteria can build up and cause inflammation. As a result, small bumps called styes or hordeolums can form." Seriously, y'all want to avoid this at all costs.
Try: Neutrogena Hydrating Eye Makeup Remover Lotion, $7, Amazon
Want more fashion and beauty tips? Check out the video below and subscribe to Bustle on YouTube!
Images: Isla Murray/Bustle; Getty Images (6)