6 Away Luggage Alternatives That Cost Way Less But Look Expensive AF
Fly the skies in style without breaking the bank.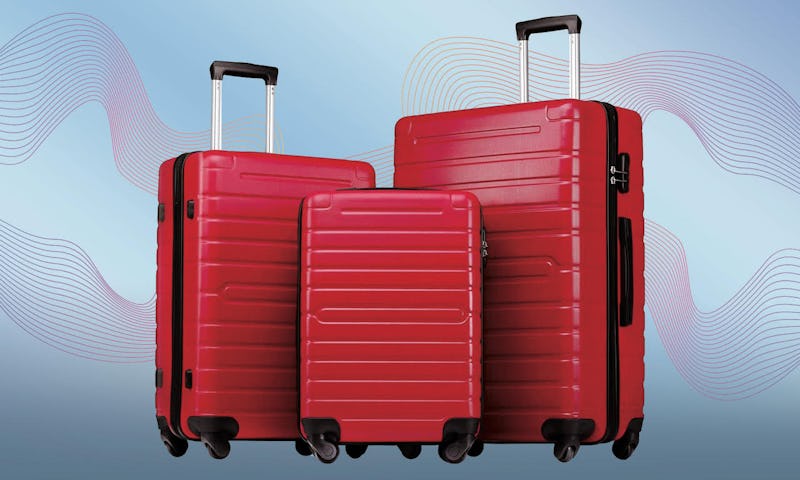 Bustle / Amazon
We may receive a portion of sales if you purchase a product through a link in this article.
Frequent flyers know that a decent suitcase is essential and a great suitcase can be game-changing. Away — the Instagram-famous luggage brand — built "the perfect suitcase" in premium materials, but their small carry-ons cost over $200, which is why so many people are looking for an Away luggage alternative that looks sleek but costs less.
Design & Functionality
In order to find a good alternative to the Away luggage, it's important to know what features set the bags apart. For starters, the clean design has brought it legions of fans. The high-quality shell (more on that later) is etched with minimalist horizontal lines and comes in a clean color palette that pops. Think white, pink, and muted neutrals, plus their luxe aluminum line that glistens in jaw-dropping metallics.
The suitcase's thoughtful functional details also win praise from busy travelers: 360-degree wheels, built-in TSA-approved combination locks, and zippered mesh enclosures for increased packing space, plus a removable laundry bag. Their carry-on sizes offer the option of a built-in (though ejectable) battery pack for charging on the go.
The good news is that the brands below combine most of the features listed above at a more budget-friendly price point.
Shell Materials
In terms of material, Away uses pure polycarbonate for most of their shells (they also have some pricey aluminum options). Polycarbonate is extremely lightweight, hard, and dent-resistant. Some of the picks below also feature polycarbonate shells. However, you'll also find ones made with ABS plastic, which offers similar benefits at a lower price, since it's not quite as strong and durable. Some bags use a blend of polycarbonate and ABS to try to offer the best of both worlds: a durable shell at the most affordable price.
Whichever bag you decide to pack, these Away luggage alternatives on Amazon will get your stuff there in one (stylish) piece.
This article was originally published on