88 Petite People Share Their Favorite Places To Shop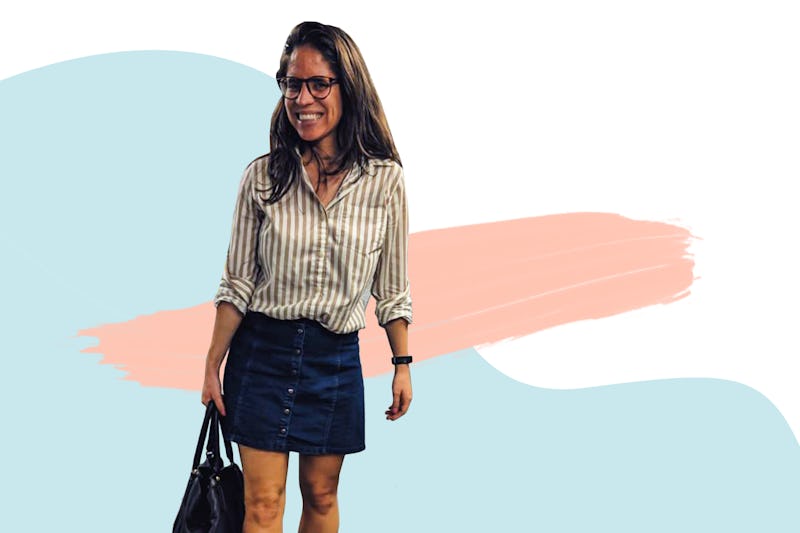 Kristin Mahler/Bustle; Courtesy Pia Fouilloux
When I let myself fall into a daydream about shopping, a montage of scenes from my favorite movies play in my head — the ones where the characters are sifting through racks, tossing on blouses, and twirling in dresses to some sickeningly sweet pop tune. There's Clueless, Pretty Woman, Marie Antoinette, Confessions of a Shopaholic — all the characters smiling back at themselves in the mirror, because everything fits just right. (Of course.)
But anyone who's ever actually shopped for their own clothes knows that it is nothing like these scenes in real life. Your size will often vary from store to store, the length and cuts of things you try on are never right, and the lighting in the fitting room might as well be the same ones from your OB/GYN's office. And don't even get me started with online shopping.
These struggles can be especially true for those of us who identify as petite. It's rare that I buy something that I don't end up having to get tailored for it to fit. I've found a very sweet (and affordable) man downtown whom I lug a bag of clothes to on an almost weekly basis to hem my jeans and shorten my straps. And while I appreciate Mr. Jairo's hard work, does shopping for my own size have to really be this difficult?
To find out, Bustle decided to The Fitting Room, a package of stories primarily based on a survey that asked 448 people questions about shopping, sizing, and the intersection of the two. The goal of The Fitting Room is to find out how people feel about the experience of trying to find clothes that fit — their tips and tricks, their favorite stores, their frustrations, and what they'd like to see change in the industry.
For this specific story, we gathered responses from 88 petite people who took the Fitting Room survey about shopping for their body type to see if they, too, faced the same struggles as my 5 feet 2 inches self. In addition to being petite, which is generally accepted to mean under 5 feet 3 inches, approximately 50 percent of them identified as being sizes 00 through 4, 30 percent identified as being sizes 4-8, and 20 percent identified as sizes 10 through 14.
Here's what they had to say about shopping, sizing, and what stores they've found success at.
What They Think About Shopping In General
According to a majority of the petite people Bustle asked, shopping for their body type can oftentimes be frustrating and anxiety-inducing, leaving them unexcited about buying clothes at all.
"Shopping isn't something I look forward to doing anymore," admits Elaine Lu, a 5 feet 2 inches tall Taiwanese American woman who defines herself as "petite with curves." In her survey responses, Lu noted that she has a difficult time finding clothes that fit her height and her hips, thighs, and chest. And while she still "get[s] the rush" when she finds something she likes that fits her, Lu is scarred by the memories of all of the bad experiences she's had in the dressing room.
Kelley Williams, another survey respondent who identifies as petite, finds shopping to be especially miserable when she's on the hunt for something specific with only a limited amount of time to find it. "If I need it, and only have a week or two to find it, you can guarantee it's not going to happen. I'm reduced to digging through my closet to repurpose a 2005 Halloween costume and that backless shirt I was obsessed with in college," she explains.
What They Think About Sizing In General
When Pia Fouilloux, a 5 feet 3 inches tall Chilean woman, moved to the United States, she found shopping for clothes to be pretty confusing, especially the sizing. It left her feeling like she had a "weird body" for the American market. Fouilloux says she has "big boobs, but [also a] skinny structure (arms and back), short legs, but not big hips and butt." She is a small or medium in Chile, but in America, she's an XS or size 0. All of the different possible ways to indicate size also confused her. "[It's] a weird thing that numbers change with the brands. I kinda don't get [it]." Fouilloux doesn't understand why there are sizes 0, 1, 2, 3, and 24, 25, 26 and XS, S, M, L, XL.
Williams echoes Fouilloux's sentiments. "It seems like stores are never consistent with their sizing. XS is not XS in all clothing, and it seems like they're constantly changing their definition of sizes," she shares.
Another problem with sizing? Vanity sizing, [the practice of assigning smaller sizes to clothing to encourage sales]. "Vanity sizing has made shopping really hard," says one anonymous survey participant.
What They Think About Shopping In Store Versus Online
Approximately 47 percent of our petite participants reported that they shop mostly in store and sometimes online, while 42 percent of them reported shopping mostly online and sometimes in store. But whether they're shopping in store or online, the petite people we surveyed say they are often left disappointed and disheartened. For them, shopping in store can involve schlepping clothes in various sizes and styles to the fitting rooms (which, more often than not, have bad lighting and bad mirrors) and left realizing that nothing fits their bodies.
Lu recounts one particularly frustrating shopping excursion. "I recently had to shop for a wedding I was attending and unlike times of the past where I could guesstimate my approximate size, I was the girl who was taking in five or more dresses at a time to try on, only to be disappointed and discouraged since nothing fit how I wanted it too," she shares.
Williams also finds in-store shopping to be soul-crushing. Most of the time, brands don't even offer a petite section, which means she will "often buy clothes not because [she loves] them but because that's all there is."
While there are plenty of brands that do offer petite sizing online, it can be challenging to figure out what their definition of petite is. The petite people who took our survey say they have to pay closer attention to every detail in the clothing description when shopping online, from what material is used (will this dress have a little give?) to what the hem is (will these cropped jeans fit like regular jeans?) to figure out what will work for them.
Something that many of the petite online shopper participants reported doing is measuring themselves so they can compare measurements in the clothing description. "Always measure yourself when buying online and do not follow fashion blindly," one woman wrote. They also suggest reading reviews, taking note of the model's measurements for reference, and ordering a couple sizes to see what fits best.
Where They Like To Shop
When finding success shopping for their petite frames, the participants named many well-known brands as their go-tos, including Madewell (offers sizes XXS-XXL; 23-37; 00-16), ASOS (offers sizes XXS-XXL; 00-26; W23-38; offers petite/tall/curve options), Nordstrom (offers sizes XXS - 3X; 00 - 28W, petite/tall options), LOFT (offers XXS-XXL; 00-26; petite/tall/plus options) , Old Navy (offers XS-4X; 00-30; petite/tall/plus options), Target (offers sizes XXS - 4X; 00 - 26W; tall/short options), Forever 21 (offers XS-3X; plus/curve options), and H&M (offers XS-4XL; 0-30; plus options). But there were also a handful of smaller brands that they noted as being their favorites, too, like LA-based sustainable company Reformation (offers XXS-3X; 0-20; 22-31; offers petite/plus options), Swedish fashion brand & Other Stories (offers XXS-L), and brands that focus on transparency and making premium basics, like Everlane (offers XXS-XL; 00-16; 22-33) and Mott & Bow (offers XS-XL; 24-32). Many of these brands mentioned offer petite sizing, pants with shorter hems, or jackets with shorter sleeves for both work and play.
What Could Be Better About Their Shopping Experience
The resounding solution? Offer more petite sizes. If brands are already making the clothing, why not consider offering it in a shorter version?
"I can't tell you how many times I go into a store, see a cute dress in 'normal people sizes,' and head to my corner of shame only to find that said cute dress does not come in petite. And it's not just one dress, it's half their styles," Williams tells Bustle. "[And then I] shout in my head or mutter out loud, 'Of course you don't make that in petite. Why would short people want to look cute?'
While there are many brands out there that are making shopping as a petite woman easier (and dare I say, fun) the industry still has a long way to go. But with the rise of petite sizing options and more inclusive brands, it seems like we're moving in the right direction.