10 Questions About Buying Your First Home, Answered By The Experts
The National Association of REALTORS® answers all your newbie real estate questions...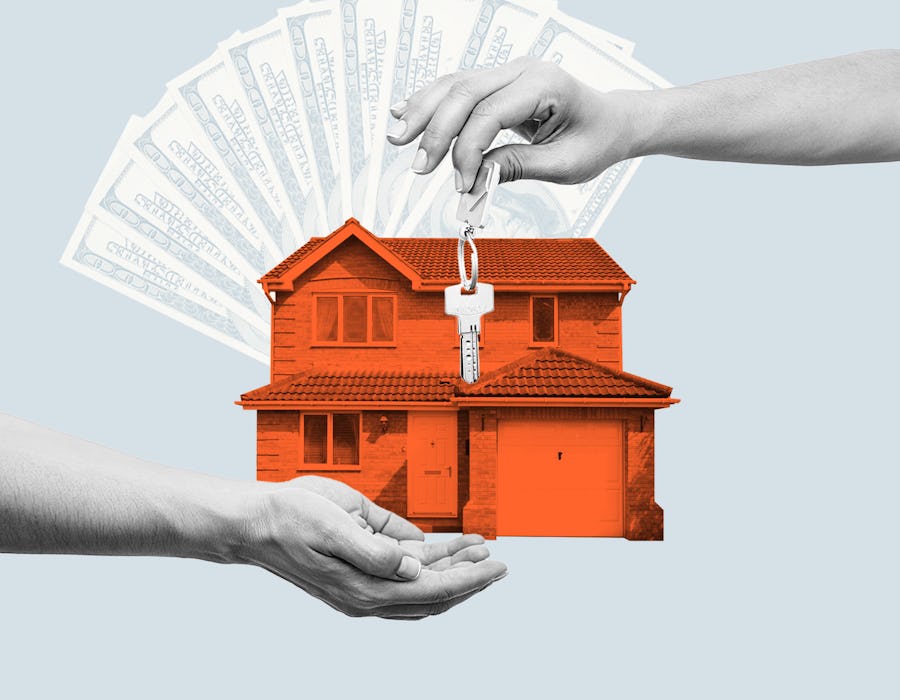 If you've been renting for most of your adult life, the idea of buying a home might seem like an unreachable goal. From understanding real estate terms, to qualifying for loans, to navigating a seller's market, it's all overwhelming if you don't know the basics. What should you know before buying a home? Partnering with a real estate expert who has an understanding of how this complicated process works can help you make your decisions.
When you don't know where to start, it's best to turn to the experts. That's exactly what we've done, in order to help you realize your homebuying dreams. The National Association of REALTORS® is a great resource. They are the national trade organization for 1.4 million real estate professionals who call themselves REALTORS®. When you work with a REALTOR® — and not just a real estate agent — you're working with someone who's equipped with the latest market information, provides the pinnacle of customer service, and is required to abide by a strict code of ethics. All of that, and REALTORS® are trusted home buying experts, demystifying every part of the process for you.
We talked to the National Association of REALTORS® to answer some of the most pressing real estate questions. From breaking down the difference between buyer's and seller's markets, to defining escrow, these answers will help arm you for going into the homebuying marketplace.
1. What is the difference between a buyer's market and a seller's market?
The difference is a matter of supply and demand. When demand outpaces supply, sellers have an advantage. When supply outpaces demand, buyers have an advantage. Real estate agents or brokers generally consider a six-month supply of homes for sale a balanced market, yet supply has been well below that for many years.
The Coronavirus Pandemic has tightened supply further, spurring many renters to take advantage of low mortgage interest rates and seek out homes of their own with more space. In October 2020, the nation had a two-and-a-half month supply of homes for sale, compared with nearly a four-month supply in October 2019, according to the National Association of REALTORS®.
2. Before I make an offer on a home, what should I consider — and how can a real estate agent help?
You need to start with the facts. A real estate agent or broker can provide you with current data, like how the home you like compares to the competition, how quickly homes are selling, and whether you can expect competing offers. In a multiple-offer situation, you might be tempted to push the limit of your spending power. The agent can take the emotion out of the situation and help you make a sound decision.
The listing broker is paid by the seller, and the buyer broker is typically paid through a cooperative agreement between the listing broker and the buyer broker.
Make sure the agent you're working with is a REALTOR®, a member of the National Association of REALTORS® (NAR). NAR members commit to operating according to a strict Code of Ethics and treating all parties fairly and honestly.
3. What should I look for in a house, as a first-time buyer?
Before you start looking, make a list of the features you'd like in your home. Are you anxious to get an extra bathroom? Dreaming of a big back yard? Looking for a place where all family members can comfortably work from home? Divide your list into wants and needs. The needs are dealbreakers, or features you can't live without. Wants are the extras you may need to compromise on if your budget doesn't match your dreams.
If you're feeling the love for a home, before you make an offer, make sure you have a property condition disclosure statement. This statement, designed to reveal known structural or environmental concerns about the property, is a requirement in most states. Review the document and ask your agent to follow up with the seller or listing broker for any missing, unclear responses or additional information. For example, if the seller discloses prior water damage, ask for proof of remediation.
Even in states where a property condition disclosure statement isn't required, sellers and their agents should reveal any known material facts that may affect the value of the property.
4. Is there a bad time to buy a home?
Timing is certainly important in any large investment. But each buyer has to answer that question individually, considering factors such as their personal financial picture, what's available in their market, and how long they plan to stay in one place.
Searching for and buying a home during the COVID-19 pandemic has presented buyers with some unique challenges. However, the industry has adapted. Real estate agents are following safety protocols and leveraging technology that allows buyers to do the majority of their home shopping virtually. In-person showings and transaction closings are being conducted using safety protocols, such as hands-free appraisals and, in some states, remote notarization of closing documents to avoid in-person contact.
Lack of inventory is another challenge and has been driving up prices in most markets pretty steadily for the past few years. Fortunately, interest rates have never been lower, helping to keep monthly payments down, even as prices rise.
The rate on a 30-year fixed-rate mortgage today averages 2.7%. Compare that to the historical average of 8%. If you were to purchase a home for $230,000 with a down payment of a 7%, at 8% interest, your monthly mortgage payment (excluding insurance and taxes) would be $1,570; at 2.7% interest, it would be $868. These low rates are resulting in a significant difference in the affordability of homes today.
If you are a buyer in today's market, make sure you're working with a REALTOR®, a member of the National Association of REALTORS®. REALTORS® understand the local market, will help guide you through the unique challenges of today and leverage creative solutions to help make your dream of homeownership become a reality.
5. How much money do I need to save for a down payment as a first-time buyer?
Many first-timers think they need to put down 20% of the purchase price to obtain a loan. In reality, there are many options that allow for smaller down payments. In fact, according to the National Association of REALTORS®' latest research, the typical down payment for a first-time buyer is 7%.
If you're making a down payment below 20%, however, you'll typically have the added monthly expense of private mortgage insurance (PMI). You can cancel PMI when you've reached 20% equity in the home. Learn more from the Consumer Financial Protection Bureau.
Qualified borrowers who get a mortgage insured by the Federal Housing Administration (FHA) can purchase with just a down payment as low as 3.5%. FHA doesn't allow cancellation of its mortgage insurance premium (MIP); however, when you reach 20% equity, you can consider refinancing into a conventional loan without PMI.
Before you start shopping for houses, do your homework on loan types and reach out to a variety of lenders to compare their products. Then, go through the pre-approval process. That way, you'll know exactly how much home you can afford — and having the pre-approval could make your offer more attractive in a competitive market or multiple offer scenario."
6. Can you explain escrow?
The term 'escrow' usually comes into play twice in a real estate transaction: when you make an offer, and when you obtain your mortgage.
Your offer is generally accompanied by an earnest money deposit, a small percentage of the sales price that proves you're a serious buyer. The deposit is held in an escrow account by your broker, a title agent, or other third party until the transaction closes.
The earnest money deposit is then either applied to your closing costs or returned to you. If your offer is accepted and goes into contract, you'll have a few days to obtain an attorney review. Be sure you have an experienced real estate attorney review the contract on your behalf. If the sale doesn't close for some reason, the terms of the contract will determine whether you get your earnest money back.
Second, your mortgage lender will typically set up an escrow account to pay home insurance and property taxes on your behalf. Should your property taxes or insurance payments increase, your lender will notify you if it needs to be collect additional funds for the escrow account. Learn more about lenders' escrow accounts.
7. Can I negotiate my mortgage payment upfront?
When qualifying you for a mortgage, lenders look at factors such as your income, long-term debts, and credit score. A credit score is a rating of your creditworthiness. Your monthly mortgage payment will depend on how much you borrow and at what interest rate. With a higher credit score, you'll likely get a lower rate than you'd get with a lower score. So it's wise to go into the application process with your financial house in order. Follow these tips from the Consumer Financial Protection Bureau on improving and maintaining your credit score.
Lenders won't negotiate the payment, per se, but they typically have different loan options that can affect your monthly payment. Compare rates and terms before you lock in a loan. For example, paying points upfront may help reduce your interest rate and thus, your monthly cost. Moving from a 30-year mortgage to a 15- or 20-year mortgage will increase your monthly payments, but you'll pay off principal faster and save thousands of dollars in interest over the long run.
8. How does my credit figure in?
You can't get a mortgage without good credit. When you apply for a loan, the lender will pull a credit report from one or more of the major credit reporting agencies. You may be asked to explain in writing and provide documentation of any outstanding debts or delinquent payments. The lender will also look at your credit score, a number typically ranging from 300 to 850. Scores are compiled by the Fair Isaac Corporation (FICO) based on your credit data. Generally, lenders require a minimum score of 620, though borrowers can get an FHA-insured loan with a score in the 500-580 range.
9. What's the number one mistake that people make when they make the transition from renter to owner?
A common error is not taking into account the true cost of ownership — not just the mortgage payment but property taxes, insurance, utilities, and maintenance costs. Real estate professionals typically suggest that buyers should expect annual maintenance costs of about 1% of the home's value.
First-time buyers should take time to learn about the benefits and responsibilities of homeownership by completing pre-purchase counseling. Many homebuyer counseling programs are offered free or for a nominal fee by counselors approved by the U.S. Department of Housing & Urban Development (HUD). Find a HUD-approved counseling agency.
10. Is there a difference between a REALTOR® and a real estate agent?
While all real estate agents must pass a state licensing exam and be licensed in the state in which they practice, REALTORS® have taken the extra step of joining their national professional trade organization, the National Association of REALTORS®. Through membership, REALTORS® must adhere to a strict Code of Ethics, which assures honest and fair dealings with clients, other real estate professionals, and the public and sets a higher standard for fairness in housing than any federal law.
This article is sponsored by the National Association of REALTORS®.