12 Aww-Inspiring Gifts Only Available On Shutterfly
This year, consider Shutterfly your one-stop-shop for all your gifting needs.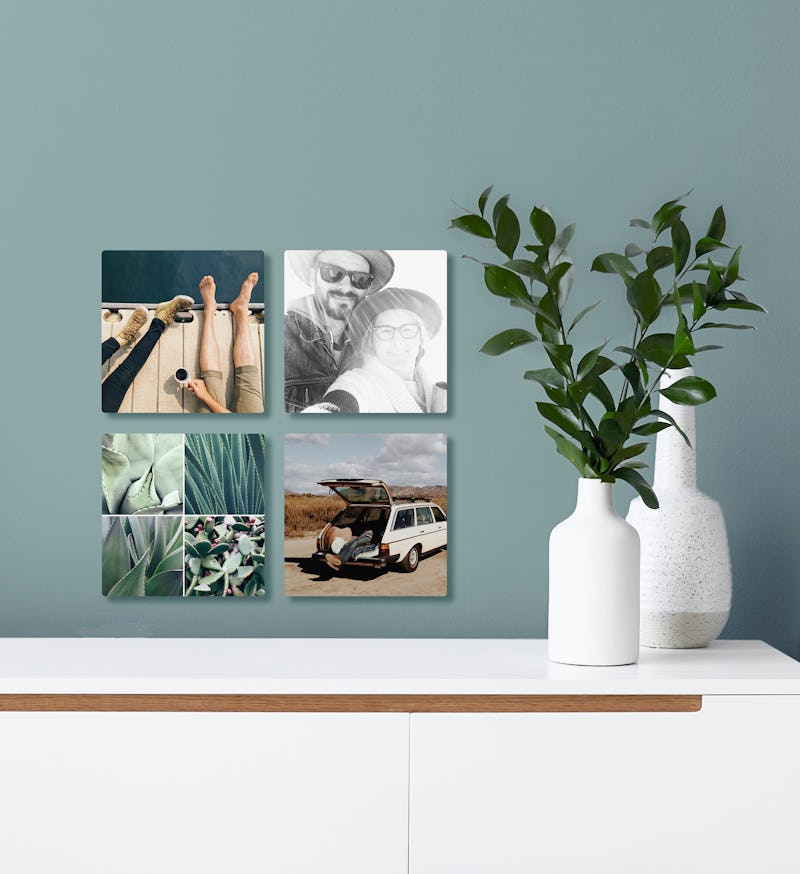 Image courtesy of Shutterfly.
With the holidays already upon us, you could probably use some original gift ideas to spice things up a little. Here at Bustle, we urge you to forget generic presents this year (and every year from now on, for that matter). You have no excuse anymore, since Shutterfly makes it super easy to order customized presents for all your loved ones in just a few clicks. We know how busy this time of year is, so to make things even simpler, we've picked out 12 of the most "awwwww"-inspiring gifts from Shutterfly. Customization goes a long way in making presents that are perfect for anyone on your list — from besties to college friends, family, and beyond.
Gift this totally customizable mug to your mom with a picture of you (you are her favorite child, after all) or give it to your bestie and pick out a pretty monogram that matches their style. The best part? This ceramic mug is microwave- and dishwasher-safe.
Raise a glass to these 15-oz. stemless wine glasses that can include text art, an etched design, or up to eight photos. Order matching glasses for you and your girls for your next girls' night, or surprise your sibling with a matching wine glass set and a bottle of their favorite wine.
Made from slate, this desktop plaque has a smooth finish and naturally rugged edges that are unique to each item. Whether your friends are back in the office or still working from home, this desktop plaque is a thoughtful addition to any desktop space. The plaque can be customized to include up to nine photos and can also decorate a fireplace mantel or bookshelf.
Get totally creative with these iPhone cases that can be designed to display up to 12 special photos. The slim cases have a matte finish and come with an optional additional protective liner. Made to fit an iPhone 8 Plus through an iPhone 12 Pro Max, these cases have over 600 five-star reviews.
A wine stopper is a great gift for even the pickiest friend or family member. Made from zinc alloy with a chrome finish and a phthalate-free black rubber stopper, the handy and stylish wine saver is a classy gift that can be customized with a monogram or message and fits snugly inside a holiday stocking.
Your friends will thank you when the temperatures dip and they have this super warm fleece blanket to wrap up in. Upload some photos for a custom-made blanket and choose from three sizes and three types of cozy fabrics: microfiber fleece, plush fleece, and premium Sherpa. The blanket is also machine washable, so you can throw it in the car for picnics and tailgating.
If you know someone who's been looking to add some personality to their walls, check out these metal photo tiles made from lightweight aluminum. The tiles come with a double-sided adhesive and can be arranged in different patterns. Pair different shapes and sizes for an eclectic look or feature all the same size for a specifically stunning impact.
This beer stein is exactly what the beer lover in your life needs. Made with a traditional European design, this white ceramic mug is a blank canvas for a few favorite pictures, monogrammed initials, or a lighthearted quote. In addition to cold beer, it's also good for sipping apple cider, hot chocolate, or eggnog.
For an entertaining afternoon with your parents or grandparents, pick up this customized puzzle that can include a single photo or a photo collage with up to 17 different photos. There are also four different difficulty levels, starting at 60 pieces all the way up to 1,014 pieces, and completed puzzles can also be glued, framed, and put on display.
Consider making a photo book for family members who may not catch your latest social media posts. Plus, making a photo book with Shutterfly is super easy. There are tons of layouts to choose from and you can import your photos from Facebook or Instagram. With just a few clicks, you'll have a stunning baby album, travel scrapbook, or a "year in review" photo album.
For busy families or roommates, having a physical calendar can be a lifesaver and can be placed in a shared space like the kitchen. There's something satisfying about circling a big date coming up or counting down the days to a special occasion. A calendar can also be used to showcase a loved one's artwork or photography, or it can be a sentimental gift to look back on relationship milestones.
Magnets are useful for hanging to-do lists or other important notes and artwork on fridges, but these magnets can be decorative too. Shutterfly's metal magnets can be customized with images and text and can also be used on other metal surfaces at home and in the office.