The Best Cheeses To Top Your Nachos
The most optimal choices may surprise you.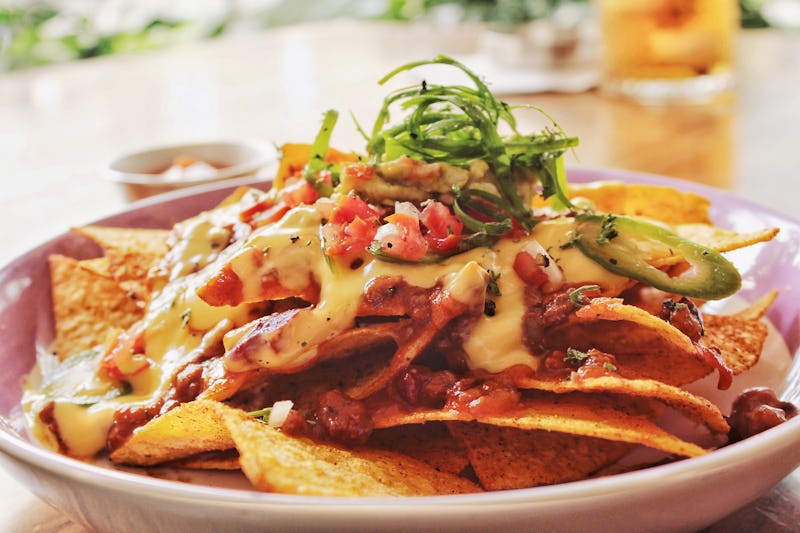 Ruce Sitorus / EyeEm/EyeEm/Getty Images
There is nothing more satisfying than dipping a sturdy and lightly salted tortilla chip into a bowl of hot melted cheese — double points if there are toppings like sour cream, ground beef, guacamole, and pico de gallo. But who am I kidding, it's all about finding the best cheese for nachos that really matters, and the most optimal choices may surprise you.
If I'm being honest, the orange DayGlo nacho cheese found at stadiums, cafeterias, and carnivals is not really cheese I can get behind. OK, maybe it started off as cheese, but the preservatives and stabilizers render the cheese sauce a little... sad. And don't get me started on the chips that fall apart mid-dip.
All of this is reason to make your own nachos, with cheese and toppings you choose. You'll want to choose a cheese with great meltability, which is why crumbly feta and queso fresco are out. The best melters are cheddar, Monterey Jack, and American cheese, to name a few. If you do choose to make a cheese sauce, which is the best method to make nachos, you'll want to melt your freshly grated cheese on low heat. There's no rushing this process. You are making nachos.
Below are 13 types of cheese that will give you the best meltability, taste, and texture. The recipes below also showcase the best methods to use whatever cheese (or cheeses) you ultimately choose to include. And yes, you should definitely keep these nacho recipes on hand for everyday cravings and the Super Bowl.
1. Cheddar
Cheddar reigns as one of the best cheeses to include in your nacho recipe. A young cheddar cheese (one that hasn't been aged) will have the best meltability due to its high moisture content. The sheet pan cheesesteak nachos from Host the Toast uses shredded cheddar cheese. Try a sharp cheddar for a bit of tang.
2. American
Put down the single slices of yellow American cheese you used to find in your lunchbox. These chorizo nachos with white queso sauce from The Kitchn uses white American cheese, which creates the silky sauce often seen at your favorite Tex-Mex restaurant.
3. Monterey Jack
If you can't find white American cheese, try substituting Monterey Jack, a semi-soft cheese. How Sweet It Is nails this roasted green chili queso cheese dip.
4. Pepper Jack
Looking for a little extra spice? Try this loaded nacho recipe from What's Gaby Cooking featuring Pepper Jack cheese. Pepper Jack is similar to Monterey Jack with the addition of chili peppers, like jalapeños.
5. Mozzarella
Nachos with stringy, melty mozzarella cheese are definitely a thing. This perfect microwave nachos recipe from I Am A Food Blog is not only delicious, but fast to prepare too.
6. Provolone
Tex-Mex meets Italian cuisine. These Italian-style nachos with a provolone cheese sauce, turkey Italian sausage, and roasted red peppers from Cooking For Keeps is a nice alternative.
7. Queso Quesadilla
One of the best melting cheeses is queso quesadilla, a nutty, semi-soft cheese that is featured in Averie Cooks' loaded guacamole nachos.
8. Blue Cheese
Blue cheese is one of those cheeses that you either love or hate. If you've had less than a pleasant experience with it, these Steak & Blue Cheese Cast Iron Skillet Nachos from Fresh Off The Grid is sure to convert you.
9. Cream Cheese
Cream cheese makes a silky smooth and rich cheese sauce when combined with other cheeses like sharp cheddar. Try this queso cheese sauce recipe from A Spicy Perspective to see for yourself.
10. Velveeta
You'll never look at a block of Velveeta the same way after making Damn Delicious' beef queso dip, with salsa verde, green chiles, and Monterey Jack cheese.
11. Gouda
Meals Heels & Cocktails may have just won me over with its loaded gouda chorizo nachos. The best part about this recipe is that it is so quick and easy to make, you can whip it up whenever you're feeling that nacho craving.
12. Brie
Kick up your dish up a notch with these elevated nachos made with luxurious brie. Who knew brie could make such a tasty hand food?! This recipe from the Coupon Clipping Cook is accented with olives which pairs extremely well with the brie.
13. Goat Cheese
Goat cheese may be an unfamiliar suggestion when you talk about nachos, however, none other than the Rachael Ray makes it possible with her recipe for these delectably tasty goat cheese nachos.
Additional reporting by Siena Gagliano.
This article was originally published on