12 Actually Funny Valentine's Day Gifts For Guys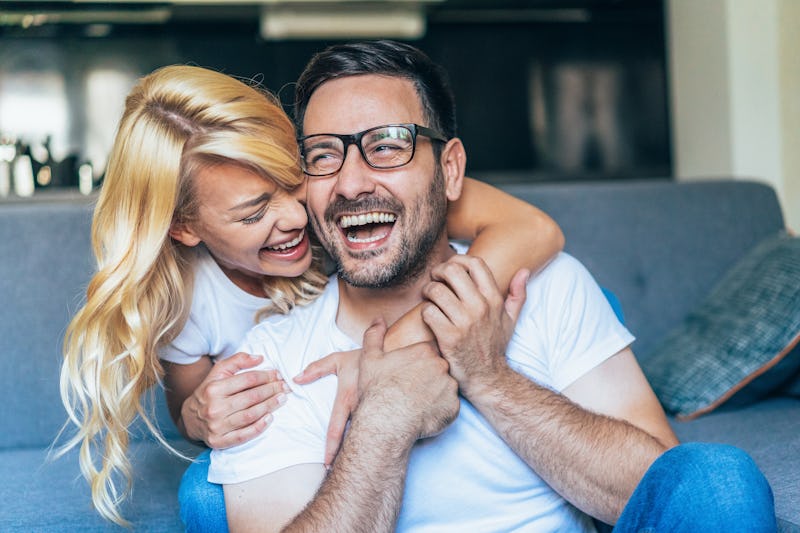 filadendron/E+/Getty Images
Valentine's Day is almost upon us, and if you're dating a dude, you may be looking for a way to spoil him on the 14th in a non-cheesy way that also tickles his funny bone. Because the best couples are able to laugh together, I've assembled a list of actually funny Valentine's Day gifts for men that will make him LOL IRL.
And let me tell you, this was no easy feat. One does not simply find universally funny gifts overflowing on the old Interwebz. According to linguist Thomas Veatch, humor can best be explained through what he calls the benign violation theory. This theory explains a lot about what makes something funny, from why one person might laugh at a dirty joke while another won't, to why it's not possible to tickle yourself. If something is too benign (like tickling yourself) or too violating (like a stranger tickling you), it falls outside the realm of funny, but there's a sweet spot in the middle that will get big laughs from the right audience.
And that's what makes "funny" gift hunting so desperately challenging — because we're all different. But there's one thing that everyone can poke fun at, and that's the tired old tropes of romance. So here are some funny gifts to make your man laugh on Valentine's Day.
1. An Avocado Pit
Yep, that's right. This one might take a little explaining, but it's actually ridiculously romantic, if you think about it the right way. An avocado tree supposedly takes between five and 13 years to start producing avocados. Gifting your man an avocado pit is a funny way to measure your lasting love in soft green alligator pears — just make sure you've been on a few (dozen) dates before busting out with this gift.
2. Lipstick Lunch Bags
Made With Love Sandwich Lunch Bags, $6, Amazon
These are a cute little item to have lying around your kitchen. Make your special dude a sandwich on Valentine's Day, stick it in one of these bags, and then wrap it. Just make sure he opens it rather promptly or else the sandwich will definitely lose its magic. Then, explain to him that making him sandwiches can totally be feminist if he doesn't, you know, take that ish for granted.
3. Funny Cookbook
Never Cook Sober Cookbook, $15, Amazon
I promise these won't all be about food, but you're getting a nice little peek into my relationship today, apparently. There's nothing sexier than cooking together, especially when you're working from a cookbook that's also pure comedy.
4. A Box Of (Not) Chocolates
Heart Box Treats for Dogs, $28, Pampered Puppy
This is a good example of the benign violation theory at work. You show up to your Valentine's Day date with what appears to be a box of chocolates, and it really turns out to be a box of definitively not chocolate dog cookies for man's best friend! Dogs are the best dudes to spoil since they're always surprised and extremely thankful.
5. Love Potion Koozie
Love Potion Too Cold To Hold Drink Sleeve , $14, Amazon
For the man who doesn't mind a little hazy affection, we have this love potion koozie for holding cans of Fanta, or whatever the kids are drinking out of cans today.
6. Instant Smartphone Photo Printer
Fujifilm Instax Instant Smartphone Printer with Film , $165, Amazon
For real though, it is so rare that a good picture is taken of my boyfriend and I together, and even more rare that the photo makes it to a physical print. Capture all of your silliest moments, and immediately print them out so that they don't evaporate into the ether! You can share a lot of laughs by starting to use this thing immediately.
7. Star Wars Pun Mug
Yoda One For Me Mug, $12, Amazon
Get it??? Perfect for the one you love the most.
8. Pink Panther DVD Box Set
The Pink Panther Peter Sellers Film Collection, $100, Amazon
If you're looking to have a movie night this Valentine's Day, here is a five-film box set featuring one of the most hysterically funny accents in film history.
9. Take A Salsa Class
Unless you happen to be in a relationship with a fabulous dancer, taking a salsa class with the man in your life is destined to be absolutely hilarious.
10. Go To An Improv Show
Even if you're not the direct source of the laughter, you'll have a great time giggling at all of the improv comics on stage. Then, you'll both be ready to crack jokes all night long.
11. An NBA League Pass Subscription
So, the humor aspect of this gift is all in the unexpectedness. If your man likes basketball, now is the perfect time to be able to watch basically every basketball game ever as things start to heat up in the regular season. Additionally, the local Oklahoma City broadcasters say things like "he's making chicken salad in the kitchen tonight," which is a real brutally funny thing that I heard yesterday. Seriously, what does that mean?
12. Animal Slippers
Tiger Scuff Slippers , $22, Amazon
Reintroduce him to his childhood dreams of warm feet and animals along for the ride. It's like The Revenant, but with decidedly fewer horse guts. Even though the groundhog said that #springiscoming, it will probably stay pretty cold in most of the Northern hemisphere for a while, so grab a pair of these and keep his feet nice and toasty.
For more ideas, check out Bustle on YouTube.
Images: Getty Images (4); Courtesy of brand