8 Ways To Keep Jewelry From Turning Fingers Green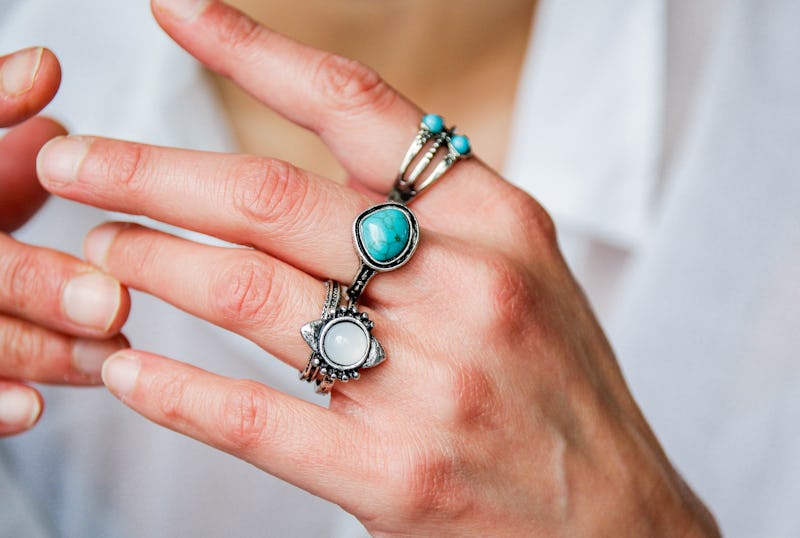 Kinga Krzeminska/Moment/Getty Images
When I was growing up, my mother had a metal allergy, and while it was a tad suspicious that she could only wear "the highest quality 24 karat gold jewelry," it turns out that said-allergy was legit. (Sorry for doubting you, Mom.) When jewelry turns skin green, or when it causes rashes and dryness, it's a huge indication that you've got a bit of a sensitivity. If you want to keep jewelry from turning your skin green, there are a few tools to have on deck.
That being said, the green stain you see on your finger from jewelry is entirely harmless. It just means that the metal in the jewelry is reacting with the acids on your skin. It could also be because of a lotion, soap, or moisturizer you're wearing that's causing a similar chemical reaction.
When it comes to stopping jewelry from turning your skin green, you could always do the obvious: skip the lower quality metals in lieu of gold or silver, or quit wearing jewelry altogether. If the reaction looks red, irritated, and scratchy, you should definitely see someone about it. However, if you're dealing with the typical green-finger thing, here are a few ways to coat your jewelry, so it doesn't happen anymore.
1. Ditch The Reaction – Keep The Look
ProtectaClear, $25, Amazon
For a clear and residue-free coating on everything from copper to silver, there's ProtectaClear. It's super easy to apply and seals and protects all your favorite jewelry without compromising on the look of it. Even the blacksmith who reviewed it says that it's "indistinguishable from raw metal and is also one of the best sealants I have come across."
2. Overcome Your Nickel Allergy
Nickel Solution, $33, Amazon
If you're allergic to nickel specifically, this nickel solution is your best bet. It comes with a spot test that detects nickel in any of your jewelry, as well as a protective coating that guards you from it. Reviewers say it lasts a long time and works wonderfully, so nickel in jewelry (or glasses and belt-buckles) is no longer an issue.
3. Paint On A Protective Layer
Jewelry Shield, $4, Amazon
Jewelry Shield is the legitimate version of the DIY clear-nail polish trick, except it's specifically made to protect your jewelry and it stays on much longer — up to three months. One reviewer (who's so sensitive that she gets blisters) says that this solution works miracles for her, as it's so durable and reliable.
4. Keep Any Earring From Touching Your Skin
Pierced Earring Protector Covers, $4, Amazon
These pierced earring protector covers shield every part of your earring in a clear and hypoallergenic plastic that keeps any metal from touching your ears. They work with both posts and wires, and this set comes with a free polishing cloth, too.
5. Spray On A Clear Smudge-Proof Layer
Krylon Crystal Clear Acrylic Coating, $7, Amazon
For larger surfaces like clunky necklaces and bracelets, there's this Krylon clear acrylic coating. It forms a totally clear but extra-defensive layer around your jewelry that won't turn yellow with age. It's also moisture-resistant, smudge-proof, and goes on in an even fast-drying coat because of the aerosol spray.
6. Stop Reactions With A Layer Of Wax
Renaissance Wax, $18, Amazon
This Renaissance Wax was originally created to protect museum art from aging and fingerprints, but it works wonderfully on jewelry, too. It's acid-neutral, water-resistant, and alcohol resistant, and because it gives your jewelry a natural protective sheen without any residue, you'll hardly realize it's on there.
7. Line Your Jewelry With Moleskin
Curad Moleskin Roll, $16, Amazon
This trick works really well for the insides of rings and the backs of pendants. Cut out your desired shape with Curad moleskin roll, stick it on the back with its breathable adhesive back, and enjoy the comfortable (yet protective) layer between metal and skin. It's durable, but thin, and you can customize it to any size or shape.
8. Make Skin More Alkaline With Magnesium Oil
Ancient Minerals Magnesium Oil Spray, $20, Amazon
Green skin can indicate that the metals are breaking down due to an acidic environment, and Ancient Minerals magnesium oil spray is a great way to make your skin a little more alkaline. It's entirely pure and soaks into the skin easily without a residue (and it helps with muscle aches and relaxation, too), so you can put it on your hands, wrists, or chest.
Images: Kinga Krzeminska/Moment/Getty Images; Amazon (8)
Bustle may receive a portion of sales from products purchased from this article, which was created independently from Bustle's editorial and sales departments.