Get Ready For The Museum Of Ice Cream
by Lara Rutherford-Morrison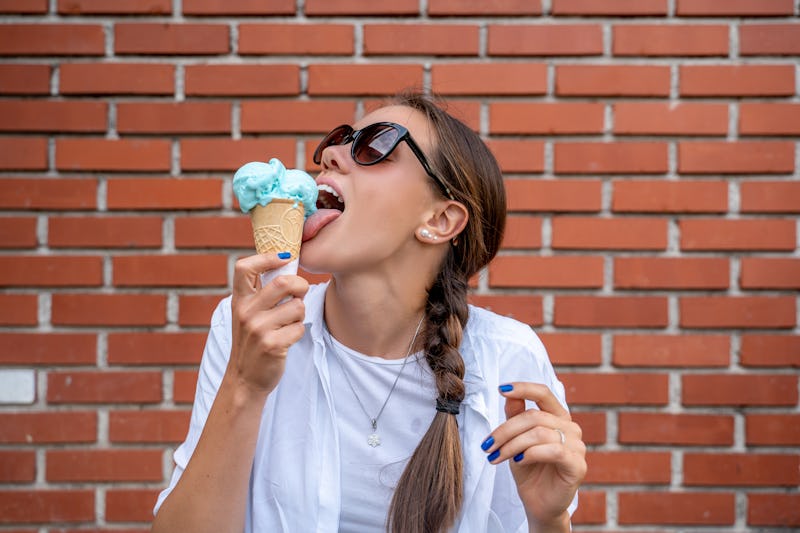 CasarsaGuru/E+/Getty Images
From MOMA to the American Museum of Natural History, there are a lot of amazing museums in New York City, but none, perhaps, quite as delicious as the one that will soon be popping up in the Meatpacking District: Get ready for the Museum of Ice Cream. Opening July 29, this dessert-centric museum looks like it will be a sweet, sugary celebration of all things ice cream, but be sure to get there before Aug. 31, when the Museum of Ice Cream will melt away. (OK, I know. That was terrible, but, guys, I could not resist a pun if my life depended on it).
At the end of July, this pop-up museum dedicated to ice cream will be stationed at 100 Gansevoort Street, right next to the Whitney Museum and close to the High Line entrance at Gansevoort Street. Described on the museum's website as a "modern, whimsical urban ice cream playground," the Museum of Ice Cream sounds both insane and like the epitome of "I want to go to there."
The museum will boast balloons you can eat, a giant ice cream sundae, playground equipment that looks like ice cream and ice cream scoopers, an "immersive chocolate room," artwork from New York artists, and a "swimmable rainbow 'sprinkle' pool." (I'm not even sure what a "swimmable sprinkle pool" is, but I desperately want to know.)
There will also, of course, be lots of ice cream at the museum, including ice cream tastings from Dr. Irwin Adam, founder of Future Food Studio. The museum will also offer a "Scoop of the Week" from New York restaurants and ice cream makers like Black Tap and OddFellows Ice Cream Co.
Tickets to the museum are on sale now from the Museum of Ice Cream website, and they include ice cream tastings. The museum is offering free admission from 11 a.m. to 3 p.m. on opening day, July 29, though it's recommended that you arrive early to get in.
For those of you who, like me, don't near New York and can thus only pine jealously from afar, you can at least enjoy the Museum of Ice Cream's mouthwateringly colorful Instagram.
Images: CasarsaGuru/E+/Getty Images; Museum of Ice Cream/Instagram (4)