13 Awesome Tech Gifts For Guys Under $50 — From Smartwatches To A Digital Photo Frame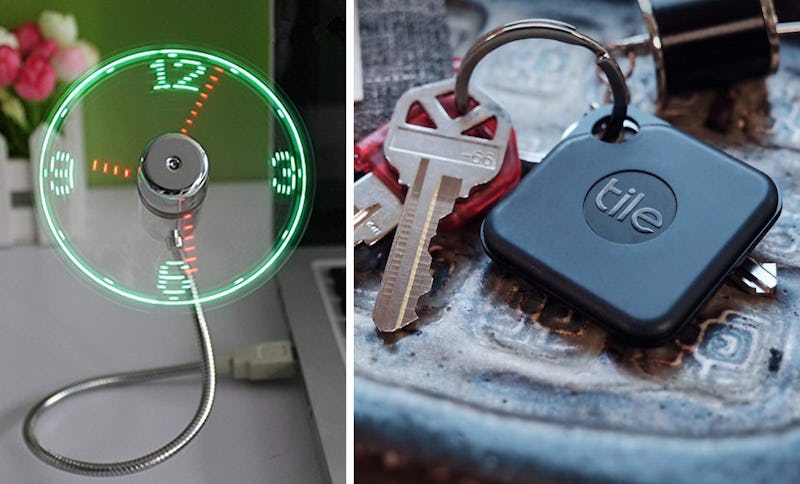 Amazon
We may receive a portion of sales if you purchase a product through a link in this article.
Growing up, I was surrounded by dudes who liked technology a little too much. My dad was a music techie and Star Trek fan, my brother built his own computers, and my friends had an unhealthy dependence on Super Smash Bros. Finding tech gifts that guys actually want can be a bit of a challenge, but at least this generation has it easier than people from last century. For one, they didn't have listicles on the internet, and for another, their idea of technology was poppet valve gears for stationary steam engines.
If you're looking for awesome tech gifts for men, keep in mind that practicality is the utmost of importance here. I'm well aware that guys come in all different types and personalities, but my experience with buying gifts for men has taught me that the best kind of gift is a useful one (although really that goes for everyone and anyone). Whether you're buying for your dad, brother, boyfriend, or boy who's a friend, check out these cool gifts for the tech guy in your life.
1. A Best-Selling Reusable Notebook
The Rocketbook isn't like any other ordinary notepad you have laying around your office. With nearly 70,000 Amazon reviews and an average rating of 4.5 stars, this best-selling notebook features 36 dot pages that are completely reusable. Here's how it works: Simply write down your notes using a Pilot Frixion pen (one is included with your purchase). In a matter of 15 seconds, the ink will dry and you'll be able to scan your page of notes directly into your phone using the QR code in the corner of the page. From there, you can upload your handwritten notes into any cloud drive and when you're done, simply use any microfiber cloth like the one included to erase your work and start again.
According to one reviewer: "So, I received this as a gift, and have to say, I had never heard of Rocketbook. I am a project manager, and a compulsive list maker by nature, so this really changed things for me! [...]"
2. This USB Fan With An LED Clock Built In
This handy USB fan is a great WFH accessory and blows cold air at you while displaying the current time on the built-in LED screen. With a futuristic design and super affordable price, this makes for a great stocking stuffer or small gift for any guy in your life. The flexible neck can be adjusted to angle the clock any way you'd like, and the fan's blades are made of soft PVC for safety.
According to one reviewer: "I was looking for a fan that I could plug into the USB port on my computer. I found this one with a really neat clock that surprisingly keeps great time. The blades are rubber, so they won't hurt if you accidentally touch them. I have a couple of times. Great value for the price!"
3. A Bluetooth Key Finder So They Never Lose Their Keys Again
This Bluetooth key finder has won over thousands of reviewers for a reason: It can help you track down your keys, bag, or personal item if it's within 400 feet. Tap an app (or integrate it with your smart assistant and ask Alexa), and this key finder will make a noise so you can track down your lost item. Even better, it's water resistant and durable so even if it's hooked on your keys and you're out and about, you never have to worry about it. (Oh, plus it has a one-year warranty.)
According to one reviewer: "Been using this version for years. Nice to know when I lose my keys I can locate them. Also, I highly recommend them for your pet! Sometimes the cat will hide and will not respond to its name. So I just open the app and know he's safe somewhere in the house. [...]"
4. A Fitness Tracking Watch That Tracks Sleep, Exercise, & Heart Rate
With more than 29,000 Amazon reviews, this smart watch is one of the most popular fitness trackers, and can track everything from your heart rate to your steps to sleep and calories. Even better, the Amazfit Band 5 features a built-in Amazon Alexa and can go up to two weeks on a single charge. It supports 11 different sport modes you can enable when you're out for a hike or doing a strength training workout. For the person in your life who has been talking about owning a fitness watch forever, this is a fantastic entry point into the world.
According to one reviewer: "I rarely write reviews but I think this product deserves the hype. I bought this watch about a month ago to replace my Apple watch SE after it decided to quit not even a year into its life. For forty dollars this watch has been able to track my sleep patterns, heart rate, steps taken, hours standing, blood-ox, stress level, etc. The app that connects the watch to your phone is awesome and it makes accessing your info really really easy. [...]"
5. An IPX-Rated Water-Resistant Bluetooth Speaker
This rechargeable wireless water-resistant outdoor speaker continuously plays for up to 10 hours, and its powerful bass is easy to hear, no matter what kind of recreational sports you're partaking in outdoors. It has an IPX-6 rating, meaning it can hold up to light rains while you're out and about. This speaker is a great pick for any tech-lover in your life. It's even compatible with Siri once paired to your phone via Bluetooth.
According to one reviewer: "I love this speaker. I've bought two of them, one as a gift and one for myself. The sound is great and I like how portable and sturdy the speaker is."
6. A Bluetooth Beanie Hat That Can Play Your Music When It's Cold Out
For an affordable price, this Bluetooth-compatible beanie hat can keep you warm while it plays your music for up to 20 hours before needing to be recharged. Easily sync it to your device of choice to listen to your favorite music, podcasts, or audiobooks. And, thanks to a thicker knitting than other brands, this hat will keep you warm and is resistant to cold drops that might jeopardize the battery life of the Bluetooth tech.
According to one reviewer: "This product is a game changer for the colder months. I wasn't expecting the sound to be good but it's actually better than the sound I get from my $200 buds without the annoying earache or them dislodging and falling out. This thing is amazing. Perfect for fall walks. I bought it as a gift for my bf and wanted to try it before gifting and ended up jamming on around the house with it on for hours."
7. A Digital Slideshow Picture Frame
This digital photo frame has an 8-inch screen that projects all of your favorite images in a loop. How it works: Upload your favorite photos to the frame using a flash drive or SD card and it'll shuffle them for you. Over 11,000 Amazon users have purchased this frame, and collectively have given it its glowing, 4.3-star overall rating. Reviewers also rave that it's easy to set up and use.
According to one reviewer: "The product is amazing! I bought it as an anniversary present for my boyfriend and when I tried it, it worked nicely, no problems at all."
8. This Waterproof Action Camera At An Unbelievable Price
Take this waterproof action camera with 4K UHD resolution on any scuba, swimming, or surfing adventure. It includes a waterproof case that allows you to record up to 131 feet below water and an HDMI and USB cable for charging. Even better, this camera is Wi-Fi compatible and is equipped with a 170-degree wide-angle camera, an anti-shake function, and plenty of other great features.
According to one reviewer: "The product has a nice clean design. The user interface is straightforward and easy to use. I use this camera to capture footage while I ride my motorcycle, and it does the job well. The camera is affordable and the quality of the footage is just what I need. [...]"
9. A Universal Car Phone Mount That'll Keep Him Safe While Driving
This universal car phone mount is a sleek and practical way to make sure that the guy in your life is staying safe in the car. It attaches to your dashboard and can hold your phone securely in place, so you can see where you're going while looking ahead. It fits almost every popular model of smartphone, and reviewers say it's reliable, useful, and very cool.
According to one reviewer: "Love it. It mounts easily and is easy to use. I especially like the cell phone mount which can rotate 360 degrees. It is great that I can rotate the phone without taking it out of the mount while driving."
10. Best-Selling Wireless Earbuds Reviewers Like More Than AirPods
These comfortable Bluetooth earbuds have won over Amazon fans far and wide, to the tune of a 4.3-star average rating with over 21,000 reviews. These true wireless earbuds offer high-quality sound with low latency, and even have a built-in microphone so you can take calls from them. They'll work for 4 hours on one charge, but can easily be recharged using their carrying case. And, their soft silicone earbuds are one of the reasons reviewers swear these are "better than AirPods."
According to one reviewer: "This is the second time that I have [bought] it. There were a gift for two teens and they are happy! The teens agree that the sound is great, long life of battery and easy to charge. I totally recommend it!!!"
11. A 2-In-1 Charging Station That's Great For A Home Office
Organize your desk space, nightstand, or counter with this sleek charging station. It's Magsafe compatible to work with and charge any phone from the iPhone 12, 13, or 14 series, as well as all Apple Watch models. Simply place your devices on the stand for an efficient charge while freeing up your space and eliminating unsightly wires and cords.
According to one reviewer: "This charging station requires that you provide your own chargers, which was a bonus for me bc I wanted to use genuine apple accessories to charge. The fit is perfect, there are slots for cable management, and it works with the cases I have on both my watch and phone."
12. These Clip-On Lenses That Turn Any Smartphone Into A Professional Camera
This awesome clip-on smartphone lens turns any smartphone into a professional-level camera with a simple clip. This set comes with 11 lenses, including wide, macro, kaleidoscope, and fish eye lenses. It also comes with a set that can act as filters over your photos. Over 2,000 Amazon reviewers have upgraded their camera phone with this handy smartphone lens set.
According to one reviewer: "This is just an amazing product. All of the lenses work perfectly, they create crystal-clear images, and they allow for so much creativity. My personal favorite is the fish eye lens. If you are looking for a phone lens kit this has everything you could ever want and more. The packaging of the lenses is very convenient. It will be easy to carry while on the go. I seriously recommend this product. 10/10!"
13. A Wi-Fi Security Camera That's Motion-Activated & Has Night Vision
This outdoor Wi-Fi security camera can guard your place and monitor your pets while you're out. It features 1080P resolution, a wide-angle lens combined with 350-degree vertical rotation, and an IP65 waterproof rating. Plus, its ability to see 50 feet of night vision means you're covered after dark, too. If the camera senses a disturbance, it'll send you a push notification within 10 seconds of motion. It's also equipped with two-way audio to communicate with guests at your front door. Up to four people can watch live footage simultaneously via a convenient and easy-to-use app.
According to one reviewer: "This camera has worked incredibly for me thus far. It allows me to view what my 2 dogs are doing at all times when they are outside, which gives me great peace of mind. Also, knowing that I have video of anyone suspicious walking around or trying to enter my property is a huge plus. I honestly got it for the purpose of monitoring the dogs, but the security aspect is another great aspect."
This article was originally published on