33 Useful Gifts For Practical Men That They'll Actually Want
Give him the gift he didn't know he needed.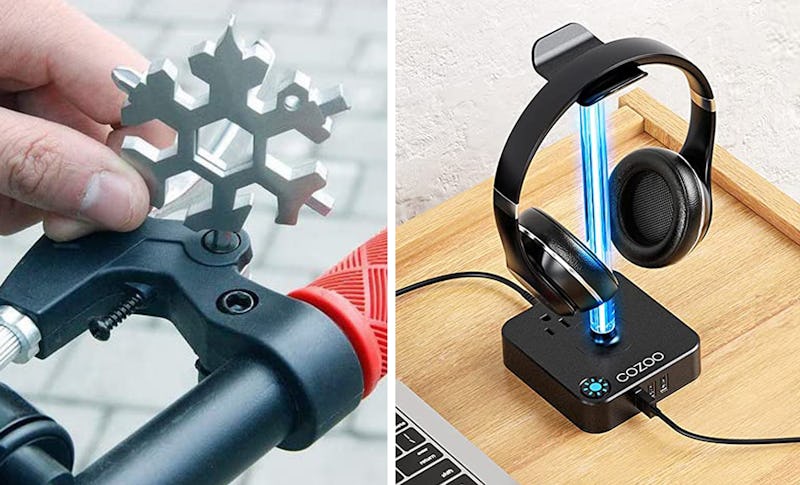 Amazon
We may receive a portion of sales if you purchase a product through a link in this article.
It can feel tough to get it right when it comes to gift-giving for a boyfriend, brother, father, or friend. Instead of buying the same old thing (like a shirt that they'll wear once), I think the trick is to think about useful and practical gifts for men in my life.
Instead of buying men gifts you think they'll like because you do, buy them something that they'll actually use in their day-to-day lives. You know, the things that are helpful and that someone may not think to buy for themselves. Before I browsed for some gifts for men, I reached out to a guy friend to ask him what kind of things he wished he had that would make his life easier, and he came back at me with a ton of responses. And guess what? They all made perfect sense. And most of them were super practical things that would make awesome gifts.
The next time you're shopping for cool gifts for guys, don't buy the first shirt you see or something that you think would be really nice but no one actually needs. Buy something useful; because wouldn't you rather someone actually get something out of your gift?
For The Well-Groomed Guy
1. Hatteker Men's Hair Clipper & Beard Trimmer Kit
Whether the guy you're gifting rocks a clean shave, stubble, or full-on beard, this grooming kit has it covered with 14 different pieces all in one and 12 different clip-in tools (from a hair-clipping comb to a nose trimmer).
According to one reviewer: "I was amazed when I opened the box. The weight of the unit is what got me. Not heavy, but heavy enough to know that it's not a piece of junk. The attachments caught my eye as well. So many to choose from. Great buy!!!"
2. XIKEZAN Beard Grooming Kit
If the guy you're gifting to is growing out his facial hair in any capacity, he'll appreciate this beard grooming kit for softening up wayward bristles. This comes with a beard conditioner, beard oil, beard balm, and a brush, comb, and scissors. He'll have everything he needs to trim up the mane once and for all.
According to one reviewer: "I must say I'm glad I came across this product. As men, we all wash our faces and that's pretty much it. Dry skin where your beard is and dandruff is not something I look forward to. With this product, my beard is clean moisturized, and soft."
For The Mixologist
3. AOZITA Cocktail Shaker & Bartender Set
For anyone looking to up their cocktail-making skills, this mixology kit comes with a cocktail guide, shaker, stirrer, and measurement jigger. The cocktail shaker even has a built-in strainer for infused drinks or a classic mojito. Over 9,000 Amazon reviewers have invested in this cocktail shaker set.
According to one reviewer: "Couldn't be happier with this product. Great quality and seals nicely for shaking. The recipes included are an added bonus. Going to order one of these for an X-mas present."
4. Ivation Wine Gift Set
Know a guy who loves to entertain? This wine gift set is perfect for them. It comes with an electric wine opener that can open up to 30 bottles on a single charge, which means that you'll barely ever have to worry about charging it. This set also comes with a foil cutter, and a wine aerator, and can easily recharge in the base.
According to one reviewer: "This item is used very often in my house. I like how it comes with all the things! The wrapper cutter, the cork puller, the stoppers, etc. Works great!"
5. glacio Silicone Ice Cube Trays & Mold Combo Set
If you have a guy in your life who loves really good alcohol but hates when the drinks they pour get watered down, you should gift them an ice ball sphere and cube maker. They are perfect for whiskey and scotch drinkers, as the ice melts really slowly because of their oversized shape.
According to one reviewer: "Very stylish. I brought these for a dinner party. My guests really liked that they didn't have to keep replenishing their drinks with smaller ice cubes."
6. Exclusive Whiskey Stones Gift Set
For the whiskey connoisseur who takes his drinks straight, this set of nine whiskey stones is the perfect gift, able to chill his favorite drink without watering it down. Made of 100% pure soapstone, these stones go in your freezer for a few hours and then are ready to use. Pop them into any drink or cocktail and they'll keep your beverage cold without watering it down.
According to one reviewer: "This is the perfect gift for anyone 21+! I bought two — one as a gift and another for me! They are shipped in a very classy box, the 8 cubes and two coasters and tongs are very good quality!"
For The Tech Lover
7. ONXE LED USB Clock Fan
This handy computer gadget works as a fan and a clock, and easily plugs into any computer via USB. Made with soft blades and a flexible neck, this fan projects the time as well, so he won't even have to look down to see what time it is. This cool fan is sure to be a hit with any tech lover in your life.
According to one reviewer: "I was looking for a fan that I could plug into the USB port on my computer. I found this one with a really neat clock that surprisingly keeps time great. The blades are rubber, so they won't hurt if you accidentally touch them. I have a couple of times. Great value for the price!"
8. Skywin PS4 Charing & Display Stand
For keeping all of your PS4 gear charging and tucked away, this display stand has a headphone or headset holder, a place to charge controllers, a cooling fan for your playstation and easily tucks into any TV stand or electronics console. Reviewers love how it keeps cords away and how securely it holds onto all of the parts of their gaming console.
According to one reviewer: "Absolutely loving this charging/stand/storage for my ps4. Keeps it organized and simple for the most part."
9. OthoKing Bamboo Charging Station
Give the gift of organization with a charging station that can hold a laptop, tablet, and up to three phones without the chords getting tangled. This professional-quality organizer is great for any home office or desk, and it's even made of 100% bamboo.
According to one reviewer: "It's a good way to have no mess with all the chargers and devices! I was skeptical at first but honestly it works great!"
10. TechOrbits Adjustable Desktop Riser & Standing Desk
If you've been holding off investing in an expensive standing desk, this desktop riser is a really good alternative, that comes in a two pack. You'll get both a desktop riser and a standing desk with this set, to outfit one or two desk areas. Don't be thrown by the lack of reviews — TechOrbits makes a lot of popular standing desks that have won over thousands of reviewers, like their best-selling desktop converter.
11. PULIDIKI Universal Cleaning Gel
A hard and true fact: Car vents and keyboards alike tend to get dirty fast. And, there's no easy way to clean them. Help them clean up the junk in and around their dash with this bizarrely entertaining sticky goo which picks up dirt and debris from keyboards, cars, and other interior spaces.
According to one reviewer: "This gel is really great for getting into those hard-to-reach places! It is easy to use and picks up dirt and dust really well. It has a mild pleasant odor and doesn't leave any residue on your hands or on the surface being cleaned. Great buy!"
12. Beam Electronics Universal Car Phone Mount
This universal smartphone mount makes it easy for the guy in your life to read directions or a map while barely taking his eyes off the road. Simply clip it into an air vent and close your phone into the four clamps on each side. There's a reason it's won over more than 50,000 Amazon reviewers.
According to one reviewer: "Loved this product so much, I've reordered extras for traveling (car rentals) and gifted them as stocking stuffers for family."
13. ELFRhino Silicone Earphone Organizer
Save your guy some time by giving them something that keeps their headphones untangled. The rubber tool, which comes in a bunch of colors, allows you to easily wrap your headphones or cords around it, leaving them mess-free and ready to use.
According to one reviewer: "Could not wait to get this item since my headphones were all over the place. They wrap around perfectly and the lock is sturdy. It's small enough to fit in your pants or jacket pocket. This item is easy to use."
14. XLEADER SoundAngel Bluetooth Speaker
Everyone has that one friend who is always looking for a good time. A portable Bluetooth speaker is a present so practical they can carry it with them wherever they go and start the party whenever they want. Over 34,000 Amazon reviewers have invested in this speaker.
According to one reviewer: "I really like this speaker! I get more than 15 hours of play time & the quiet connection is awesome! The sound is very clear for the size!"
15. TOZO T10 Bluetooth 5.0 Wireless Earbuds
Bluetooth headphones are a necessity for anyone who loves to workout. They eliminate the annoyance that a wire can cause and let you concentrate on your bike ride or run. This pair is IPX-8-rated for its waterproof design, and can last up to four hours without you needing to charge them. And, when they do die, the rechargeable case can hold up to 14 hours of more juice, so you can easily charge them anywhere you go. These are also wildly popular to the tune of 330,000 Amazon reviews.
According to one reviewer: "I was looking for a replacement for my AirPods and decided to give these a go, with very low expectations for the price. All I can say is WOW. I appreciate a great pair of expensive, high-quality headphones in the right settings (Bose, etc) but these are literally the best headphones under $50 I've ever tried - phenomenal sound quality for earbuds."
16. COZOO RGB Headphone Stand with USB Charger Port
For any tech-obsessed guy, this padded headphone stand can hold a pair of headphones or a headset, and even has built-in USB ports so it can double as a charging station on any desktop. They'll have easy access to everything they need when they sit at their desk and it'll keep the whole space more organized.
According to one reviewer: "Needed something to hold my headphones and get them out of the way when I'm not using them, this was perfect. Not only that but the USB ports and outlets make it the most useful item on my desk."
For The Animal Lover
17. Petcube Cam Pet Monitoring Camera
If the guy you're buying for leaves a beloved dog or cat at home while he heads off to work, this handy pet camera makes it easy for him to keep an eye on his pet while he's away. This has a 110-degree wide lens camera that can capture your whole space and has a sound and motion sensor that will notify him when there is any activity in his space. The associated app even allows for two-way audio, so he'll be able to talk to his fur friend from wherever he is.
According to one reviewer: "I was very anxious leaving the house with my 3 kitties behind. But not anymore! With my Petcube I can check on them whenever I want, which is great! I'm so happy with my purchase."
For The Foodie
18. grilljoy BBQ Grill Tools Set (24 Pieces)
Perfect for the man in your life who is constantly training for Chopped Grill Masters. They'll be showing off these stainless steel grilling tools at their next BBQ, complete with a spatula, corn skewers, basting and cleaning brushes, and more.
According to one reviewer: "I got this to give to someone as a birthday gift and they loved it. Perfect for someone who does a lot of grilling and camping. The case is nice and sturdy and I like the variety of items inside. Shipping was quick too!"
19. Cafe Du Chateau French Press Coffee Maker
This wildly-popular coffee maker is a fantastic gift for the coffee-loving guy in your life. It has a four-stage filtration system, stainless steel filters ensure that this French press brews a strong and delicious cup of coffee. Over 30,000 Amazon reviewers have added this coffee brewer to their kitchen set-up.
According to one reviewer: "We decided to switch from the Keurig coffee machine to French press almost a year ago and have not looked back! This French press is superb in every way. It took a few tries to get the right measurements but once we did it was a big WOW! We love dark rich roasts and it's my fav thing to wake up to every morning now."
20. Cucino Magnetic Knife Strip
For the chef, a magnetic knife strip makes for a super cool gift that'll keep their kitchen organized and their knives close by for their next culinary adventure. This one is super easy to install, stretches 16 inches in length so it can store five or six knives, and is a fan-favorite on Amazon
According to one reviewer: "This is a nice kitchen addition to free up space. It was very simple to install with the adhesive tape. We attached it to the tile backsplash because the butt of the knife handles could rest on slight granite shelf thus avoiding any slipping off."
21. Hamilton Beach Dual Breakfast Sandwich Maker
For any foodie, this breakfast sandwich maker is the quickest way to make a delicious breakfast sandwich. Separate parts of this cooker will fry eggs, toast bread or english muffins, and melt any cheese, so you'll have a perfect bacon or ham egg and cheese every time.
According to one reviewer: "I have the single sandwich maker as well and use it at work at least 4 of the 5 days a week. This prompted me to get this one because I found myself making multiples for everyone at the office. I cannot recommend this machine enough. I've churned out about 50 sandwiches so far and I love it.
For The Fitness Junkie
22. Fitbit Inspire 2 Fitness Tracker
Help your fitness-loving friend keep track of their steps with a stylish fitness tracker. This one also tracks sleep, steps, activity, heart rate, and even has a 10-day battery life. Nearly 70,000 Amazon reviewers wear this to track their health and wellness.
According to one reviewer: "I have one that I purchased for myself a long time ago and love it so much I purchased this one as a Christmas gift for a friend. The price on this one has come down since it's not the latest and greatest, but honestly, I would definitely recommend this one. I have had mine for probably two years or so and love it. If you just want to track your steps, heart rate, and sleep patterns, this works perfectly for that. And you can see text messages and who is calling you on it, so that's a plus."
23. Roam Universal Premium Bike Phone Mount
A cell phone mount for your bicycle is so practical. Mount it right onto the handle bars, and don't worry about your phone falling out of your pocket any longer. Plus, it keeps your device within reach just in case you need to change the song you're listening to.
According to one reviewer: "I liked this mount so much that I'm planning to buy a third one for my next bike. They're easy to mount on your handle bars and the mechanism of stretchy bands that it uses to keep the phone in place are very reliable. You don't have to worry about your phone coming out if you hit a bump or jostle it somehow."
24. TRIBE Water-Resistant Cell Phone Armband Case
Nothing bursts motivation quite like a freshly cracked smartphone screen. Keep accidents from happening during workouts with a sleek armband that secures the gadget to your arm. It fits with most Android and iPhone models, and is perfect for any runner in your life. It's even water-resistant, so it can hold up to an unexpected drizzle.
According to one reviewer: "Basically indestructible, stretchy band that doesn't slide at ALL while moving, comfy, I could rave about this product for hours. I will never buy another armband. BUY IT! I'd pay double in a heartbeat. Fits my iPhone 11 perfectly, but it wouldn't work for a larger phone."
For The Stylish Gentleman
25. Ponto Men's Obsidian Dress Shoe
Upgrade his wardrobe with a quality pair of shoes. These stylish shoes from Ponto have the aesthetic of a sleek dress shoe but function similarly to a sneaker in their comfort and versatility. Durable, lightweight, flexible, and water-repellent, these shoes are great to wear for any season and almost every occasion. As a bonus, they're made from recycled and bio-based materials. Ponto notes that these shoes run a bit sung, so sizing up a half size is recommended.
According to one reviewer: "Awesome shoes! Light but sturdy, very clean looking, and super comfortable. I get compliments all the time. Highly recommended."
26. FIZILI Minimalist Men's Watch
Yes, I know a watch may be a common gift for a man. But, hear me out — a matches-everything, super-minimalist watch model never goes out of style, and what's more practical than keeping track of time? Over 10,000 Amazon reviewers sport this watch, and the reviews are largely rave.
According to one reviewer: "Bought it for my husband for his birthday and he loves it. Looks super expensive and it's so sleek. No chipping or wear yet, it's been 3 months, going strong."
27. BULL GUARD Men's RFID-Blocking Bifold Wallet
A leather wallet is an easy upgrade to any man's wardrobe, and this one has a ton of awesome features that'll make it a slam-dunk gift. It's designed with RFID-blocking technology for added security, and has a separate ID slot that flips up, so he can easily present his identification without having to slide out a driver's license. This one comes in a bunch of neutral brown and black leather colors.
According to one reviewer: "I bought this wallet for my boyfriend and he loves it! It's thin and can hold all his cash and cards. He specifically loves that he doesn't have to change wallets from work to weekend. The quality of the leather is rich and feels like it will last for many more birthdays."
28. Bombas Original Ankle Socks (4-Pack)
Don't underestimate how happy a new pair of high-quality socks can make a man — especially if they're Bombas ankle socks. Gift a four-pack of Bombas original ankle socks in sizes medium, large, or extra-large and in three different color options. These socks are constructed from extra-long staple cotton, making them resistant to shrinkage. They also feature honeycomb arch support, a seamless toe, and a blister tab.
According to one reviewer: "Favorite socks for work or working out! Like a HUG to your feet!"
For The WFH Guy
29. Roost V3 Laptop Stand
This collapsible laptop stand makes for an incredible gift, and has won over the endorsement of entrepreneur and podcaster Tim Ferris. It is easy to raise and lower to one of seven different heights and comes with secure clamps so it'll hold your laptop in place securely when it's on the stand. For any tech lovers who are constantly at their laptop, this is a game-changing gift.
According to one reviewer: "I am 6'3" tall and like to work in coffee shops. That means leaning over a laptop, which would inevitably leave my back sore. Walking and stretching would help until I sat down and leaned over the laptop again. Maybe 15 minutes later, my back would hurt again. With Roost, my back pan completely stopped. It allows me to enjoy working at coffee shops again!"
30. Stand Steady Clamp-On Pen Cup
Having pens and his usual knick knacks at arm's reach is great for making a home office feel more like, well, an office. This clamp-on pen cup can be added to any desk, and holds pens, paper clips, notes, anything he needs. It even has an attached hook that can be used for headphones, bags, or anything he needs to keep close by.
According to one reviewer: "This was easy to install and love that I can flip it to the inside if I don't want it sticking out when not using it. Buying another one for my office since it's non-damaging when installing."
31. ETEPHI Wireless Charging Station
This sleek charging station works with all qi-enabled phones and quickly charges his phone when he places it down on the pad. It also has a spot for his AirPods and his Apple Watch to charge all of his devices in one place.
According to one reviewer: "I like the way it travels, can put in my backpack with no worries. It goes everywhere I go with no hassles."
For The Guy Who Has Everything Else
32. EverPlus Bluetooth Beanie
A Bluetooth-enabled beanie is a great cold-weather gift for any man. How it works: Thanks to its smart design, this hat has built-in Bluetooth that can sync with your phone so you can listen to music, podcasts, and more while you have it on, no headphones required.
According to one reviewer: "I got this as a gift for my father. He tried it on immediately and loved the sound and warmness of the beanie. The material is great and he can't wait to use it at work."
33. Saker 18-in-1 Snowflake Multi-Tool
A multi-tool is a handy gift for anyone to have in their pocket or bag. This one is shaped like a snowflake and can perform 18 different functions, acting as a bottle opener, screwdriver, bicycle repair tool, or a carton opener. It's also made of durable stainless steel, so it will last him a lifetime (or close to it).
According to one reviewer: "I bought this for my son-in-law's birthday whom I usually just give $ to and it was such a blessing when he texted me to let me know what a great gift he thought it was and will keep it with him to use for so many different things. The quality is great and it really can do all it says it can!"