30 Brilliant Gifts For Moms Who Have Everything
We only recommend products we love and that we think you will, too. We may receive a portion of sales from products purchased from this article, which was written by our Commerce team.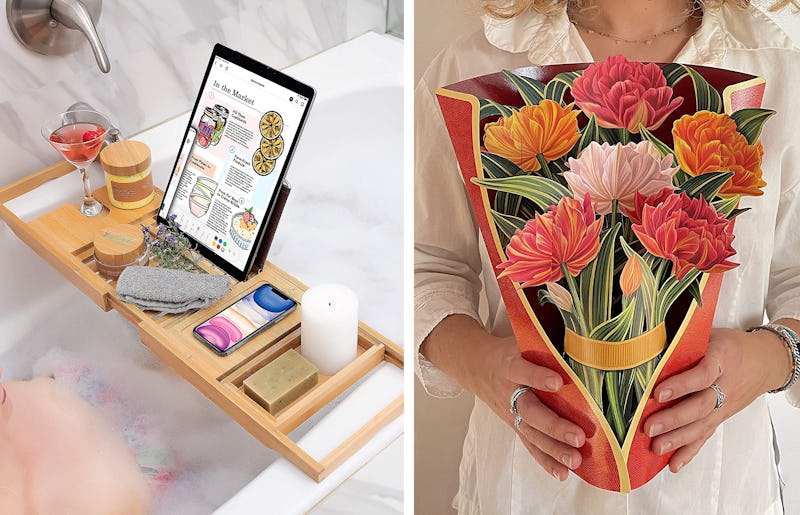 Amazon
I don't have a single bad thing to say about my mother, except maybe that she's been known to buy some pretty useless stuff from time to time. Come Christmas or her birthday, I'm always on the lookout for brilliant gifts for a mom who has everything, but now the "brilliant" aspect applies more than ever before. Up until she moved houses a few months ago, her shelves were absolutely loaded with knickknacks and clutter. Packing was a huge task, and she ended up getting rid of a lot of stuff. Now, if it's not a practical and clever gift for moms, I know it'll end up contributing to the clutter that she worked so hard to get rid of.
Maybe it's just because I hate messes, but gift giving is all about functionality for me. Candles and glass figurines are nice, but I'd much rather give someone something that they can use rather than something that's going to collect dust on a shelf. Whether your mom is outdoorsy, crafty, fashionable, culinarily-inclined, or just a huge fan of wine and ice cream, these genius gifts for any kind of mom (but mostly the mom who has everything else) are sure to please.
1. This Charcuterie Board That Comes With Utensils
This bamboo charcuterie board has it all: an ergonomic design that's easy to grab; a built-in drawer with four different utensils; and two side trays where you can nestle crackers, meats, or other food. With a generous 17-by-11-inch design, there's plenty of room to stack up all of your favorite foods to snack on. In fact, this is one of the most popular cheese boards on Amazon.
According to one reviewer: "I bought this as a gift for my mother for her birthday and she absolutely loved it! We use it for so many family gatherings and social events. The board is such beautiful quality, and the knives came to great use. 10/10 recommend this product/company. Such great customer service as well."
2. A Bathtub Tray With Room For A Candle Or Wine
This expandable bathtub tray comes in clutch for any mom who loves to take a soak. With room to prop up a tablet, rest a glass of water (or wine!), and light a candle, this tray is an all-star bath accessory that your mom is sure to love. And, since the sides are adjustable, it's a particularly easy gift to customize to the size of any tub.
According to one reviewer: "Oh I am absolutely glad I got this for myself. I really enjoy bath time and this was a must have for me! It's thickness is ideal and it's sturdy for me, I'd definitely gift it if I knew someone that'll enjoy it! I use it to put my book on or tablet, cell phone, remote for my light, and for a cold glass of water!"
3. A Mini Waffle Maker That's Easy To Clean
With over 144,000 Amazon reviews, this mini waffle maker is a fantastic purchase that so many people have added to their kitchens. This compact and lightweight machine can quickly whip up delicious waffles, and is designed with nonstick plates that couldn't be easier to clean. Whether you gift it to your mom (or yourself!), this is a great kitchen appliance to have tucked away for Sunday morning waffles.
According to one reviewer: "This little gadget works very well. Cooks the waffles at just the right temp. It is non stick, so it cleans up nicely. I liked it so much, I ordered another one for my mom for Mother's Day."
4. This Insulated Wine Cooler That'll Keep Any Bottle Chilled
For any vino, this wine cooler is a great gift that'll keep a bottle of wine cold for six hours. This cooler should fit most 750-milliliter bottles whether that be wine, champagne, or your drink of choice. The double-walled and insulated design is great for outdoor gatherings or hot weather, as your beverage will stay chilled without any ice that might water it down.
According to one reviewer: "One of the coolest things we bought this summer! Keeps the wind cold on a hot day and it adapts to different shapes and sizes of wine bottles. Makes a great gift and we will definitely buy one again."
5. These Bath Bombs That Make For A Spa-Worthy Experience
Simply drop one of these bath bombs into a warm tub and watch as the effervescence appears. This set of 14 bath bombs come with different blends of essential oils in each, including tea tree oil, peppermint oil, lemon oil, and eucalyptus oil. And, since these come in a gorgeous gift box, they're ready to give or to be wrapped up as a present.
According to one reviewer: "I bought these as a gift for my mother for her birthday. She likes taking baths, but had never used a bath bomb before. She absolutely loved these! She said the scents were amazing & it made her feel as though she was at a spa. Highly recommend!"
6. A Bird Feeder That Suctions To Any Window
If your mom's a nature lover, this clever window bird feeder lets her watch birds right up against the window with its transparent suction-cup design. This feeder should adhere to any window surface and holds up to 4 cups of birdseed so you'll have plenty of birds stop by.
According to one reviewer: "Bought for my mother in law for her birthday. She put it on her back deck patio door and the birds come right up to it. She enjoys it."
7. A 6-In-1 Air Fryer That's Great For A Mom Who Loves To Cook
For the mom who loves to cook, this 6-in-1 air fryer can air fry, roast, broil, dehydrate, bake, and reheat. And, because air fryers naturally use less oil than traditional frying methods, it's also a great way to enjoy fried food with 98% less oil. This 4-quart air fryer is also designed with a nonstick basket that's easy to clean.
According to one reviewer: "I love this machine, I got one for my birthday and had to get one for my mom and mother-in-law and they both love theirs. We all use ours on a daily basis."
8. A Sunrise Alarm Clock That's The Gentlest Way To Wake Up
This Philips wake-up light mimics the light from the sun to help you wake up more soundly. It comes with 10 brightness levels and the sound and brightness gradually increase until you wake up. It is outfitted with a snooze button you can activate by tapping the clock, and this alarm even has a 90-day return policy, if your mom is hard to shop for.
According to one reviewer: "Bought this for my mother that has always been a bear to wake up. [...] One week after having it she was so excited about waking up before the alarm for the first time in her life. She was already seeing a great change. I have had mine almost a month now. I am so pleased with it."
9. A Digital Picture Frame That Is Wi-Fi-Enabled
It's a splurge, but this Wi-Fi-enabled picture frame is a fantastic gift for any mom. You can send photos to this frame from wherever you are through the free app, and they'll appear in real-time on the frame. The 9-inch HD screen displays your photos beautifully, and the photos even automatically cycle so your mom can watch a slideshow of favorite memories.
According to one reviewer: "I was recommended this product from a friend, who bought it for her mother who lives out of state. It is a very easy setup and what I really like about it is the fact that it is Wi-Fi, and you can add people to upload their photos from the app. This is great since you can upload photos from the app even though you are miles away, you don't have to wait until get home, and more than one person can upload."
10. A Genius Vase That Twists So You Can Trim Your Flowers Easily
This genius vase makes it easy to maintain your flowers so they last longer. Simply twist the vase and you'll be able to access the bottom of the vase to drain the water, trim the stems, and care for your bouquet. This vase comes in mint green or pale pink so you can pick the perfect one for your mom's taste.
According to one reviewer: "Most genius vase. The flowers last so much longer, because you can change the water and snip the stems, to keep bacteria from growing and killing your flowers. It's also beautiful as a vase itself, super modern and chic."
11. A Soft Waffle-Knit Robe That Has Thousands Of Reviews
A robe is a tried-and-true gift for mom that she'll get so much use out of. This lightweight waffle-knit robe is perfect for all seasons, and is made of a cotton-polyester blend that's soft and absorbent, perfect for some post-shower robe time. This comes in a bunch of colors, including pale pink, navy, gray, or white.
Available in sizes: X-Small - XX-Large
According to one reviewer: "This is a Mother's Day gift for my mom. She was so happy with the styling of this robe. She especially liked the white ribbing as an accent on the sleeves, pockets and down the front of the robe."
12. An Editor-Favorite Frother For A Luxe Morning Coffee
This quiet and convenient frother can easily upgrade your morning cup of joe. Simply put in your milk of choice into the frother and decide which level of foam you want: warm milk, airy milk foam, or dense milk foam. In under two minutes, your foam will be ready for your latte, hot cocoa, or preferred warm beverage. This frother comes highly recommended by Bustle's Associate Commerce Editor, Carina Finn.
According to one reviewer: "I bought this for my mother in law for Christmas and now the entire family uses it daily! It can froth any kind of milk very well and is also super quiet. Simple and easy to use and perfect for those who are looking to make a quick latte in the morning."
13. These Solar Lanterns That Turn On Automatically When The Sun Sets
This two-pack of solar-powered lanterns is a great gift for anyone who loves to spend time outdoors. These lanterns have a simple on/off switch which you should turn on in the daytime to enable them to charge from the sun. That's it. When the sun sets these lanterns will automatically turn on, creating a beautiful outdoor oasis.
According to one reviewer: "Look great out by my pool. Got a set for my mother in law and she loves hers too! She hung them in trees in her backyard."
14. A Great Dyson Fan That's Sure To Be A Hit
I know it's a pricey gift, but this Dyson fan is a present to gift mom that she'll be talking about for ages. For one, its bladeless design could not be easier to clean, and it powerfully pushes fresh cool air into any space. This tabletop model can fit on most countertops or on the floor, and is safe for kids or pets.
According to one reviewer: "I recently received this fan as a gift and it is absolutely wonderful. It easily surpasses other fans I've owned in the past (by Honeywell and Hunter). The Dyson fan offers a multitude of wind speeds (not just slow and fast), and is so much quieter than other fans I've owned."
15. An Affordable Espresso Maker For Cafe-Quality Drinks
This 4-cup espresso maker is a great compact kitchen appliance to gift to any coffee-loving mom. There's a simple three-setting design that's super user friendly, so you can easily whip up espresso or use the attached steaming wand to froth some milk to craft a latte or cappuccino.
According to one reviewer: "My wife was overly excited when she unboxed hers and has used it everyday!"
16. This 16-Pack Of Face Masks For Any Skin-Care-Loving Mom
This pack of 16 sheet masks has something for everyone, and makes for a great gift for a mom obsessed with skin care. Each mask is packed with different standout ingredients, from aloe to hyaluronic acid to charcoal, so there's plenty of variety to make things interesting. And, for just $10, this is a great affordable present that you can both enjoy.
According to one reviewer: "Me and my mom love these masks. Really easy to use and huge variety. Face after mask feels fresh and relaxing."
17. A Safe, Quick, & Stylish Way To Boil Water
This adorable electric ceramic tea kettle boils water (without a stove) in no time at all, and it has an automatic shut-off feature for extra safety. In fact this kettle is one of the most popular on Amazon, with over 6,000 reviews and counting. For any mom who loves a cuppa, this would make the perfect present.
According to one reviewer: "Love so much that I bought one for my mom for her birthday! I use mine everyday, if anything were to happen to mine I would definitely repurchase."
18. A Luxurious Cashmere Blanket That Comes Ready To Gift
Packaged in a beautiful box that's ready to gift, this luxurious cashmere blanket is a fantastic present. Made with long-staple cashmere fibers that make it durable and super soft. Available here in a neutral gray, you can also get this throw blanket in a deeper merlot red.
According to one reviewer: "This is is a larger than expected, heavier than expected cashmere blanket. I [wasn't] sure which to choose from and went with this one due to 5 star ratings from everyone who bought it. My wife absolutely loves this gift. It was a nice surprise for her. Very good quality!!"
19. An Egg Cooker That Can Hard-Boil 6 Eggs In Minutes
For a faster breakfast, this egg cooker can poach, hard-boil, or scramble eggs in minutes. The clear lid allows you to monitor your eggs as they cook, and the simple button operation powers all of the cooking functions. You'll have a delicious breakfast in under 10 minutes.
According to one reviewer: "I got one of these last year as a gift. Best gift of the event. I have since given two more to my kids. They love them. It works right, every time with no fuss or mess. You can vary the amount of water and vary the hardness of the egg."
20. A Portable Blender That Makes Smoothies In Minutes Flat
The My Blend smoothie maker makes a delicious and nutritious smoothie in the same cup that you can take with you on the go. The 20-ounce BPA-free bottle can fit all the contents of your daily smoothie and comes with a sport cap you can easily drink out of. Over 9,000 Amazon users have invested in this blender and have given it a glowing, 4.5-star overall rating.
According to one reviewer: "This made a great Christmas gift! Reasonable price and my friend really liked it, says it's convenient."
21. A Comfortable Footrest That's Made Of Memory Foam
Crafted with dense memory foam, this ergonomic footrest is great for anyone who spends a lot of time sitting down. Not only has it reduced leg and foot pain for many reviewers, but it's so soft and has a nonslip bottom that will stay put on the floor.
According to one reviewer: "I gifted this to my mom and I almost regretted not keeping it for myself. It exceeded my expectations! I didn't expect it to be so soft and for my feet to sink into the memory foam like it did."
22. An Electric Wine Bottle Opener With 29,000 Amazon Reviews
An electric wine bottle opener is a great accessory to have in any home, and this best-selling opener from Oster makes for the perfect present for a wine-loving mom. Nearly 30,000 Amazon users have invested in this wine gadget, which can open up to 30 bottles of wine on a single charge (the charge lasts six to eight hours). And, this one comes with its own foil cutter, so you have everything you need to uncork your favorite bottle.
According to one reviewer: "I LOVE this! I bought my mom one for Christmas because I thought it would be easier for her to use than a manual one. She loved it! After watching her use hers, I had to buy one for myself. Makes opening wine super fast and easy."
23. A Vacuum-Sealed Travel Mug With A Cult-Following
My mom ends up wearing most of her beverages, but this 16-ounce Contigo autoseal vacuum travel mug entirely seals up when you're not using it, so no more spills ever again — and it holds heat for up to five hours. This mug comes in 37 different styles and designs, as well as some with ergonomic handles for extra grip and safety from spills. This thermos has earned more than 100,000 Amazon reviews.
According to one reviewer: "My husband and I LOVE these!!!! We use them daily. I bought five for gifts this past Christmas (along with some coffee and tea GREAT GIFT!)."
24. A Cozy Foot Warmer For The Mom Who Is Always Cold
This handy foot warmer is great for any mom who is always cold. Just plug it in and slip your feet into the plush fabric. You can choose from one of three temperature settings, and this foot warmer also has an automatic shut-off feature for added safety.
According to one reviewer: "My mom suffers from cold feet and this was her favorite Christmas gift this year. She uses it every day."
25. A Water Pitcher With A Built-In Fruit Infuser
This glass water pitcher has built-in infuser so you can put your favorite fruit into the water and get delicious drinks. With a generous 64-ounce capacity, this pitcher can make plenty of beverages before you have to clean it out. And, since this comes with its own scrub brush, it couldn't be easier to clean.
According to one reviewer: "I had been looking for a glass jug to use for infused water as my family consumes lots of water daily. This jug is perfect. I bought one for my mother-in-law and she raves about it too."
26. This Paper Bouquet That Will Last Her Forever
For any mom who loves flowers but maybe doesn't have a green thumb, this paper bouquet is a stunning present that requires zero upkeep. The tulips pictured here are a springtime favorite, but you can also get roses, daffodils, or amaryllis. These gorgeous faux flowers would look great on any table.
According to one reviewer: "I LOVED these Freshcut Paper flowers! They came in a beautiful package with a little card and the flowers almost looked real! They were the perfect gift!"
27. A Genius Pillow Designed For Bathtubs
This bathtub pillow is perfect for cozying up in some warm water, and has a nonslip suction cup backing that will keep it in place even in the sudsiest baths. The mesh fabric is breathable so it won't get too hot while you soak, and it dries super fast so you can use it every day if you want.
According to one reviewer: "This back tub pillow changed my life. Bubble bath time without the kids is amazing now. You can fall asleep you don't slide nor does the pillow. It is a wonderful item for all mothers and bath lovers."
28. This Burt's Bees Cream Set That's Ready To Gift
This gift set from Burt's Bees is filled with their best-sellers, including a hand cream, foot cream, lip balm, cuticle cream, and hand salve. Best yet, this set comes ready to gift as its packaged in a beautiful tin. Over 40,000 Amazon reviewers have picked up this gift set, so you'd be in good company if you gifted this one to the mom in your life.
According to one reviewer: "I bought three of these as small gifts for my mom, my wife, and her mom for Mothers Day. They were all happy. I don't know about my mom or mother-in-law, but my wife enjoys using the creams in this kit here and there."
29. An Indoor Herb Garden Perfect For The Home Chef
This indoor herb garden allows you to grow basil, thyme, mint, and so much more from the comfort of your kitchen. This garden comes with its own seed kit so you can grow six different herbs as soon as it arrives. With a simple control panel that tells you when it needs more water, this herb garden is a foolproof gift great that doesn't require a green thumb.
According to one reviewer: "I have an Aerogarden that I received as a gift and LOVE it. Therefore, I purchased this one as a gift for someone else. I'm sure it will be a terrific as mine is."
30. A Fun Card Game For Pun-Loving Moms
This pun-based card game is the ultimate gift for any mom who loves to laugh. The goal of this game is to make bad puns throughout and it'll provide hours of fun, according to reviewers. In fact, with 2,000 Amazon reviews under its belt, this card game is one of the most popular games you can buy.
According to one reviewer: "This is so much fun. Hours of entertainment. Buy it and you won't regret it!"