These Are The Best Dog Breeds For People With Allergies
Yes, Labradoodle is on the list.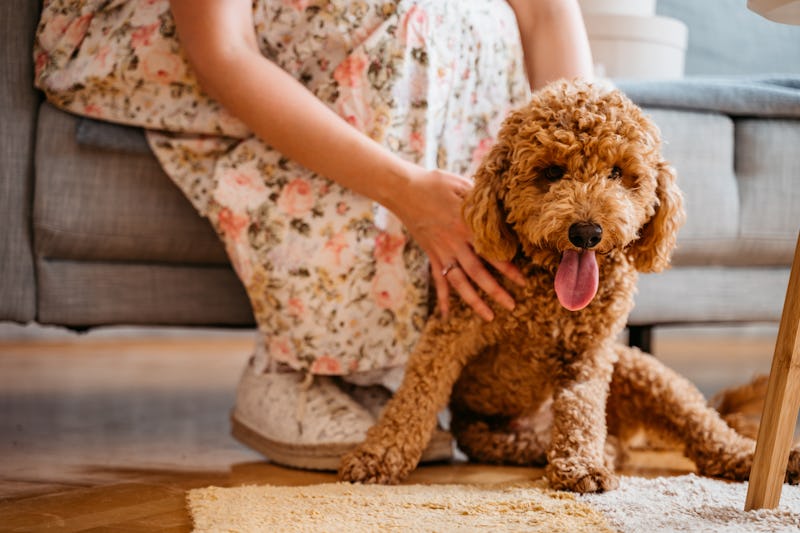 urbazon/E+/Getty Images
Dogs are magical and perfect creatures that can make everyone's lives just a little bit brighter... unless you're allergic to them, in which case, everything is pretty much terrible. OK, that might be an exaggeration, but being allergic to dogs and owning one can still be quite difficult. Sure, getting to cuddle a cute puppy is kind of worth the sniffles and the dry throat, but it would still be more ideal to, you know, not feel terrible the minute a doggo comes your way. Luckily, there is hope for even those with really bad symptoms: There are some dog breeds that are best for people with allergies, so that everyone can enjoy these pets.
For starters, there's no such thing as a fully hypoallergenic dog. That's because "a large part of allergies to pets is dander, which comes from the skin," according to Dr. Stephanie Austin, DVM, and medical director and veterinarian of Bond Vet. "Even if adopting a hairless or low-shedding pet, the animal will always have skin, so there's always a possibility of allergies. That said, less shedding could potentially mean less bothersome allergy symptoms in some individuals." Shedding is, after all, the major problem — when the pet dander is released into the air, it triggers allergy symptoms. Less shedding means less dander in the air.
It's important to remember, though, that even if you get one of the best dogs for allergies listed below, you could still experience some allergy symptoms, so you should speak with a doctor if you're worried about that. You'll find that some dogs affect you differently than others, so experimenting and doing a lot of research should be part of the process when searching for a furry friend.
The dogs below are known for not releasing as much dander into the air, and that's a good thing. Check out the best dogs for people with allergies:
Additional reporting by Siena Gagliano.
This article was originally published on