2020's Official Halloween-From-Home Starter Pack
Halloween is on its way, and we've got all the products you need to for a spook-tacular holiday.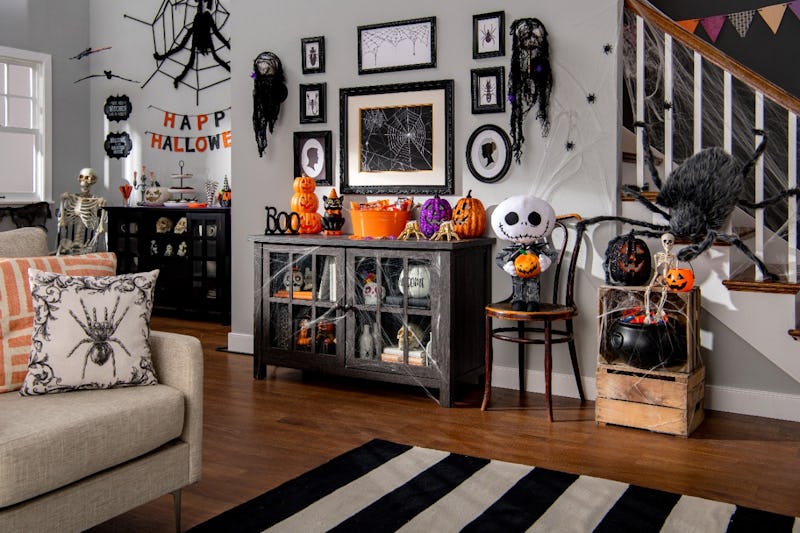 Courtesy of Walmart
ICYMI, Halloween 2020 is not cancelled. That's right, All Hollows' Eve is still on and this year's circumstances have actually created an opportunity for you to let your imagination run wild. Think about it: Instead of having to choose between a costume party or staying home to dole out goodies to trick-or-treaters, you can now shake things up when it comes to your October 31 plans. The opportunities are endless — from entering your office's virtual costume contest to having a spooky movie marathon with a few friends or even hosting a small murder mystery party, your Halloween is gearing up to be a memorable one.
And even though your schedule just so happens to be freer than it's been in years, convenience is still key in getting all of your fave items safely (and on time, too). Think of these fa-boo-lous finds from Walmart as all you need to make this Halloween the best yet — no matter how you're going to spend it this year.
If You Want To Deck Out Your Space...
The first thing we all check off on our Halloween to-do lists is the decor, so why not go big to set yourself apart? By adding items like a sparkly wreath and petite pumpkins to your space, you're setting the scene for an enchanting evening ahead. And don't forget the sweets! Although trick-or-treating may not be in the cards this year, a playful mummy candy bowl will surprise close friends and family or just keep you from eating all of the candy corn (Hint: It swats your hand away!).
If You Want To Ace Your Office Costume Contest...
Now that your team's Halloween party has gone virtual, there's literally no excuse for not dropping in for a few. If there's a costume dress code, be prepared with a tiger mascot head or low-key cat ears that make you look like you tried with very minimal effort required (both pair well with sweats!). Strategically place festive pumpkin decor in the background and get your sugar fix with some Nerds rope.
If You Want To Host A Murder Mystery Party...
This time of year is basically begging for you to plan a murder mystery party. If you're carefully having a small gathering at home, you can grab one of these in-person games that includes everything but the wine. If you feel better hosting virtually, plenty of websites have interactive whodunit games (some even come with a moderator to up the storytelling game). As for the goods to get: You can't go wrong with a candelabra prop or a motion-activated spider to add some flair to the night. So, turn off the lamps and rely on purple string lights to set the mood on-screen or in-person.
If You Want To Cozy Up For A Spooky Movie Marathon...
Pull on those PJs (or costumes!) and tune into some of your fave Halloween flicks. From scary (Poltergeist, Children of the Corn) to the nostalgic (Hocus Pocus, The Craft) you'll have plenty of entertainment to last all day — or night — long. If you're watching with friends, why not dress up as characters from one of the movies? And for extra-safe snacking, serve individually packaged goodies like cheese balls and rice treats.
This post is sponsored by Walmart .