11 Virtual Juneteenth Celebrations You Can Join From Home
The Senate just passed a bill recognizing Juneteenth as a federal holiday.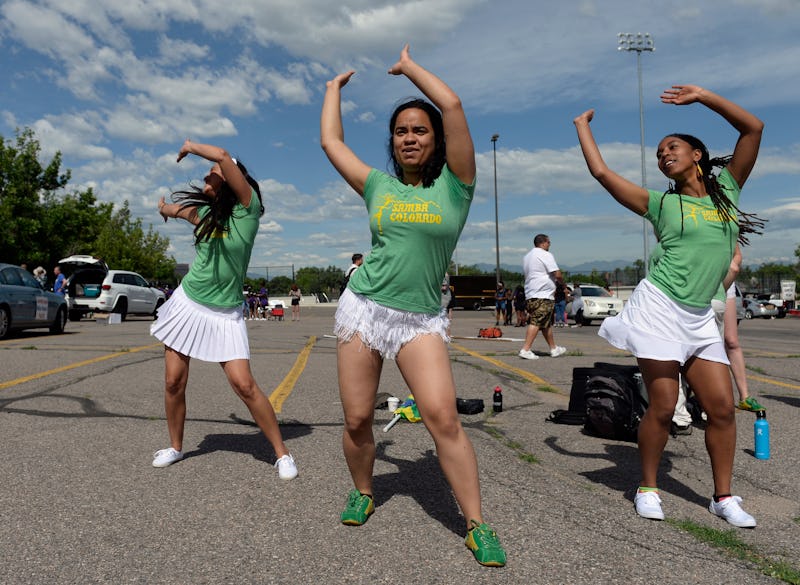 Kathryn Scott/Denver Post/Getty Images
While you may be gearing up to figure out how to celebrate Fourth of July this year considering the world is beginning to open up, there's another holiday coming up on June 19 that's also worth celebrating: Juneteenth, which celebrates the end of slavery in the U.S. This year marks 156 years since Union General Gordon Granger marched to Texas and announced that enslaved people had been freed.
While many people can rightfully argue that slavery didn't exactly end there — with Jim Crow and mass incarceration creating different ways for Black people to continue to be denied basic human rights — Juneteenth is still seen as a major celebration in many households. In fact, on Tuesday, June 15, 2021, the Senate unanimously passed a bill recognizing Juneteenth as a federal holiday. While the pandemic may have changed the way you will celebrate for another year, there are still plenty of virtual Juneteenth celebrations that you can take part in this year.
With everything going on in regard to Justice for George Floyd protests and shared videos of police brutality circulating the internet that started in 2020, it's possible you may have questions for how you should celebrate this year. However, uplifting Black voices and communities is exactly what the nation needs right now, and there's no better way to do that than by celebrating advancements made in Black history.
Here are 11 organizations and businesses that are hosting virtual Juneteenth celebrations.
1. The Amistad Center for Art & Culture
Hartford, Connecticut's Amistad Center for Art & Culture is hosting a 2021 Juneteenth Virtual Celebration in honor of the historical holiday. There will be live music from performers Jolie A. Rocke, a soprano and native New Yorker; John Randolph, an international violinist; and artist Jaii Marc Renee. There will also be several other celebrations and important discussions about the history of the center and the holiday. The event begins on on June 19th at 6:30 p.m. EST, and you can tune in virtually here.
2. Illinois Holocaust Museum & Education Center
The Illinois Holocaust Museum & Education Center is hosting a virtual night to commemorate Juneteenth. The commemoration will include a panel discussion to honor those who suffered as a result of the horrific and unforgettable 1921 Tulsa Race Massacre, on the 100th anniversary. The event begins on Thursday, June 17 at 7:30 p.m. EST. The event is free to the public, but you must register in advance to attend the panel.
3. James Madison's Montpelier
James Madison's Montpelier is hosting a virtual Juneteenth celebration that has been going on all month long. If you missed the other events, not to worry, they have more coming up to celebrate the holiday. On June 17 at 7 p.m. EST via Zoom, there will be a live virtual concert with acclaimed musician and storyteller Calvin Earl. On June 19, beginning at 11 a.m. EST, they are hosting The Art of Storytelling Juneteenth Celebration via YouTube. Also, on June 19, there will be a recorded virtual wreath laying at Montpelier Enslaved Cemetery via YouTube, which will be posted on this page. On June 24 at 7 p.m. EST on Zoom, James Madison's Montpelier is hosting a live virtual viewing and Q&A of "Resilience, Recovery, and Rebirth: Sustaining Hope in Trying Times," led by Horace Scruggs. You can register for the event here.
4. African American Museum Of Iowa
The African American Museum of Iowa is hosting a Juneteenth Panel Discussion, "Does the Color of My Skin Really Matter?" in regard to the challenges and opportunities that Black performing artists face everyday. The event is on June 20, and begins at 3:00 p.m. EST. Hosted by Dr. Myron McReynolds, panelists include bass-baritone Simon Estes, sporano Whitney Morrison, baritone Sidney Outlaw, and pianist Pedro Yanez.
5. Step Africa!
Step Africa! will host a Juneteenth celebration virtually beginning on June 19 at 8 p.m. EST. The event will be a performance of three unique works, Trane, Little Rock Nine, and The Movement. The works feature some of the most important moments in African American history demonstrated by the "tradition of stepping and contemporary movement." If you plan on attendance, there is an opportunity to donate to Step Africa! You can register here, and donate on its fundraising page.
6. Juneteenth Music Festival Corporation
The Juneteenth Music Festival in Denver is hosted every year as a major event, and this year, the 2021 Juneteenth Music Festival live stream will be available on the Juneteenth Facebook Page and will be broadcasted live so you don't have to miss out on the celebration even if you can't attend in person. This year is especially important because "Juneteenth was recognized as a commemorative holiday by Denver City Council" in February. Beginning on June 19 at 4:00 p.m. and ending at 10:00 p.m. EST, you will be able to tune in live.
7. Sistahs With Sense
If you're looking to get up on your feet and celebrate Juneteenth in a great and fun way, Sistahs With Sense is hosting a virtual dance party beginning at 5:00 p.m. EST on June 19. There will be a ton of events, including cooking demos, martial art displays, sound therapy, and an epic dance party!
8. Umoja Balloon Decor
Umoja Balloon Decor is hosting its 12th Annual Juneteenth Festival in New York City beginning Friday, June 18 at 9:00 a.m. EST. The festival is a three-day-long summit, ""Rebirthing The Roots Of Entrepreneurial Excellence," jam-packed with music, dance, poetry, skits, history, vendors, and families all there to celebrate culture in light of the holiday. Each day has a theme: Friday, June 18 is "Health Day-Mind, Body & Soul," Saturday, June 19 is "Juneteenth Celebration," and Sunday, June 20 is "Juneteenth Pomp." Follow along on its YouTube, or Facebook.
9. Genesee Country Village & Museum
The Genesee Country Village & Museum will host a virtual Zoom field-trip called "Living History at Home," for anybody interested in celebrating the holiday with an experience. The experience is June 16 at 3:00 p.m. EST and "welcomes this opportunity to interpret the community and lives of Black Americans living in Western New York at the time of emancipation." Tune in for a great, and educational experience to celebrate freedom.
10. Harford County's Hosanna School Museum
The Harford County's Hosanna School Museum will host its fifth annual Juneteenth event via virtual live Q&A on June 19, 6:00 p.m. to 8:00 p.m. EST. It is "Celebrating the Black Family: Representation, Identity, Diversity," and will include a libation ceremony, multiple presenters, a showcase of Black-owned businesses, and community organizations.
11. Howard County Center of African American Culture
The Howard County Center of African American Culture presents its 21st Annual Juneteenth celebration on Saturday, June 19 at 10 a.m. EST with an in-person event, and then will continue virtually at 11:30 a.m. EST. The theme is "A Conversation On Race: Racism-Equity-Reconciliation," and the Zoom meeting will feature a virtual panel discussion.
This article was originally published on