3 Women Share How They're Saving For Their Big Life Goals
Three millennial women share how they're saving up for getting the things they want.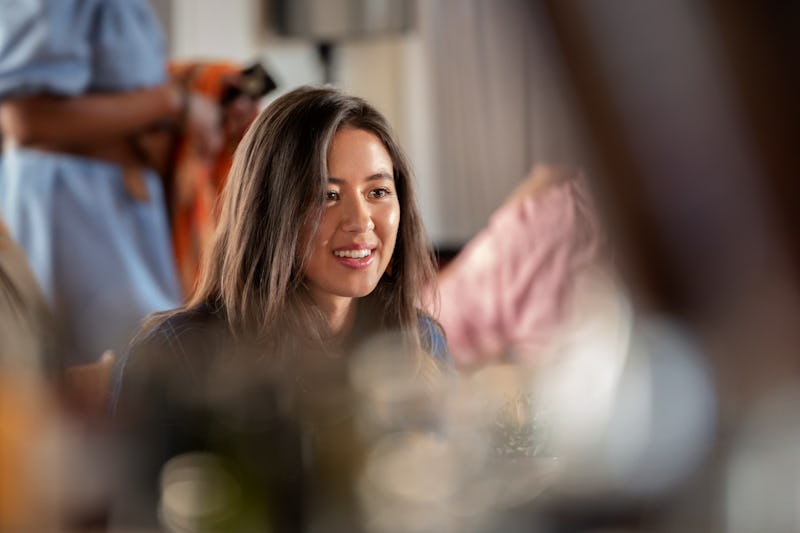 Doug Menuez / Schwab
Whether you've been staying up late at night fantasy-scrolling through property listings for a beachy bungalow, or you've been dreaming about a trip Down Under to pet the koalas, it's safe to say your next big goal is probably going to require big money. And unless Grandma Pearl left you a hefty inheritance, you'll need to save up to make that home purchase or getaway happen.
Let's be real for one sec: Saving money isn't the easiest thing to do, especially if you're living paycheck to paycheck. But it's super important — not just for the fun stuff (hello, new leather jacket!) but for emergencies, retirement, or buying a home too. And, unfortunately, many of us aren't where we should be. One recent survey found that about 50 percent of American women have no savings at all.
It's never too late (or, for that matter, too early) to start saving — even if it's just a dollar here or a fiver there. It all adds up! We've teamed up with Charles Schwab and one of America's most trusted personal financial experts, Carrie Schwab-Pomerantz CFP® to look at how three real women are saving for their *big* life goals. Like these women, you don't have to go it alone in your savings journey — read Schwab-Pomerantz's Ask Carrie column for clear, practical answers to your saving and planning questions.
Big Life Goal: Building a safety net
Lola, 34, New York, NY
When Lola made the decision a few years ago to quit her full-time job and go freelance, she made sure her finances were in tip-top shape to weather the ups and downs of being a creative-for-hire. But she didn't account for one special delivery.
"I built up my savings to cover rent, food, etc., in case I hit a dry patch," she says. "But I did not think about things like maternity leave or medical expenses."
When Lola had a baby and her maternity leave was unexpectedly extended due to the global pandemic, she ended up dipping into her emergency savings. Now, with work picking back up, she wants to build that safety net back up for a rainy day — and she's taking it one paycheck at a time.
"When I get a payment, I have to take out what I need to save for taxes first, since I'm a freelancer," she explains. "Then I take out my savings portion. I set a date for when I want to hit a savings goal, and I calculate how much I need to put away every month, and also every week, to hit that. Because I'm not on a regular payroll schedule, I do the math and make sure I'm putting away a portion of my checks that will keep me on track. There are a lot of times that I will pick up jobs only so I can put away that money into my savings and 'catch up' to my goal."
Building a "cash cushion" like Lola's is an important step towards financial freedom, says Schwab-Pomerantz in her column.
"As a buffer, you ideally want to have enough cash handy to cover three to six months' essential expenses," she explains. "When you reach your goal, you can put these savings toward something else."
Work-from-home boss lady desk, anyone!?
Big Life Goal: Buying a house
Sharon, 32, Sarasota, Florida
Sharon and her husband have made major moves in order to save money — quite literally! They recently relocated from New York City to Sarasota, Florida, where they are paying a whopping $1,000 less in rent per month. Those extra dollars are being used in two ways: to pay off debt (credit cards and student loans) and to save for a new home.
"We'd like to have around $25-35k saved up for a down payment," says Sharon.
The couple is also taking advantage of an annual work bonus to help pay down debt. Once those accounts have a zero balance, they'll start contributing the bonus to their dream home fund, too.
Focusing on paying down high-interest debt first is smart, says Schwab-Pomerantz. "Carrying large amounts of credit card or other high-interest debt can get in the way of making meaningful progress toward your savings goals," she explains. "Indeed, by paying down credit cards — which charge an average annual interest rate of roughly 17 percent — you could easily end up saving more on interest charges than you'd earn in the markets. Having to spend less on debt each month also gives you more room to save."
And quicker savings could mean an even earlier move-in date for Sharon and her family.
Big Life Goal: Retiring in style
Lauren, 37, Los Angeles
A well-rounded savings strategy should focus on both short-term and long-term goals, says Schwab-Pomerantz, and Lauren is taking that advice to heart. In the short-term, the new homeowner needs to save for some costly repairs to her fixer upper, but in the long-term, Lauren has her heart set on calling Southern California her forever home.
"I'd love to be able to afford to retire in Los Angeles at a reasonable age, live in a nice home, and hopefully travel a lot," she says. "I have a lot on my bucket list that I'd love to check off eventually. I've heard of so many people who spend their entire lives working very hard in a place and then can't afford to live there once they retire ... I'd love to find a happy balance between working hard to save money and being able to spend that money on enjoying life."
In order to stay on track with her savings, Lauren keeps a close eye on where exactly her money goes each week.
"I've learned to be very conscious of budget and have even used budgeting spreadsheets," she says. "I try to make 'savings' a priority line item so I can purposefully contribute to it; some months more than others. It's important for me to find a good work-life balance. If there is a month where I know I'll have more big plans, like an expensive concert or several birthday parties, I'll usually try to avoid eating out the rest of the month."
Budgeting may not seem exciting, but there are plenty of ways to make it your own, says Schwab-Pomerantz — which, in turn, means you'll be more likely to stick with it.
"Whether that's a notebook, an app, a spreadsheet, or our spending tracker worksheet, create a tracking system for your cash," she writes in Schwab's 30-Day Financial Cleanse. "Throughout the week, keep your budget in mind. When you're tempted to go beyond it for a particular purchase, ask yourself if it's worth blowing your budget — and how you'll pay for it."
Saving can actually be kind of fun — especially when you think of it as paying yourself. Your growing nest egg will thank you.
This article is sponsored by Charles Schwab. Visit Ask Carrie to help you on your way to achieving your own money goals in the future.The information provided here is for general informational purposes only and is not intended to be a substitute for specific individualized tax, legal or investment planning advice. Where specific advice is necessary or appropriate, consult with a qualified tax advisor, CPA, financial planner or investment manager.