4 Reasons To Book A Vacation Now (Yes, Now)
This article is presented in partnership with the U.S. Travel Association.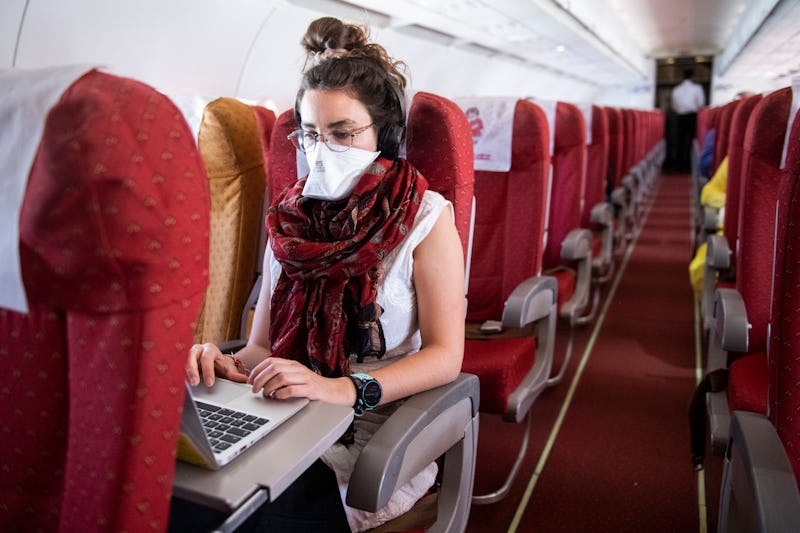 Cavan Images
If you've caught yourself starting sentences with "When this is all over…" recently, you're not alone. Simple luxuries we once took for granted, such as dining out, celebrating big events with loved ones, or planning an impromptu weekend getaway are now a little bit more complicated.
The silver lining is there's still so much to look forward to! Sure, you may be hesitant to travel right now — and that's OK! But did you know that just planning your next vacation can bring some of the warm, fuzzy feelings you get from actually taking a trip?
That's right: just laying the groundwork for your next adventure could benefit your mental health. And the U.S. Travel Association's latest campaign, Let's Go There, is inspiring us to make concrete plans.
Launched in conjunction with 75 travel companies and trade organizations like Marriott, Disney, Expedia, and more, the coalition wants you to know that whether you're ready to travel soon or waiting until the next phase of your state's reopening, the industry will be ready to safely welcome you back.
Here are four reasons to book a vacation right now.
1. Planning A Trip *Actually* Makes You Happier
In these uncertain times, it's normal to wistfully yearn for a vacation. Even if you're not quite ready to travel, planning a future trip might be the mental adventure your mind needs. Sure, it may be just a dream for now or far off in the future, but if you actually start looking up flight prices or booking your hotel, you may reap the benefits from a surge of endorphins.
A recent poll conducted by happiness researcher Michelle Gielan found that 97 percent of respondents found that having a trip planned in their future made them happier. Seventy-one percent of respondents reported feeling energized by an upcoming trip planned in the next six months.
Poll results are backed by a 2014 study from Cornell University, which found that the anticipation of an experience, like a trip, can increase a person's happiness much more than buying material goods. So even if you aren't ready to travel right now, booking a trip for a few months into the future can provide some serious good vibes.
2. Vacation Booking Has Never Been So Flexible
With health guidelines varying from state-to-state, it can be difficult to feel confident about booking a trip. Luckily, airlines, hotels, and tourist destinations are providing more flexibility than ever when it comes to your plans being altered. Delta Airlines is making it easy to cancel or change flights impacted by coronavirus, and United Airlines is offering multiple options for flight changes or cancellations, too. Don't want to get on a plane right now? Expedia is advertising staycations, allowing your family to get a change of scenery without going anywhere too far-flung.
But if you are willing to travel, there are some great deals going on. Hilton is offering 20 percent off fall getaways to San Diego, Seattle, Myrtle Beach, and other destinations with their Dream Away Offer.
3. Industry Communication Is Clearer Than Ever
Nine in 10 travelers want details on health and cleanliness before booking their next trip, and honestly, this should have been a requirement well before 2020! Organizations affiliated with the U.S. Travel Association have their enhanced cleaning and cleanliness protocols clearly listed on their company websites, so you can travel confidently knowing everything possible is being done to keep you safe. JetBlue is even going as far to keep middle seats open through October 15! While cleaning protocols may vary between airlines and hotels, these three guidelines remain golden: Wear a mask, wash your hands, and maintain physical distancing.
4. We All Want the Travel Industry To Rebound
Throughout the pandemic, many people have been ordering takeout once a week from one of their favorite local restaurants to help it stay afloat. Booking a flight, hotel stay, or local tourism experience, even far off into the future, can help ensure the same thing for the travel industry.
These have been trying times for the travel industry, with no flight attendant, hotel employee, or local tour guide unaffected. Market experts expect digital travel sales to fall by 44.7 percent in 2020, and remain below pre-pandemic levels until 2022. Booking a trip, whether that's today or in the future, is one way you can help.
Whether your next trip is a passing daydream or has an actual plane ticket associated with it, planning it can have serious calming benefits. Just be sure to follow the latest CDC guidelines before embarking on your journey.