5 Hot Cocktails You'll Want To Sip All Winter Long
They're so good that you might even start to enjoy the cold weather.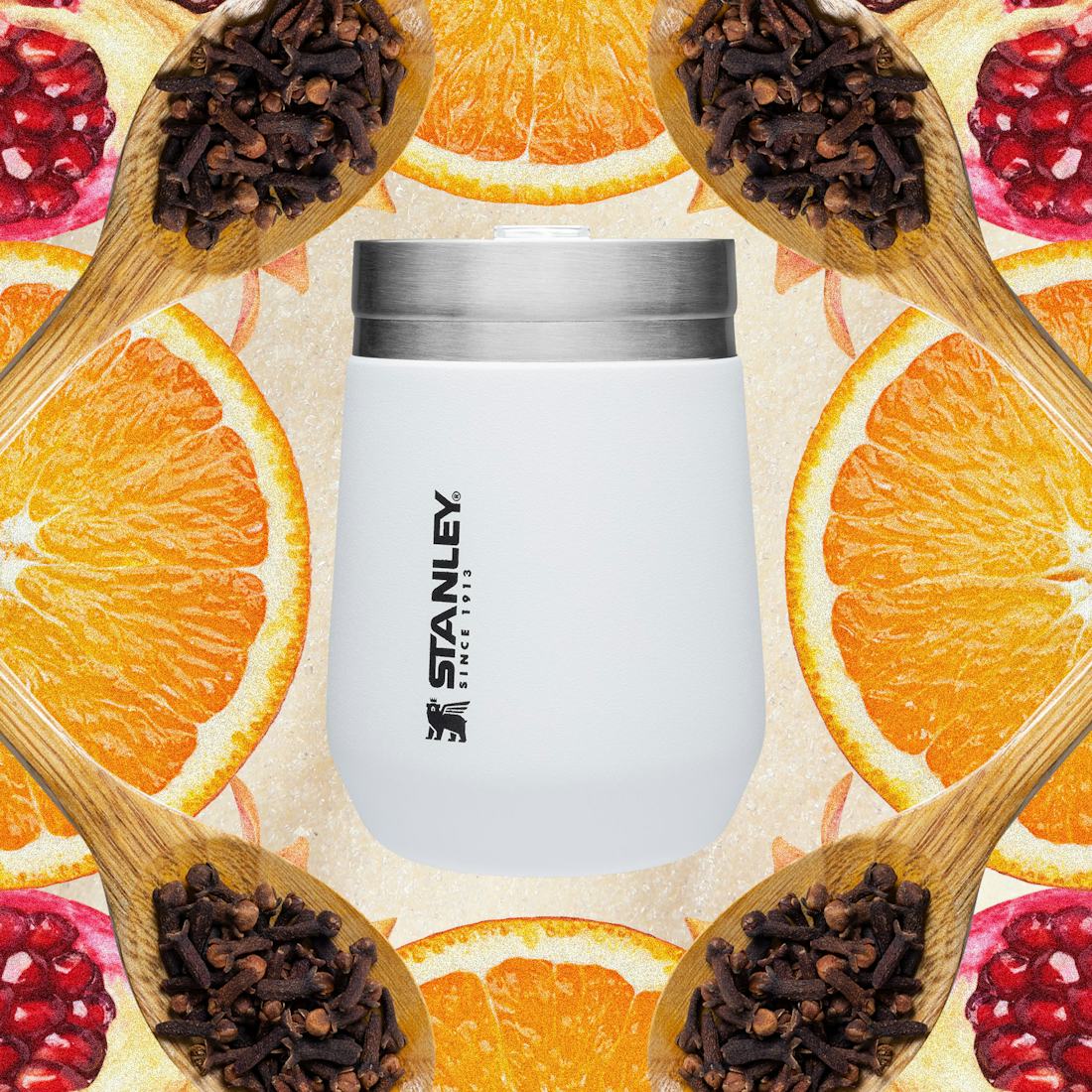 Speaking as someone who's endured winters in both the blustery midwest and on the frigid east coast, I firmly believe winter is the most underrated season. Whereas most people tend to spend the months of November through March intently focused on their weather app, I prefer to find ways to lean into the beauty of the season — usually with a hot cocktail in hand.
Whether that means taking a stroll through my neighborhood to look at the holiday lights, throwing a backyard fire pit party with my friends, or hosting a tailgate so good that everyone forgets about the football game (my absolute favorite), embracing all this season has to offer is the best way to truly enjoy it.
To help you make the most out of your own winter plans, Bustle and Stanley teamed up to bring you five delicious hot cocktail recipes that are perfect for enjoying when the temps drop. Created by Stella Miller, a Chicago-based mixologist and Head Beverage Babe for Buckwild Babes culinary collective, and Mea Rigali, a former bartender and current freelance private chef with SavorWe, the five cocktails below have been carefully crafted to include some of the top trending ingredients in the wellness space. Plus, they all taste really good.
Even better? Each cocktail comes with a recommendation for a Stanley cup or mug to enjoy it from, so you can trust that your drink will stay hot — no matter how cold it gets outside.
Keep scrolling for the hot cocktails you'll want to sip all winter long.
Pomegranate Mulled Wine
Let's start with a new spin on a classic, shall we? While you may be no stranger to traditional mulled wine made with red wine, orange, and spices, Miller's version swaps out honey for an easy-to-make pomegranate syrup. Loaded with super strong antioxidants and featuring a tart flavor, the addition of pomegranate makes for the perfect compliment to bold red wine, tangy orange, and warm seasonal spices.
Pomegranate Syrup Ingredients:
1 cup unsweetened pomegranate juice
1 cup granulated white sugar
Zest of one orange
Cocktail Ingredients:
6 oz. of your favorite dry red wine blend
2 oz. pomegranate syrup
¼ tsp. whole black peppercorns
¼ tsp. whole cloves
¼ tsp. sumac
Juice of 1 orange wedge
Directions:
Start by making the pomegranate syrup. In a small saucepan, warm the pomegranate juice. Add the sugar and orange zest. Simmer until sugar is completely dissolved, then remove from heat. Can be stored in the refrigerator for up to 3 weeks.
Make a single 8-oz. cocktail by combining wine, spices, and syrup in a microwave-safe cup. Heat for 90 seconds before straining into an insulated cup like the Stanley GO Everyday Tumbler that will keep your drink at the ideal temperature. Top with the juice of an orange wedge.
Honey Turmeric Hot Toddy
Regularly touted as a superfood these days, turmeric is a spice that boasts possible benefits like lowering LDL cholesterol levels, fighting off viruses, and easing symptoms of PMS. But in this case, it simply makes for a bomb flavor profile to mix into your hot toddy. Get Miller's two-serving turmeric-ginger riff on the classic Penicillin cocktail below, which she says is best with scotch, but is just as tasty with your favorite whiskey mixed in.
Ingredients:
4 ginger turmeric tea bags
2 cups water
2 oz. Scotch whisky
1 oz. limoncello or other lemon liqueur
½ oz. honey
Juice of 2 lemons
Directions:
Start by brewing the tea. Bring two cups of water to a rolling boil, then turn off heat, count to twenty, and pour water over tea bags. Let steep for 4 minutes. Remove tea bags; do not squeeze them.
Add the Scotch whisky, limoncello, honey, and lemon juice to a Stanley Adventure Happy Hour Cocktail Shaker Set. Once the tea is steeped, pour into the cocktail shaker with the rest of the ingredients, then give the drink a gentle swirl to dissolve the honey. Divide evenly into two leak-proof Stanley Master Unbreakable Hip Flasks and enjoy.
Non-Alcoholic Orange Cider
While crafting this drink, Miller drew inspiration from the traditional Mexican drink Ponche Navideño — a hot fruit punch usually enjoyed around the holiday season. Like the classic version of the drink, Miller's recipe can be enjoyed with or without alcohol (she recommends Mezcal), but she takes her warm orange cider in a modern direction by including tart and trendy apple cider vinegar.
Ingredients:
1½ cups orange juice
2 oz. apple cider vinegar
1 oz. real maple syrup
Cinnamon (ground or sticks)
2 oz. Mezcal (optional)
Directions:
Combine orange juice, apple cider vinegar, and maple syrup in a medium saucepan, then add two liberal shakes of ground cinnamon or half a cinnamon stick. Simmer on low heat until warmed, taking care not to boil (about 5 minutes).
Pour drink into into a versatile insulated cup like the Stanley Adventure Stacking Beer Pint, then top with another sprinkle of cinnamon.
Optional: Stir in 2 oz. mezcal after pouring the heated drink into the tumbler.
Spiked Cocoa-Mate Tea
Tea and booze may seem like an unlikely duo, but Rigali's expertly crafted mixture will quickly make them seem like a match made in cocktail heaven. Starting with a foundation of yerba mate tea (a popular coffee alternative that offers a caffeine boost sans jitters), the flavors of this batch craft cocktail round out with the bite of cocoa bitters, the sweetness of a chamomile simple syrup, and the smoothness of soju.
Chamomile Syrup Ingredients:
1 chamomile tea bag
1 cup sugar
1¼ cup water
Cocktail Ingredients:
6 Tbsp. yerba mate loose leaf tea
3 Tbsp. cacao nibs
2 oz. soju
¾ oz. chamomile simple syrup
7 dashes cocoa bitters
Directions:
Start by making the chamomile syrup. In a small saucepan, boil the water, remove from heat, and steep tea for five minutes. Remove the tea bag, return the saucepan to heat, and add the sugar. Simmer until sugar is completely dissolved, then remove from heat.
Next, steep yerba mate and cacao nibs in 48 oz. of boiling water in the Stanley Classic Stay Hot French Press for 5 minutes. This will yield enough tea to make six 12-oz. cocktails.
Create a single cocktail by pouring 8 oz. of steeped yerba mate and cacao tea into an easy-to-clean dishwasher-safe mug (like the Stanley Classic Legendary Camp Mug), then mix thoroughly with soju, chamomile simple syrup, and bitters.
Rosewater Cherry Elixir
By definition, elixirs are magical potions that guarantee some type of desirable outcome. And while I can't legally make claims that this drink will calm your mind and soothe your soul, I can point you to the fact that Rigali's recipe includes ashwagandha, which is a popular adaptogen with a reputation for potentially relieving stress. The evergreen shrub is available in stores as a vitamin supplement, but can also be found in powder and tea form — perfect for mixing with tart cherry juice, rosewater, and a few extra ingredients to create this soothing winter cocktail.
Ingredients:
½ tsp. ashwagandha powder (or 1 teabag)
4 oz. cherry juice
½ oz. rosewater
1 Tbsp. honey
6 oz. coconut milk
2 oz. rose gin
Directions:
If using ashwagandha powder: Combine powder, cherry juice, rosewater, honey, and coconut milk in a small saucepan and bring to a simmer. Remove from heat and pour into a Stanley Classic Legendary Camp Mug to ensure it remains at the ideal temperature, then stir in gin.
If using an ashwagandha teabag: Combine cherry juice and coconut milk in a saucepan and bring to a boil. Turn off heat and steep tea for 7 minutes. Pour the steeped mixture into a Stanley Classic Legendary Camp Mug and mix in rosewater, honey, and gin. Froth if desired.