The 5 Most Significant Promises Made At COP26 & What They Actually Mean
A lot of promises were made at COP26, but which ones can be kept?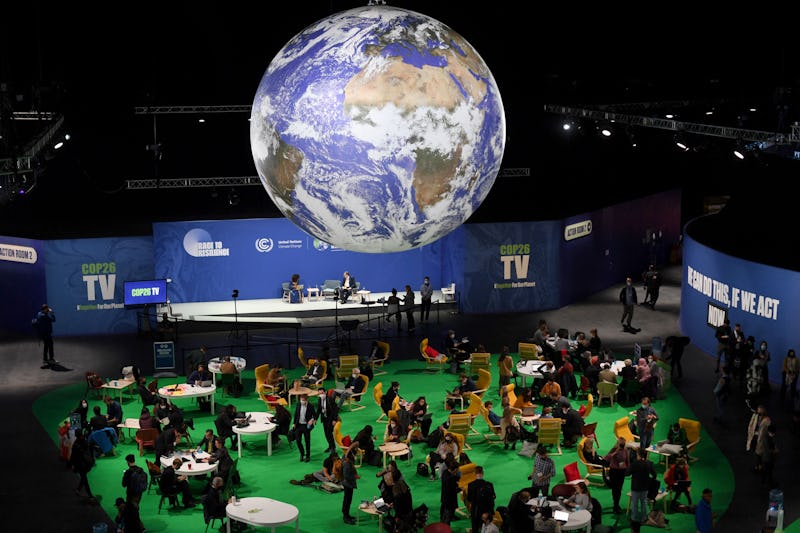 PAUL ELLIS/AFP/Getty Images
If you've picked up a British newspaper in the last two weeks, it's likely you've come across stories about COP26, the global climate conference that has seen more than 120 world leaders and 20,000 delegates arrive in Glasgow to discuss the future of our planet.
Some of the most widely-shared stories have centred on the Queen's absence, David Attenborough's powerful speech at the opening ceremony, Boris Johnson's lack of mask, and Leonardo DiCaprio's surprise appearance. But what about the conference itself?
While the substance of what is being discussed at COP26 couldn't be more pressing, the truth is that the quotas and statistics can be hard to keep up with. On top of that, promises from world leaders about saving the planet can often feel empty, leading lots of people to disengage with the subject altogether.
With this in mind, I have scoured news outlets and official documents from COP26 to try and find out what's really going on. Below, I have highlighted five of the most noteworthy pledges to emerge from the conference and dug deep into the detail, trying to figure out whether what's being promised can ever actually be achieved. While some of this information may leave you feeling anxious, I hope others (like the promises on cheap green tech) will give you hope that, if our world leaders stick to their word, we may see the tide turn on climate change.