5 Ways To Celebrate Indigenous Peoples Day This Year
Actions to take on Monday and all year round.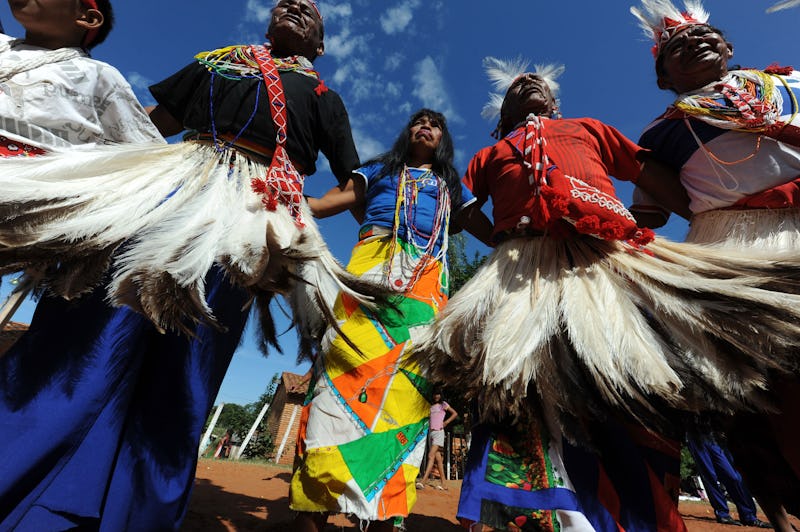 NORBERTO DUARTE/AFP/Getty Images
One by one, cities across the United States are beginning to replace Columbus Day with Indigenous Peoples Day, an annual holiday recognizing the cultures and histories of Native people. Over the past few years, Portland, Los Angeles County, Salt Lake City, and Austin all passed resolutions to celebrate Indigenous Peoples Day on the second Monday of October, which is when Columbus Day is designated to take place. The push to celebrate Indigenous Peoples Day has intensified over the past few years, along with calls to remove statues of Christopher Columbus, but activists have been fighting to reclaim Columbus Day since the 1970s. The holiday serves as a particular reminder to celebrate Native Americans — on top of recognizing Indigenous peoples rights and cultures all year round.
Columbus Day was designated a holiday in 1934 by President Franklin Delano Roosevelt to commemorate the "discovery" of the Americas. But it's now widely known that Columbus' exploration of the Americas led to widespread violence against indigenous peoples. Between Columbus' arrival in 1492 and the Pilgrims' arrival in 1620, an estimated one-third to 90% of the Native American population died from European-borne diseases. Still today, native people across what's now the United States, Canada, and Central and South America face discrimination directly related to the treatment of their ancestors. Celebrating Indigenous Peoples Day in lieu of Columbus Day is just a small step towards making amends for the treatment of Native people in this country, but it's an important one.
Here are five ways you can celebrate Indigenous people on Indigenous Peoples Day.
This article was originally published on