We Asked Our Readers How They Take Brunch To The Next Level & They Delivered
Drag queens, dance parties, and lots of André Champagne ahead.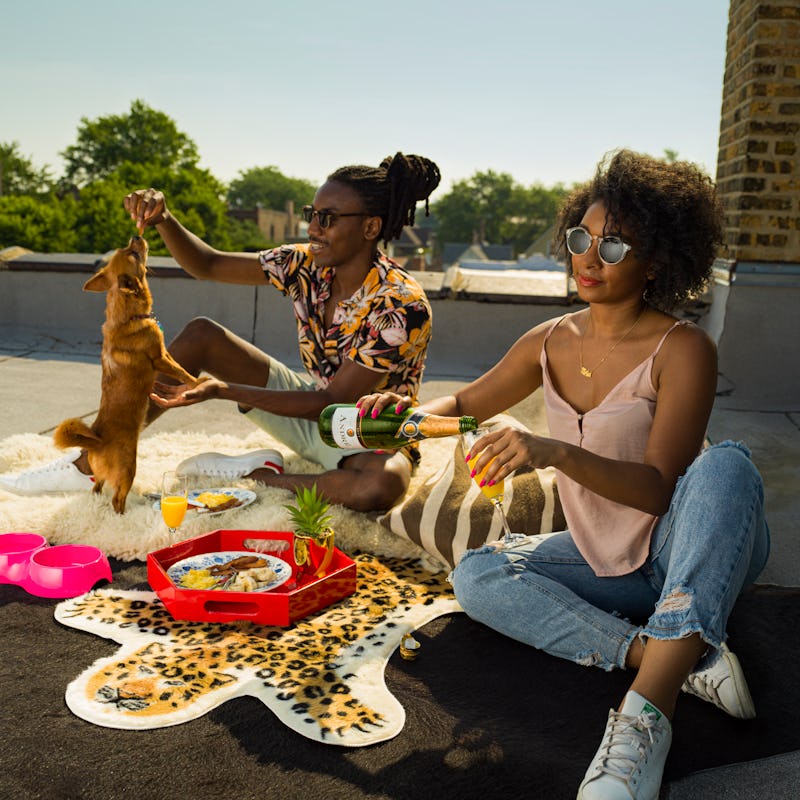 I'll never forget the first party I went to after moving to New York City. My best friend and I overslept and didn't end up making it to brunch on time — which was probably a blessing because we were flat broke — so we just grabbed a bacon, egg, and cheese from the bodega to split on the way to this rooftop party. Wanting to be good guests, we picked up a bottle of André Champagne to give to the host, feeling more thankful than ever for its notoriously affordable price tag.
When we got to the party, we walked onto the roof to see an inflatable pool filled not with water, not with ice and drinks, but with different varieties of potato chips. The host (who I didn't know) was sitting in the pool, snacking, while someone else I didn't know poured champagne into her mouth like you would do for a queen on her throne. I walked over, passed her the new, unopened bottle we brought, and over the course of the next several hours, that crowd of strangers would begin to become some of the closest friends I have to this day.
Champagne has a way of doing that — connecting people, transforming a room of strangers into friends, nudging a simple get-together into something spectacular. We may have missed brunch, but we have plenty of bubbly-filled memories from that day.
Knowing that we're about to enter peak brunch season, I decided to ask a few of my friends to tell me some of their favorite, most memorable brunch moments (since most of mine start with me oversleeping). One common theme you'll notice over and over again? They all seem to involve a group of good friends, a bottle of André Champagne, and a willingness to elevate the moment by embracing the unexpected. Keep reading to see how six different people took their ordinary brunch plans to the next level.
1. The "Salvage Our Vibes" Upgrade
Audrey from Brooklyn was excited about hitting up a trendy Meatpacking District restaurant when she first moved to New York City, but things didn't exactly go according to plan. "We go there and I'm pumped, only to be immediately crushed when we're led through the back of the restaurant to the backyard, where a tent was set up. It's crammed full of people and a live DJ, which makes the whole place so loud I can't hear who I'm with. We literally have to scream the whole time to hear each other." Not willing to let their disappointing experience kill the vibe, Audrey and her friends picked up a couple of bottles of André Champagne and took in their own view of the city from a very generous friend's aunt's rooftop.
2. The Party-From-Home Approach
Instead of hosting a standard birthday party for her husband, Irene went all out and hosted a Halloween-themed costume brunch. The only problem? It was freezing cold, and the brunch reservation she made was for outdoor dining. "Despite everyone being dressed up for the occasion, we were absolutely freezing! I brought hand-warmers for everyone, but it wasn't enough. Eventually we retired back to our apartment, but the party didn't stop there. My secret weapon — a karaoke machine — was waiting in the closet. A few bottles of André Champagne, some spiked seltzers, and singing some of our favorite songs at the top of our lungs. It was perfect!" Needless to say, it was certainly an experience the neighbors will remember.
3. The Life-Changing Drag Brunch
As a freshly minted 21-year-old, Jahan fondly remembers his first drag queen brunch in Washington, D.C. "I was at the beginning of my journey into the gay scene, learning about gay culture. I was nervous, largely due to it being my first experience watching a drag show and my first time being at a gay bar, but the whole day was full of laughter, great food, and some of the best-looking men in town," he says. "For me, it was much more than brunch, it was a chance for me to experience the community I would soon call family."
4. The Classic Breakfast In Bed
After a breakup, Sarah from Austin, Texas, wasn't feeling much like celebrating. The standing brunch she and her two friends had every Sunday had come to a grinding halt, so they decided to bring brunch to her. "I heard a knock on my door and suddenly there was Amy and Madison with a couple of bottles of champagne and probably about $150 dollars worth of takeout from our favorite restaurant," she says. "They'd ordered every entree I could've possibly dreamed of, picked it all up, and lugged it all the way to my place. We spent the entire afternoon eating, watching movie after movie after movie, and honestly, by the end of the day, I'd forgotten what I was even upset about."
5. The "We're Getting The Band Back Together"
For Allie, the power of bonding with friends has a way of turning your average brunch reservation into a day of laughs she'll never forget. "During my first visit to LA, I reconnected with a couple of old friends who I hadn't see in years for a round of mimosas," she recalls. "It was kind of awkward at first, so much time had passed, but once we had our first drink it's like we teleported back to our formative years in San Francisco. I laughed so hard that day that champagne almost came out of my nose! There's really nothing like spending time with people who just understand you — no matter how much time has passed."
6. The "We Go Here So Often They Know Our Order"
Sometimes it's not the theatrics or trendy settings that take your plans to the next level, but rather it's the little things that can really elevate the moment. "My friends and I had brunch at this small place in Bushwick so many times that it felt more like going to someone's house than a restaurant," says Alex, remembering one occasion in particular when her friend dropped a slice of thick-cut bacon into her lap, sending the whole table into hysterical laughter. "We were laughing so hard that the entire restaurant turned to look at the commotion, only to see my friends and I crying from laughter over the incident. We still went almost every Sunday until they closed, and we miss those brunches to this day."