7 TikTok Folding Hacks That Will Save You So Much Space
Because putting away bedsheets shouldn't be so complicated.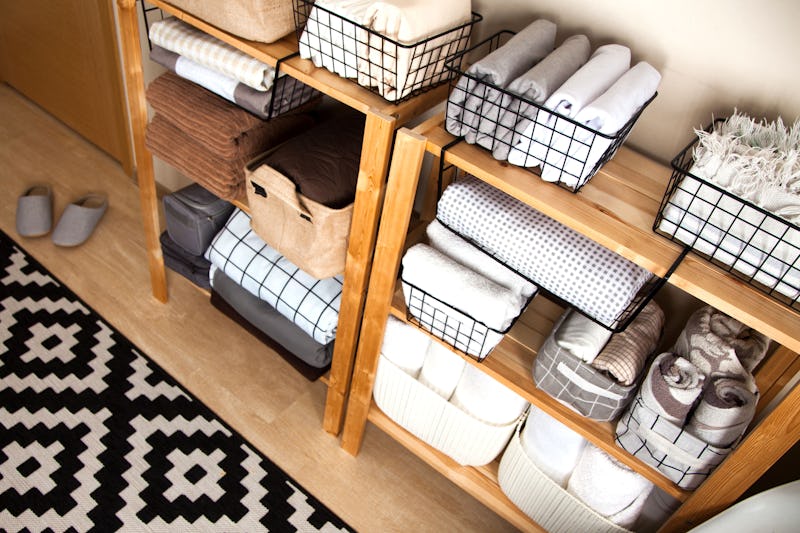 Shutterstock
Let's be honest, who else uses their bedroom chair as a holding pen for discarded clothes? Guilty. And yet, in recent times, it seems people are getting organised when it comes to home storage. Alongside the skits and dancing videos, cleaning and tidying hacks are also doing high numbers on TikTok, and they're surprisingly very helpful. From simple drawer organisation to tackling bedsheets, we've found seven TikTok folding hacks that will transform your space.
While many are acquainted with Japanese tidying legend Marie Kondo, TikTok has introduced some new tidying stars. Sophie Liard, also known as 'The Folding Lady', has more than 1.8m followers on TikTok who are obsessed with all her folding tutorials. Under the tagline "always solutions, never problems", not only are Liard's hacks super easy to follow and replicate, but it's also incredibly satisfying to watch.
Before you embark on your folding mission, we suggest investing in affordable dividers to help turn your chest of drawers into a perfectly organised dream and finally free your bedroom chair. Below, we've compiled seven TikTok folding hacks we believe will truly transform your life.
This article was originally published on