7 Martha Stewart-Approved Tips For Throwing A Last-Minute Holiday Party
'Tis the season to be spontaneous.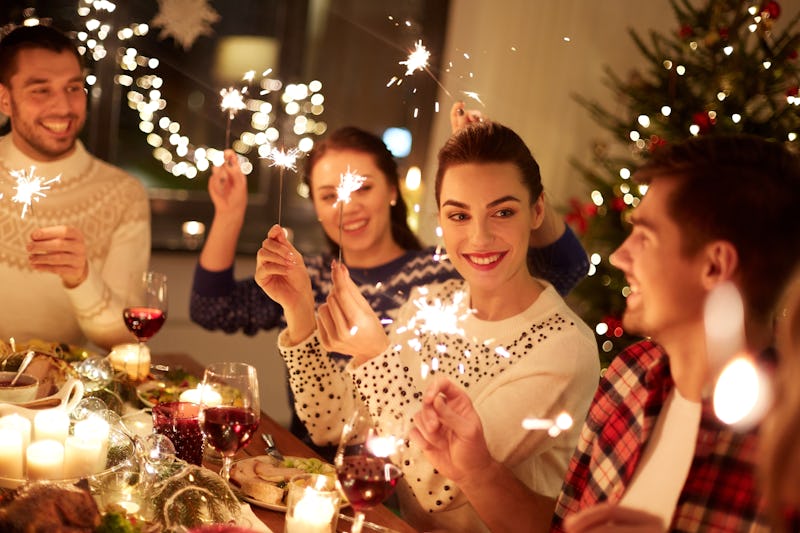 Between savoring the final moments of fall and catching up on sleep post-daylight savings, it's more than understandable if you haven't put the usual amount of effort into planning your annual holiday party. After all, when your bed is that cozy and there's so much new TV to watch, who has time to deck the halls?
Contrary to popular belief, though, you don't actually need much time at all to throw a bash so effortlessly elegant that even the likes of Martha Stewart would give her blessing — at least, not with the right tips and tricks up your sleeve. So whether you set a date and send out invites, or just spontaneously decide to host a spur-of-the-moment get together, like, tomorrow, it is possible to put on a low-lift seasonal soiree that feels anything but thrown together. Bustle teamed up with Martha Stewart Kitchen to create the ultimate guide for hosting without a hassle. Try these tips out for yourself — we bet your guests won't suspect a thing.
1. Start With A Big Batch Cocktail.
Everyone loves a batch cocktail — especially a busy host who has absolutely no time for asking guests if they prefer their drink shaken or stirred. All you need to create a signature party drink is a seasonal recipe (we're eyeing the candy cane martini...), a large pitcher or drink dispenser for easy pouring, and if you're feeling really extra: a creative name. The best part? Even if you don't consider yourself a savvy bartender, it's hard to mess up a batch cocktail. If it's too strong, simply add a bit of sparkling water to chill it out.
2. Skip The Board And Make A Charcuterie Table.
When it comes to last-minute party planning, you can't go wrong with a massive charcuterie spread. Not only does it allow you to skip the cooking, but a mix of cured meats, cheeses, nuts, fruits, and veggies will satisfy virtually every palate, picky eater, and dietary restriction that arises. This year, our go-to move is skipping the wooden board all together and opting for a massive charcuterie table instead. It offers way more room for varied bites, and packs a punch that'll stop hungry guests in their tracks. Start by wrapping the top of the table in brown paper, and then curate to your heart's desire.
Pro tip: Take your charcuterie table into mouthwatering territory by including a few hot apps as well. Oven-baked hors d'oeuvres from Martha Stewart Kitchen require virtually no prep work, but will add a dose of chicness to any spread. Simply throw the crunchy macaroni and cheese bites, flakey pigs in a blanket, or puff pastry-wrapped baked brie into the oven while you're getting ready, and you'll have a delicious addition to your table in no time.
3. Decorate With What You Have.
If you haven't had time to pull out that dusty old box of holiday decorations, don't fret. You can easily make use of supplies you have lying around your house — like old boxes, wrapping paper, and allll the candles — to up those merry-and-bright vibes without the headache.
Give your recently-delivered packages new life by wrapping the boxes they came in as beautifully wrapped faux gifts and piling them up in pretty stacks. Keep the overhead lighting dim and light all the (unscented) candles you can find. To top it all off, turn on a seasonal film, TV episodes, or a fireplace scene on mute to serve as yet another festive focal point.
4. Opt For A Pre-Made Playlist.
Setting the holiday party mood goes way beyond food and decor. Music is essential for creating an ambiance guests will remember — but that doesn't mean you have to spend hours curating a bespoke playlist.
Whichever music streaming service you use likely has tons of pre-made playlists perfect for partying. Start the evening off with a no-brainer like "Holiday Classics," and once you and your closest friends outlast the rest of the crowd, switch to something like "Early 2000s Pop Hits."
5. Don't Get Side-Tracked By Side Dishes.
If your menu calls for more than just a mega snack table, focus your attention on the main dish — and let Martha Stewart Kitchen do the rest. Instead of washing, peeling, and boiling pounds of potatoes, these ready-to-bake mashed potatoes with cream cheese come together in just minutes, and pair perfectly with any meat or green veggie.
If you want something a little different but just as delicious, your guests will never guess that these scalloped potatoes with parmesan cheese, cream, and ground black pepper came out of your freezer — especially not if you transfer them to a pretty baking dish right before serving (we won't tell).
6. Cut Corners With Your Signature Scent.
When you're putting together a party at the last moment, everything you spend time on should work double duty. Instead of lighting a candle, simply combine unsweetened apple juice, cloves, cinnamon sticks, nutmeg, and orange zest in a pot on the stove. Your home will fill with the most intoxicating holiday scent no amount of candles or air freshener could replicate. Once your cider is complete, strain it and place it back in the pot with a ladle. Voila! You now have a yummy non-alcoholic drink option as well as a next-level scent your guests won't soon forget.
7. Don't Do It All Alone.
When your guests ask what they can bring to the party, be honest and ask for something that would really help! For example, if you're focusing on the main course, drinks, and side dishes, ask your guests to pick up pies, cakes, or cookies. Not only will you end up with the right amount of everything, but you won't need to panic-run out to the bakery 10 minutes before people arrive.
If you have everything you need, ask one or two friends to get there an hour early to help you set up. You may have the urge to do it all, but both you and your guests will have a better time if you're relaxed and enjoying yourself.
Find a store near you and stock up on Martha Stewart Kitchen frozen essentials so you'll always be prepared for this season's celebrations, no matter how spontaneous.