7 Ways To Celebrate National Wine Day From The Comfort Of Your Living Room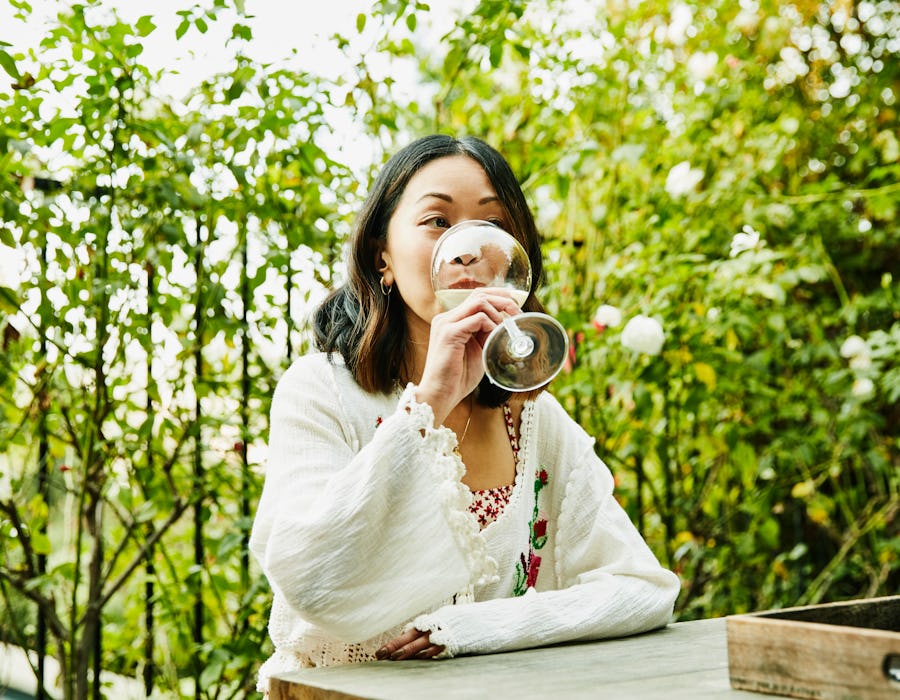 Thomas Barwick/DigitalVision/Getty Images
In years prior, you might have gone out to your favorite wine bar to celebrate National Wine Day on May 25. Now, with so much of the country still living under stay-at-home orders, those of us 21 and up are in the unique position of finding creative ways to celebrate the holiday at home. If you already prefer sipping wine from the comfort of your couch, that's not necessarily a bad thing. But after months at home in quarantine, it can get tricky.
I enjoy drinking wine not necessarily because it's alcohol (I mean, I'm not 22 anymore), but more because I enjoy the routine and social atmosphere it can help to create. Recently, my sister-in-law and I made my brother set up a blind tasting for us, and it brought a little bit of that heart-warming, fancy feeling back to drinking wine. So, to help give you a little bit of that feeling and break the monotony of your social distancing routine, Bustle has partnered with Milano® to recommend unique ways to celebrate National Wine Day from your living room (or bath tub... no judgement).
1. Enjoy A Charcuterie Board For Dinner
As my dad would say, do you want some cheese with that wine? (Sorry, I had to.) But if you are someone who loves pairing cheese with wine, a well-curated charcuterie board makes the ideal dinner for National Wine Day. Fill up a board with prosciutto, soppressata, and maybe a bit of chicken liver mousse, then round out the flavors with your favorite cheese, crackers, mustards, pickled veggies, and something sweet like Milano cookies. Bon appétit!
2. Use Your Wine Bottles For A DIY Project
Put your leftover wine bottles to good use by upcycling them into a piece of home decor. The bottles themselves make for creative holiday decor or simple vases, and the corks can be repurposed into art for your bar cart.
3. Pair A Great Wine With Cookies
While going to a happy hour with your coworkers or friends after work hasn't been possible for the past few months, that doesn't mean you have to give up that routine entirely. Milano has partnered with Nocking Point Wines to create a custom "Milano x Nocking Point Happier Hour Box" which includes wines that pair perfectly with different Milano cookie flavors. Buy it here, stock up on some Milano cookies, and have everything you'll need to create the ultimate Milano cookie tasting experience.
4. Host Your Own Blind Wine Tasting
When my sister-in-law and I did our blind tasting we chose two cabernet sauvignons from the same vineyard, but one was the fancier "reserve" version. We asked my brother to pour them into glasses where we couldn't see, and then we tried to see if we could guess which was which. I guessed correctly, which obviously means I should quit my day job and become a sommelier.
5. Make Your Own Frosé (Frozen Rosé)
For the uninitiated, frosé is the perfect way to welcome the start of summer and embrace your basic side. Here's a recipe so you can DIY a batch at home.
6. Attend A Virtual Wine Tasting
Yes, they exist! Vineyards and wineries across the country are hosting virtual tastings to help wine-lovers learn more about wine and to recommend pairings. Some cost money to attend, though the price includes the wines you will be tasting, and some are free. A few vineyards are also hosting free virtual tours, so you can get that soothing summer feeling of walking through a vineyard while sitting on your couch.
7. Have A Rom-Com Movie Marathon — With Wine
One of my favorite quarantine routines is having dessert on my couch with a glass of wine. Usually I have some kind of cookie with dark chocolate in it and a full-bodied red wine while I watch a movie or TV show. In honor of National Wine Day, throw on a marathon of rom-coms to enjoy with a glass of your favorite vino. And if rom-coms aren't your thing, you could easily switch to your favorite genre. Wine, cookies, and a screening of your favorite comedy sounds like the perfect way to end a day.
This post is sponsored by Milano. Please drink responsibly. Intended for those 21+.