8 Things To Know About Leasing A Commercial Space For Your Business
From the National Association of REALTORS®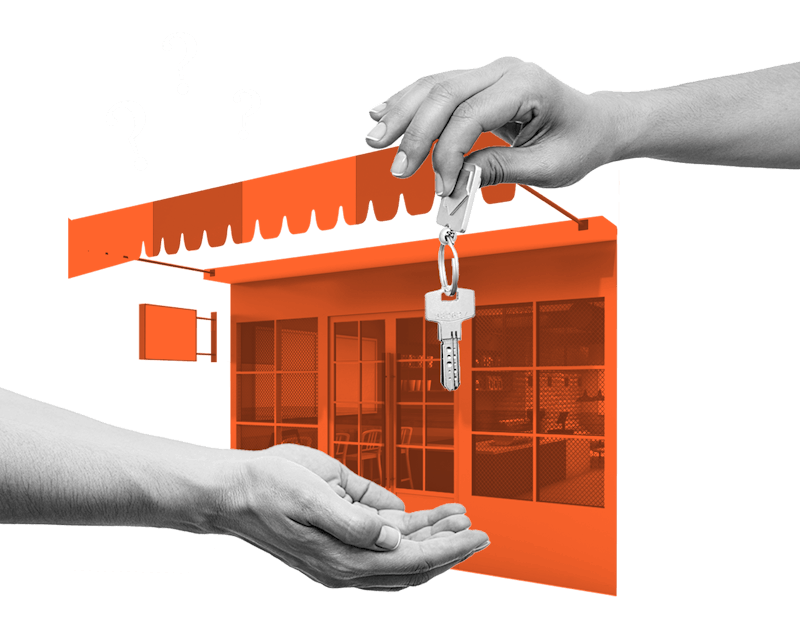 Opening a brick-and-mortar business is like having a baby. It takes up your time, mental energy, and money. That all said, if you have the passion and vision for it, it's totally worth it. There's plenty you can do, like starting an LLC and hiring staff. But finding the right space is high up on the list of to-dos.
More often than not, new business owners lease spaces rather than buying them. There's a lot more that goes into leasing a business space than leasing a residential property. Your relationship with the landlord will dictate a lot. You need to find a space with the right capabilities. You need to secure the right inspections, and you'll most likely need to make changes to the space. Where do you even start?
We've talked to the experts at the National Association of REALTORS® to get the low-down on everything you should know before leasing a space. Read on to get all the details, and make sure to turn to a REALTOR®, a member of the National Association of REALTORS®, for expert help on your real estate venture.
1. What's a typical rental term for a store space?
Commercial property owners usually seek a lease term of at least three years. With a traditional lease, the tenant pays just the monthly rent, and maybe utilities. With a net lease, the tenant pays the base rent plus any additional cost associated with the property. A triple-net (or NNN) lease — popular in retail and industrial real estate — typically starts with a lower base rent because the tenant also covers the property's taxes, insurance, and maintenance costs. Triple-net leases are popular with property owners who want a hassle-free investment; a 15- to 20-year term is common.
It's important to fully understand all the terms and conditions of a lease before you sign. Start by finding a real estate agent or broker who's an experienced tenant representative, one who knows your market and understands your needs. And make sure your agent is a REALTOR®, a member of the National Association of REALTORS®.
2. When it comes to renovations, what are the parameters for rented space?
You'll almost certainly need to build out the space to fit your business needs. For that, the property owner may include a tenant improvement allowance as part of the lease agreement. The TIA is a sum of money, paid by the property owner, to cover costs such as office build-outs, lighting, windows, doors, and paint. If the lease includes a TIA, be sure you understand how it can be used. Generally, a TIA is only for improvements that enhance or maintain the value of the property. Elements like furniture, cabling, and decorations typically can't be paid for from the TIA.
3. How is leasing commercial real estate different than leasing residential real estate?
A commercial lease is intended for business use of a property, and usually spells out the types of businesses that may be conducted on the property. Commercial leases are generally written for the benefit of the property owner and may include clauses that restrict your use of the property. For example, a lease may dictate terms such as hours of operation, whether the space can be subleased, and whether the rent will automatically increase upon renewal. States and localities typically offer more legal protections to residential tenants than commercial tenants, so negotiate the lease with the help of an experienced tenant representative and have a real estate attorney review the lease before you sign it.
4. What are my rights as a renter of commercial space versus as a property owner?
As an owner, you'll generally be freer to adapt the property to the needs of your business, subject to applicable law. You'll also build equity over time, and may even be able to help cover some — or all — of your mortgage by subleasing a portion of the space. Renting requires a smaller upfront outlay and greater flexibility to vacate the property. A commercial real estate agent can help you compare the pros and cons of renting versus those of owning and, should you decide to buy, help you find a suitable property.
5. What sorts of questions should I ask the landlord?
Learn as much as you can about both the property and the owner's experience and involvement with it. Consider questions such as:
How has the property been used in the past?
What improvements have been made?
What issues did previous tenants have with either the property or the location?
Who's responsible for maintenance, including heating and air conditioning, plumbing, and electrical and structural components?
Who's responsible for securing and paying for water, sewer, gas, electricity, and trash removal?
Is the owner experienced in real estate or a passive investor?
Will the owner manage the property or use a professional property manager?
Whom should tenants call if a problem occurs, and how quickly should they expect a response?
Does the owner intend to sell the property during the lease term or in the foreseeable future?
6. How does my credit figure in?
Any time you take on a long-term financial obligation such as a lease agreement, good credit is essential. A strong credit score combined with a solid business plan helps assure the property owner that you're capable of meeting your monthly obligation. Bonus: A credit score of 750 or higher strengthens your negotiating power.
7. What's the number one mistake that people make when leasing a business space?
New business owners face a variety of pitfalls when leasing a business space. Most mistakes result from not doing the necessary homework before signing a lease. For example, business owners may not adequately consider their space needs, do sufficient due diligence on the location and property, or fully understand the lease terms and conditions. Having a qualified team on your side helps. That may include a banker or small-business consultant to help with your business plan, a real estate agent who specializes in tenant representation; a commercial property inspector, and an experienced real estate attorney.
8. Is there a difference between a REALTOR® and a real estate agent?
While all real estate agents and brokers must pass a state licensing exam and be licensed in the state in which they practice, REALTORS® are also members of the National Association of REALTORS®. REALTORS® set themselves apart by agreeing to abide by a strict Code of Ethics, which ensures honest and fair dealings with clients, other real estate professionals, and the public. When you work with an agent or broker, make sure you're working with a REALTOR®. NAR members who specialize in commercial real estate often choose to take their education beyond the state-mandated continuing education requirements by earning a designation from one of NAR's affiliated organization, such as the CCIM Institute, the Society of Industrial and Office REALTORS®, or the REALTORS® Land Institute.
This article is sponsored by the National Association of REALTORS®.