How Apple's Major Privacy Update Will Affect Your Favorite Apps
No more wondering if your Facebook ads are listening to you.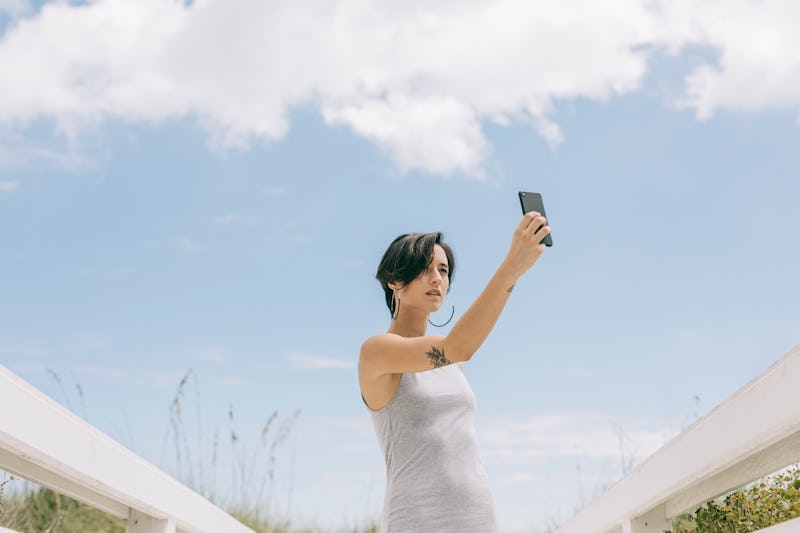 visualspace/E+/Getty Images
On April 26, Apple released its latest software update, iOS 14.5. Among a sea of zippy updates, like gender and racially inclusive emojis and new voices for Siri, Apple issued a major privacy setting update. ATT, aka App Tracking Transparency, is a new feature that requires all iOS apps to get your permission to track your data — that's things like your current location, age, or even contacts — which apps use to offer targeted ads or learn more about you as a user. The update aims to minimize the risk of unauthorized tracking, while amplifying awareness of user's digital privacy rights. Once you install the update, you'll be prompted with a pop-up any time you use an app that wants access to your data. It's called the Identifier for Advertisers (IDFA), and it will give you the opportunity to share or conceal your data.
While there's a lot that apps can do with data, most users will see its effects most directly in the ads they get served. This kind of data tracking can make it feel like apps are listening to your conversations to serve you ads for things you were just talking about, though Facebook has repeatedly confirmed that it doesn't do so. If you share your data, you'll get hyper targeted ads — like when you search for cow-print clogs and then see the exact pair you had in your cart following you around the different web pages you go to next. If you hide your data, you'll get served generic ads that might apply to you (a nap dress) or be totally off (a monster truck). Facebook and co. aren't super excited about the change, per the BBC; they maintain that targeted ads like these keep the internet free to use.
According to cybersecurity expert Kristina Podnar, the update is "a step in the right direction." The feature protects a user's right to be the gatekeeper of their own data — choosing what to share and when. For example, runners might want to allow a running app to track their data if they don't mind seeing relevant ads, like nearby sneaker stores or marathons to sign up for. Alternatively, if you download a shopping app to use a coupon or make a one-time online purchase, you might not want it tracking your product searches or following your every move months later.
Apps that don't comply with these new transparency standards will be removed from the App Store, according to Apple. In a blog post for developers, the company explains, "unless you receive permission from the user to enable tracking, the device's advertising identifier value will be all zeros and you may not track them." Apple adds that apps will need to share why they're tracking data in the first place, so users understand what their data will be used for if they choose to share it. The new privacy standard puts apps like Facebook (including Instagram) in a position to comply or hit the road.
While denying apps access to your data might protect you to some extent, Podnar says Apple may still share data that doesn't identify you as an individual with apps. Additionally, Podnar says that while some apps will take a clear, black and white approach to track and do not track, other apps, like Facebook, will take a "more nuanced approach to user tracking and data collection." Facebook, for example, currently allows the app to track data even when the app isn't open.
That says, Podnar maintains that this update will hopefully make people more aware of their digital footprint and hygiene — like regularly clearing your browsing history, cleaning your cookies, and reading app's data policies.
If you're not sure which apps are using your data, you can always go to "Settings" to check and revoke access when necessary. When downloading apps in the App Store, you can scroll down on the details page to "App Privacy" to see what data is collected and linked to your identity — like contact info or personal identifiers — and also what data is collected that is not linked to you — like usage data and diagnostics. If you want nothing to do with apps that track data for any reason, just go to "Settings", "Privacy", "Tracking", and toggle off "Allow Apps Request to Track."
Expert:
Kristina Podnar, cybersecurity expert